Related Product
Save $300
Stealth Urban Electric Bike KBO Hurricane 2.0
Regular price
$1,199.00
Sale price
$899.00
---
Share Article
Why You Need a Stealth Road E-bike | KBO Bike
Who wouldn't want to own this beast? The stealth electric bikes are sturdily built with their high power capability. It is the fusion of the performance you get from your regular motorcycle while retaining the ability to use pedals like a bicycle. It doesn't get better than this, or does it? Of course! It does, or the stealth bike would be no different from other bikes out there.
Our stealth road ebike KBO Hurricane is an electric bike with high performance that brings convenience and is tough enough.
When Da Vinci said, simplicity is the ultimate sophistication, he didn't have the Stealth Road Electric Bike KBO Hurricane in mind but it sure fits its description to a tee. Even though it has a tough frame that can withstand just about anything, you would be surprised at how simple it looks. In fact, at a first glance, you wouldn't think it was an e-bike. The simplicity in design also gives you – as a rider – one advantage, you can clean your bike just as easily as you can use it. So, no need to spend hours scrubbing off dirt or avoiding a path due to the cost of washing your bike.
Similar to how easy you can clean your stealth road electric bike KBO Hurricane, it also comes with a single-speed belt drive which requires very low maintenance even though it offers high performance. The single-belt drive gives you that smooth, tough but quiet feel when riding. Another added advantage is that your system is free of oil at all times.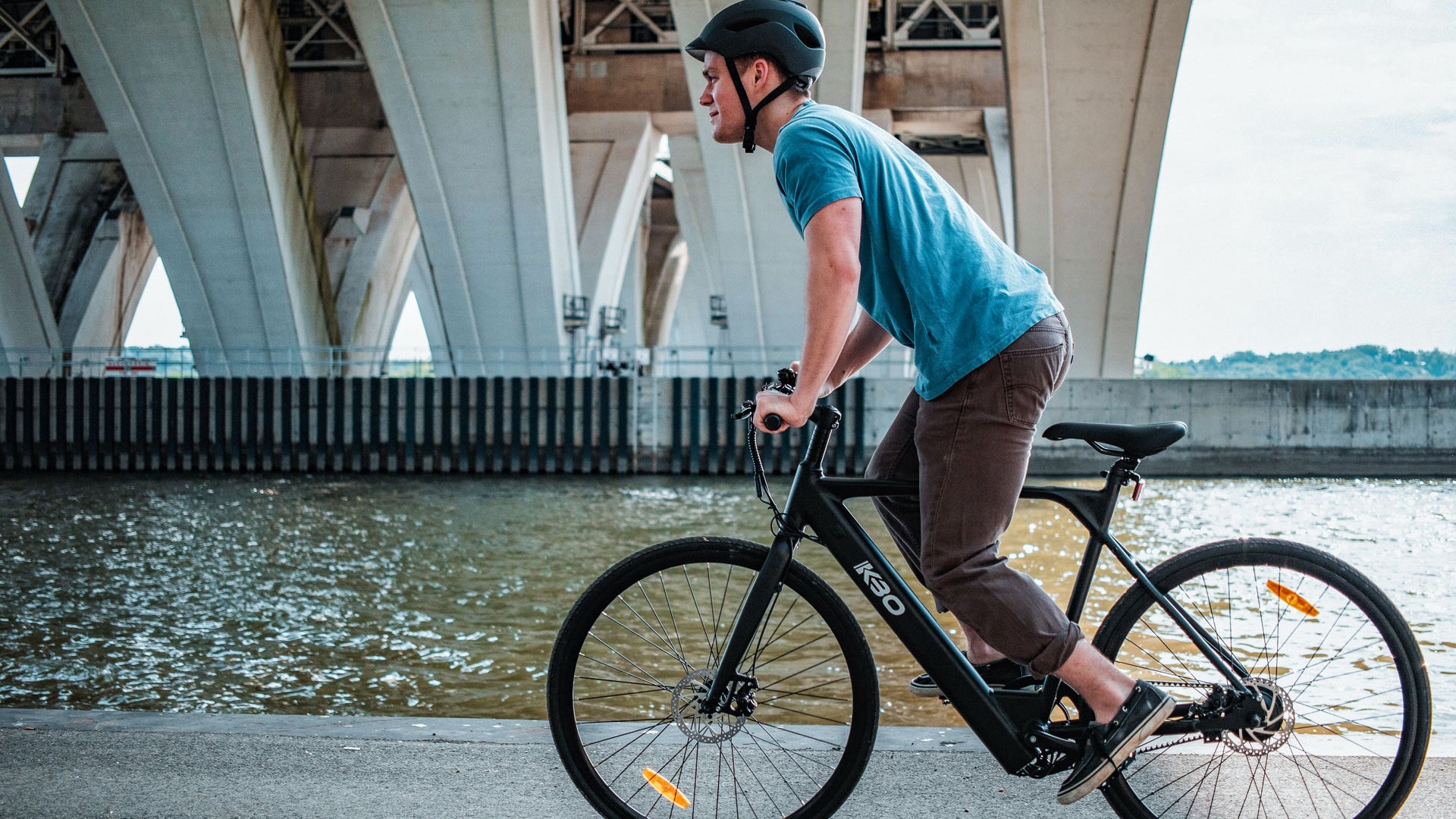 The stealth bike isn't called stealth just for show, it is actually very quiet. And besides the single-belt drive that makes this possible, the brushless geared hub motor is also another reason the stealthiness is achievable. The brushless geared hub motor is quiet even though its power is sustained at 250w. it also gives you 3 pedal-assist options for your convenience. 
Not only its frame is solid, but its tires are made durably. Having its size at 700x32c, its rims are made of aluminum alloy. While one might be skeptical about the narrow design at first, you would be amazed to know that it was made that way on purpose to give reduced resistance while riding. also, the size allows you to ride faster than if it was bigger than this. It's easy to assemble and install. Find out the Hurricane electric bike installation guide here. 
When using a rugged stealth e-bike, the frame and tire aren't the only things that  catering for. Everything might be perfect to ride on the road but if the rider isn't comfortable, then, it's all for nothing. I mean, would you want to ride a bike that leaves you sore and in pain all over? I guess not! The stealth road electric bike KBO Hurricane understands this simple logic which is why its saddle are made to be very comfortable. They can be easily adjusted to fit your preference, so when you are on a bumpy road, you won't have to worry about your body being sore. Not just this, if you are the type that goes for a long ride, the saddle can keep you comfy regardless of the distance you are traveling.
Speaking of long-distance riding, you can ride your stealth road electric bike KBO Hurricane for about 50+ miles on a fully charged battery. It comes with a Panasonic cell battery capacity of 345Wh. Nothing gives quality assurance to you when riding a long distance than your stealth bike won't power down halfway through. The battery isn't only built for long-distance range but is also placed where it's most protected to ensure durability. It is located inside the down tube of the frame that is water resistant. The location also provides you will smooth removal in case you want to replace the battery.
Sometimes, riding during the day isn't an option, even if it were, we have no control over the weather. So what happens when we find ourselves riding at night or in the rain? Well, the stealth road electric bike KBO Hurricane has an answer. The 36V LED headlight provides adequate lighting to you when riding in any of these conditions. You don't need to stop your ride or fun because of this when you can safely switch your bright headlight on by pressing the M button for just a few seconds.
Furthermore, this isn't the only protection you have with the Stealth Road Electric Bike KBO Hurricane, it also has an LCD backlight display that keeps you up to date on your e-bike's performance. Its location gives easy access and since it comes with a backlight, you can keep in touch with your bike's information even when it's dark.
A lot has gone into the making of the stealth road e-bike, and many things had been put into consideration. One of the things that set it apart is the brakes. It has a mechanical disc brake which is one of the most effective brakes in the market. It gives abrupt stop when applied and the stopping power can halt the bike at any speed you might be on.
With all these mouth-watering features that come with the KBO Hurricane, one would think it would be on the heavy side to be able to properly function. But that is not the case here. In fact its weight sits at 36 pounds. One major advantage of its weight is it enhances your riding experience by giving you a quick and smooth ride on it. When you are not riding, the lightweight of this bike can also come in handy. It is easy to lift when passing a place where you would prefer not to ride or even when you want to carry it upstairs or downhill.
---
Related Product
Save $300
Stealth Urban Electric Bike KBO Hurricane 2.0
Regular price
$1,199.00
Sale price
$899.00
---
Share Article