Related Product
Save $400
Commuter Electric Bike KBO Breeze Step-Thru
---
Share Article
Top Ebike Accessories for Your Summer Ride | KBO Bike
Summer offers more outdoor rides for enthusiastic riders. And in order to be ready for them, you'll need to freshen up your bike. But we're not just talking about putting additional air in your tires, though that's crucial. No, today we're highlighting some seriously amazing bike accessories that can make your trips more convenient and, most importantly, safer.
Wouldn't it be amazing if all you needed for a fun ride was an electric bicycle and a smile?
While those two things are often sufficient for some of us, other fantastic gear available may improve e-bike rides, whether you ride for pleasure or commuting.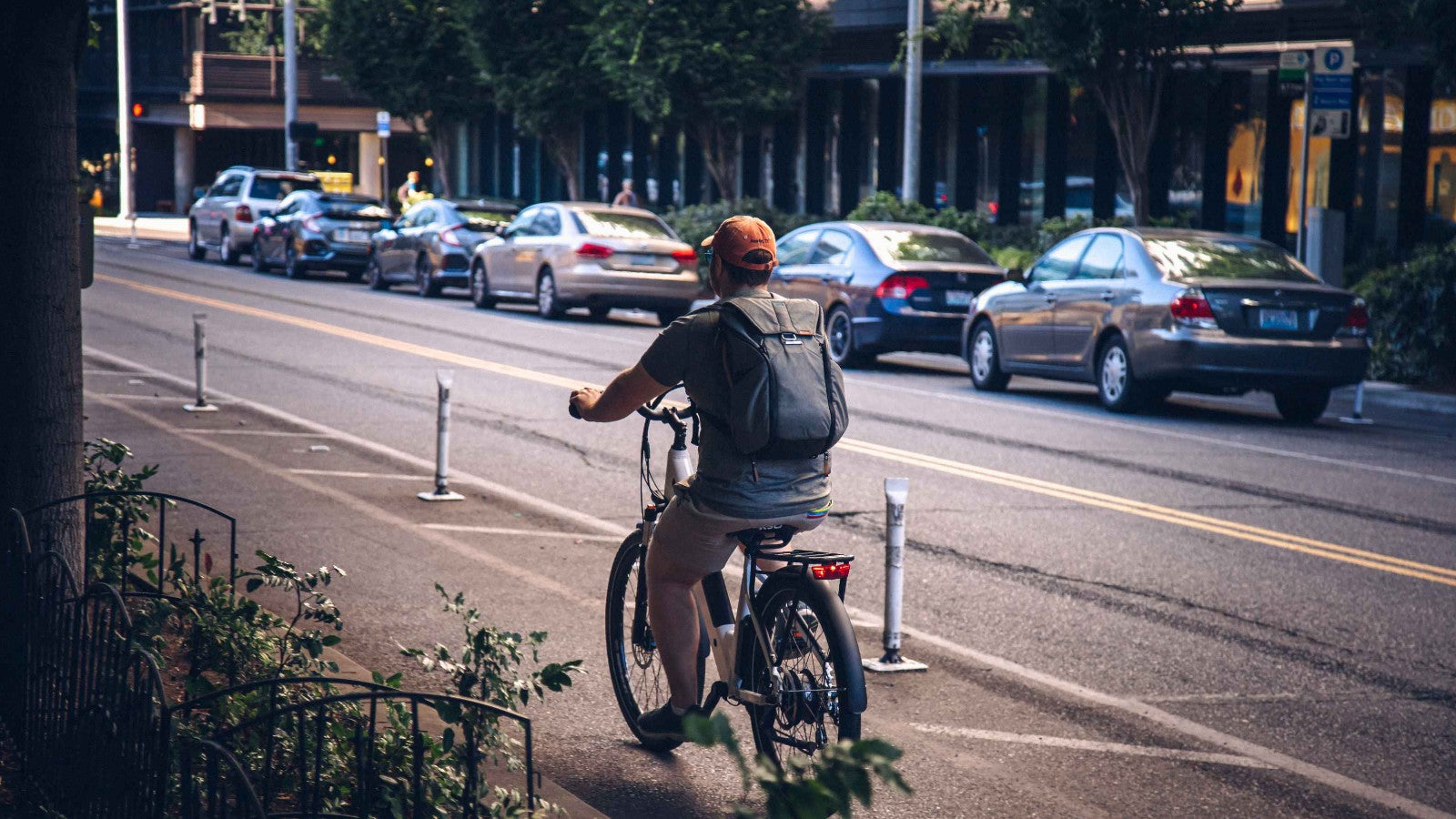 A spare battery
Is there anything more distinctive about an electric bike than battery management? The entire purpose of electric assist is to improve your rides. Longer days, larger slopes, no waiting for a lift back up the mountain. The last thing you need is a dead battery to cut things short.
The battery life that your e-bike manufacturer provides on the spec sheet may or may not be based on reality. Spend much time cruising along a mellow path, making much effort, and you could even outlive your battery life.
On the other hand, if you spend your day chasing people up every hill you can find, you may fall far short. Instead of being concerned, bring an additional battery with you. If you run out, change it out, and it'll be like you never stopped.
Tires
Tires are one of those items that are entirely individual to you. The tires that arrive with your electric bike may work for a while, depending on when you get it and how particular the design is. There are so many alternatives and application scenarios that no one tire will ever be suitable for everything.
The best tires have a significant impact on how a bike rides. With such a diverse spectrum of trail conditions, it's unsurprising that no tire is a master of everything. Most tires will be specialized, whether low-profile yet fast-rolling tires for hardpack dry conditions or thin spikes meant to cut through the slope.
Bicycle Frame Bag
Having something in your pocket while riding may not be the best idea. You'll need a convenient location to put your phone, maps, keys, wallet, and tools, among other things. It would be best if you got yourself a Bicycle Frame Bag.
The KBO Bicycle Frame Bag is a 1.7L capacity bicycle frame bag that is simple to install. The frame is made of a lightweight carbon fiber material to decrease weight. As an open vehicle, having a water-resistant accessory is essential for bikers; this bag fits that requirement, with durable carbon material and sealed double zippers, guaranteeing that your belongings are secure from adverse weather conditions. For quick access to your phone while riding your bike for GPS, music, calls, or reading messages. It has a TPU film window with a high sensitivity that allows you to view your screen. The backpack, however, contains a secret little hole at the bottom that will enable you to use your earbuds while cycling. Pretty cool, yeah? It has three adjustable velcro straps for quick and secure attachment to assure safety. It is also available in black, a classic match for any bike color.
Bike Rack Bag
You might wish to rearrange a few items now and again. Don't be the guy who ties packages to the rack when a rack bag would suffice. With its shoulder strap that allows it to function as a messenger bag, the KBO Bike Rack Bag provides more value than you bargained for. You will feel confident even in poor weather since it is made of high water-resistant carbon composite leather. You may expand the bag's size to accommodate your belongings more comfortably. When you need more capacity, you may extend the fold-out compartments on each side of the backpack to make it two bike panniers. You may also expand the capacity by unzipping the top zipper. It also contains internal compartments for separating items like keys and tools from phones and smooth surfaces into different areas to minimize scratching. It is available in black.
Helmet
We provide you with some fast bikes with powerful braking systems. However, you can never be too cautious regarding safety. Whether it's a short ride around the neighborhood or a long commute to work, you should top off your safety awareness with a Bicycle Safety Helmet. The KBO Bicycle Safety Helmet exudes style, comfort, and security. It has air inlets and outlets for excellent all-around ventilation, an inner bug mesh to keep insects at bay, a shell made of high-density shock-absorbing EPS material, and a hard protective outer shell to improve visibility at night. The helmet has a visible LED front light and colorful mini Lights on three sides. A reflective thread belt buckle to keep it from falling off when cycling. Ideal for both men and women, with compatibility for ponytails and other hairstyles. It also features a USB connection for charging.
Electric Bicycle U-Lock
Following the safety of life, property security is the next priority. Bikers spend hundreds of dollars on e-bikes, and some even insure them against theft and damage, which is a real possibility given the size of the bicycles. They are easy to steal and challenging to track down. Riders should keep it as secure as possible. The KBO Electric bicycle U-lock keeps your bike safe wherever you park it. It is made of 0.63 thick high-performance alloy steel resistant to cutting, leveraging, and drilling. It also includes a 4-foot steel wire with a PVC coating to increase its durability. It also comes with two replacement keys in case you misplace your key.
Electric Bikes Hitch Rack
Sometimes you must take your bicycle on a journey before they can do the same. If you're going on a lengthy road trip, you might need your bikes for short-distance road runs. You'll need a bike hitch rack to carry your bike with your car. The KBO Electric bike hitch rack is foldable, portable, and simple, with a two-minute assembly time. It has wholly integrated security and can transport the majority of e-bikes, regardless of the frame design. When not in use, you may fold it up to conserve space. It's made of durable steel and can carry up to 160 pounds. Because most e-bikes weigh less than 50 pounds, it can easily mount two of them, albeit you need to remove the batteries before mounting e-bikes to the rack.
Lights
Most eBikes now include lights; after all, the eBikes have a battery pack, so it makes sense to connect them to the battery. This not only helps you see at night, but it is also a safety problem.
Some backlights brighten as you use the brake, mimicking a true brake light.
Front-facing lights come in various formats, ranging from battery-powered to rechargeable, connecting to the handlebars to hooking directly into the battery. Choose the best light for you.
The important thing is that you be visible to drivers and reach safely wherever you go.
You have an extra battery, so use it. When the sun begins to set below the ridge, the last thing you want to do is find yourself with additional battery life, extra miles to cover, and extra fun.
You can even begin your trip if you have the proper lighting after the sun has set. Riding trails at night is an entirely different experience. Riding a beloved path at night is novel, no matter how many times you've done it. Many familiar marks are obliterated when the moon rises instead of the sun. The experience is fresh, and you no longer rely on long summer days.
Cleaning kit
We've all heard that cleaning your bike after a ride is essential if you want it to last longer. Because e-bikes have more moving components, it's perhaps even more necessary to wash your bicycle after a wet or muddy ride.
Any bike cleaning guide will tell you to check the bike before getting down and dirty with the post-ride clean-up. It's especially crucial to take care of your drivetrain on e-bikes because the extra force from the motor means your chain, cassette, and chainring will have a hard life. Replacing parts before they wear out helps keep your bike functioning smoothly and saves you money in the long term.
It's also a good idea to include a replacement chain in your riding pack because it's not uncommon for a chain to crack, so having a spare ensures you won't complete your ride early.
We hope you enjoy the unique bike accessories on this collection. As you can see, the right gear can make your bike trips both safe and convenient. Shop for the best ebike accessories on the KBO website this summer.
---
Related Product
Save $400
Commuter Electric Bike KBO Breeze Step-Thru
---
Share Article