Share Article
New Arrival! The Step-Thru Is Launched! | KBO Bike
At the beginning of the new year, we launched a new type of electric bike for welcoming the coming spring! That is the most cost-effective step-thru model KBO Breeze Step-Thru! Before launching this electric bike, a number of customers ask us to produce a kind of electric bike with a step-thru frame. Because this type with a low frame is easy to step over, and it can meet the needs of most people. Riders with certain mobility issues or not very tall height tend to be more comfortable on bikes with step-thru frames. This model maintains the same components as the KBO Breeze. The step-thru model perfectly combines performance and comfort. There are only three differences:
1) Chalk white color
2) Step-thru frame
3) In frame battery
This is not only the release of a new model but also our promise to some customer's needs. Hope you guys love it! Now let's take a peek at it!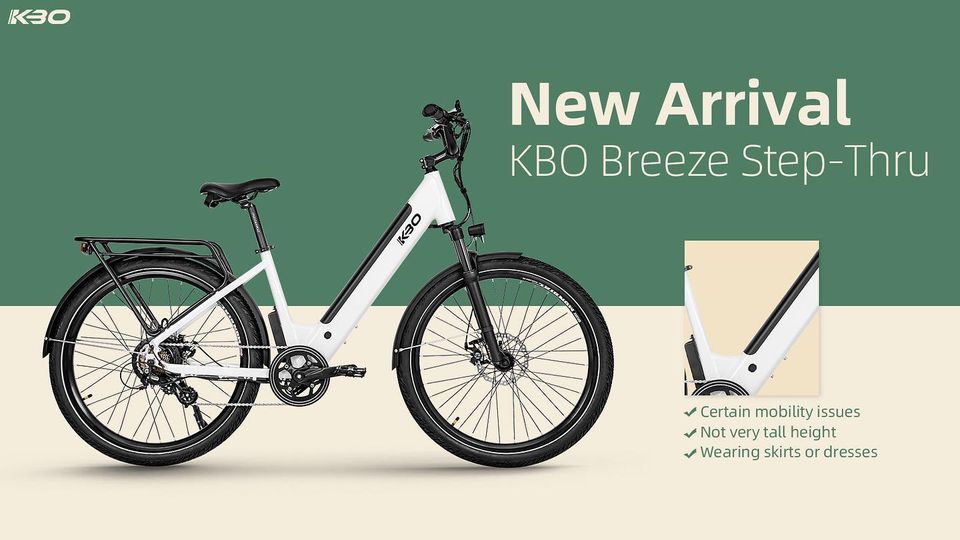 Why the KBO Breeze Step-Thru is launched?
For meeting the needs of most people
As stated above, we launched a new model --that is a step-thru frame electric bike. During long research and discussion, our design and research team make a final decision to color it chalk-white. As every rider knows, the step-thru type is suitable for most people to have a ride. So we put forward the chalk-white color, which is can satisfy the needs of most people as well. You can say it modern, stylish, and you also can say it humble, simple, even calm. Therefore, whether the young or the elder, the step-thru model is a perfect choice. At the same time, for some people who want to wear skirts or those who need a bike to recover their legs, picking a KBO Breeze step-thru electric bike is a great idea.
Excellent Performance
The KBO Breeze step-thru continues to be equipped with a large capacity Samsung battery pack for the long commute. There's no need to charge twice a day when you commute via a KBO Breeze electric bike. And it allows riders to go further, and the riding range is 30~55 miles, which is built for commuters. At the same time, we put the battery in the down tube frame, which increases the performance of water resistance.
At the same time, it comes with a powerful and rugged sustained 500W brushless gear hub motor. It can take you to conquer any hills and city blocks, just ride on and go forward! Like a breeze!
It is also equipped with a 3 amp quick charger. Quick charger applying in the electric bikes will greatly decrease the charging time and save more time to do more things you can do in the commute days.
LCD backlight display is easy to control. It can show battery indicator, speed indicator, speed unite, power indicator, function list. It is easy to check and operate on the display on your left handlebar during the ride.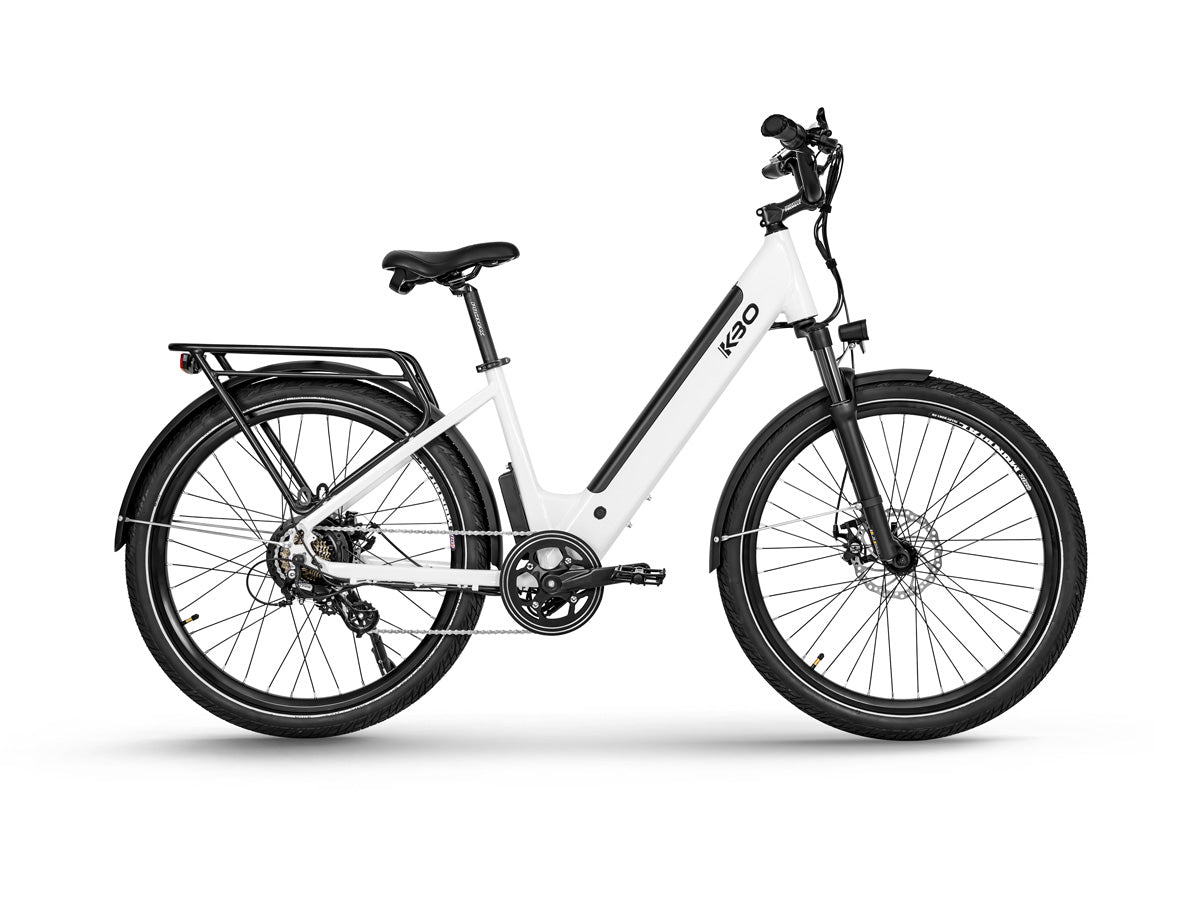 3 modes can change freely while riding. And it has a 0-5 pedal assist level. You can change the level according to the road situation and riding state.
This kind of electric bike is aimed at commuting, so we try our best to reduce the weight for making it easy to ride and place. It is lightweight, only at 62 lbs.
You can check the tech specs on the form below:
Tech Specs
| | | | |
| --- | --- | --- | --- |
| Battery | Range | Hub Motor | Total Payload Capacity |
| 48V 16Ah Lithium-ion battery with Samsung cells | 30~55 Miles | Sustained 500W brushless gear motor | 300 lbs |
| Recommended Rider Heights | Charger | Controller | Display |
| 5'1" ~ 6'3" | 3.0 Amp smart and quick charger | 48V / 25A | LCD backlight display |
| Weight | Pedal Assist |   |   |
| 62lbs | 0~5 level |   |   |
High-quality Accessories
27.5" x 2.4" Panasonic tires are great for commuting. Regardless of the street blocks or the hilly area, the Panasonic tires will help reduce the shock with all the bumps in the road.
Shimano speed derailleur system provides seven speed gears, which allows you to change the gears freely for adapting to different terrains on-demand.
The integrated rear light improves safety while you are cycling at night or in the rain. It can increase the visibility on the road. No more extra operation, when you apply the brakes, it will be activated. At the same time, you also can press the button "M" for three seconds to switch all the lights on.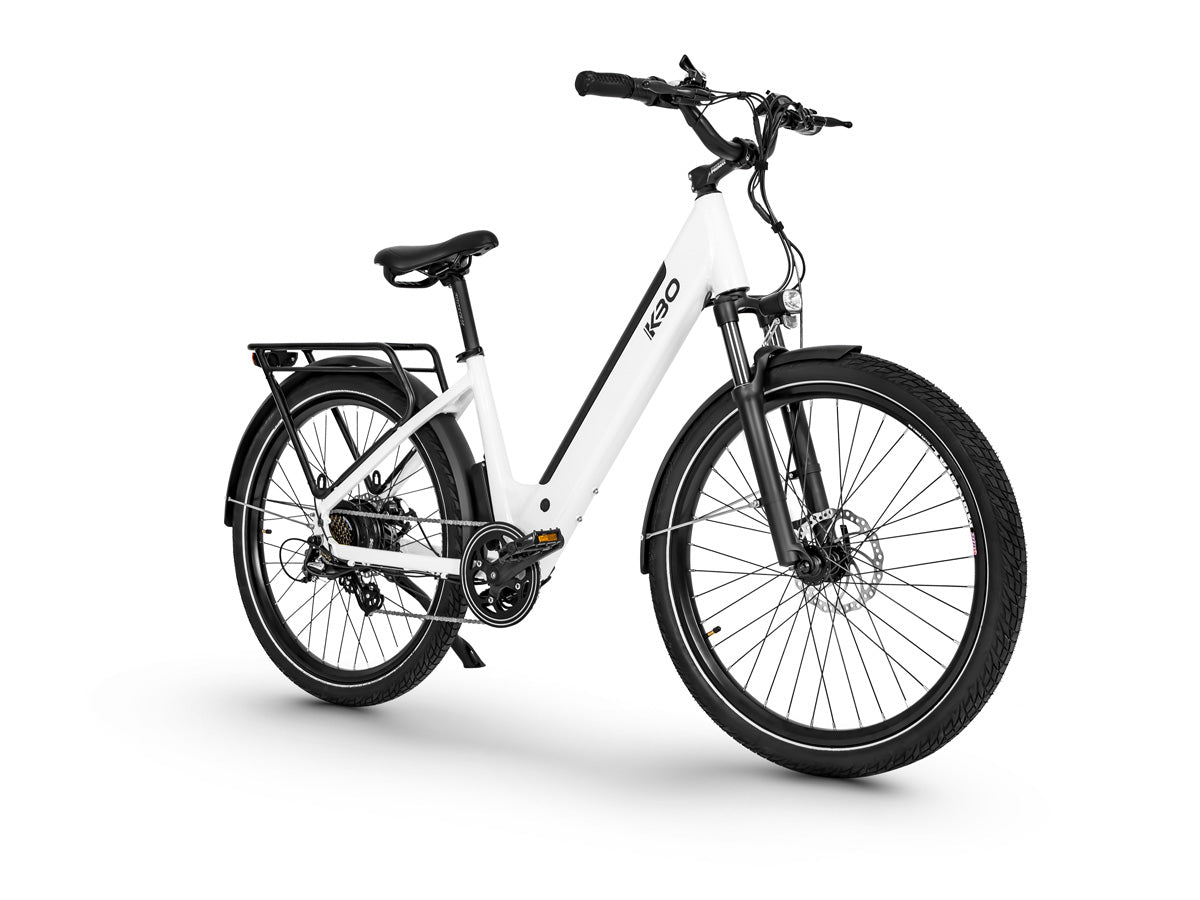 The KBO Breeze step-thru comes with a disc brake. The sensitive Tektro Aries brake system with the front and rear 180mm disc rotors can provide sufficient braking force even in the harshest conditions.
The aluminum alloy front suspension fork has 80mm of travel, preload adjustment, and lockout. It has a good damping effect to reduce the feeling of bumps when riding on rough roads.
You can check the components on the form below:
Components
| | | | |
| --- | --- | --- | --- |
| Tires | Derailleur | Rear Light | Brake |
| 27.5" x 2.4" Panasonic puncture-resistant tires | Shimano 7 speed derailleur | Integrated brake taillight | Tektro aries 180mm brakes |
| Chain | Sensor | Crank | Front Suspension Fork |
| KMC chain | Sensitive cadence sensor and speed sensor | 170mm forged alloy | Amazing damping effect |
| Throttle | Pedal | Bike Frame | Front Light |
| Twist the throttle on your right hand to accelerate | Alloy pedal with reflectors | 6061 Aluminum frame | 48V LED light |
| Saddle | Seat Post | Kickstand | Spokes |
| Sturdy and comfy saddle | Diameter 30.4mm / length 300mm | Heavy duty aluminum | Stainless spokes (Front 13G / Rear 12G) |
| Stem Diameter | Handlebar Diameter |   |   |
| 31.8mm | Sides: 22.2mm / Middle: 31.8mm |   |   |
If this is the first time that you would like to try an electric bike, if you are in need of a reliable and good quality electric bike, there is no doubt that a KBO Breeze step-thru is the right choice suitable for you.
---
Related Product
---
Share Article