Share Article
How To Chose Your First Electric Bicycle? | KBO Bike
Electric bikes are now becoming more and more popular in our country. This fresh emerging method for traveling is walking into the view of people with their ease of use and excellent performance. With the increased demand for ebikes, different kinds of electric bikes appear in the market. When you decide to own an ebike, sometimes you don't know where to begin and don't know which one should choose from various kinds of electric bikes. This guide providing several ways of classification on electric bikes will help you choose the right bike.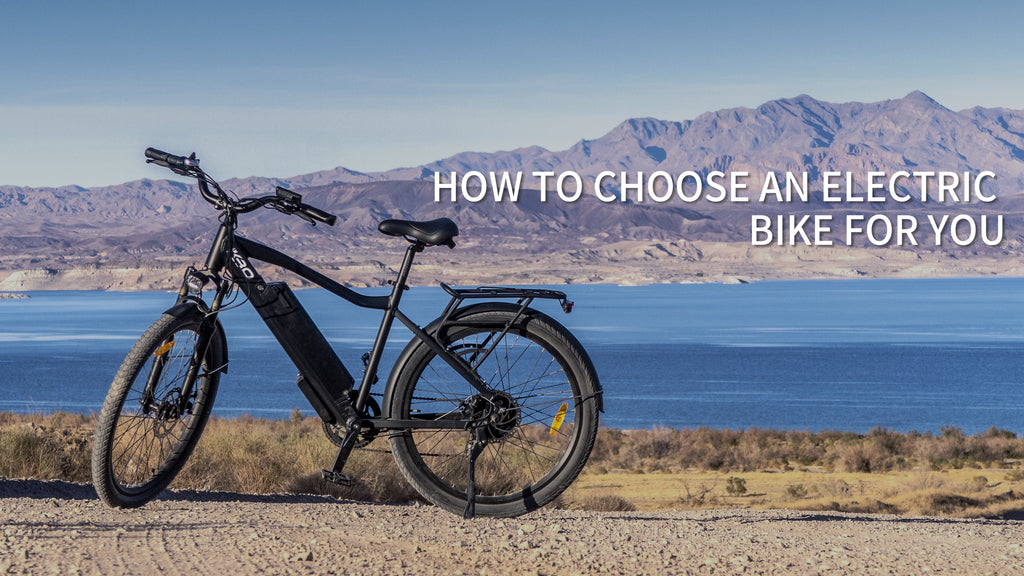 The Classes of Electric Bikes
There are three classes of electric bikes. What does every class define? What do different classes for electric bikes mean? A proposed rule by the National Park Service defines in Policy Memorandum 19-01:
"Class 1 electric bicycle" shall mean an electric bicycle equipped with a motor that provides assistance only when the rider is pedaling, and that ceases to provide assistance when the bicycle reaches the speed of 20 miles per hour.
"Class 2 electric bicycle" shall mean an electric bicycle equipped with a motor that may be used exclusively to propel the bicycle, and that is not capable of providing assistance when the bicycle reaches the speed of 20 miles per hour.
"Class 3 electric bicycle" shall mean an electric bicycle equipped with a motor that provides assistance only when the rider is pedaling, and that ceases to provide assistance when the bicycle reaches the speed of 28 miles per hour.

KBO Breeze belongs to Class 2 electric bicycles. Actually, our electric bikes have a three-in-one function.
Mode 1: No power – you can use your own pedal power just like a regular bicycle without electricity.
Mode 2: Pedal assist – just turn it on and use both electricity and your pedal power to get to where you want to go. Want to go faster or go uphill? Simply use the pedal-assist system, the quicker you pedal, the faster your bike moves!
Mode 3: Pure electricity – if you want to give your legs a break, just use the throttle to get moving. No muscle power needed! And this mode is very convenient for people who need it.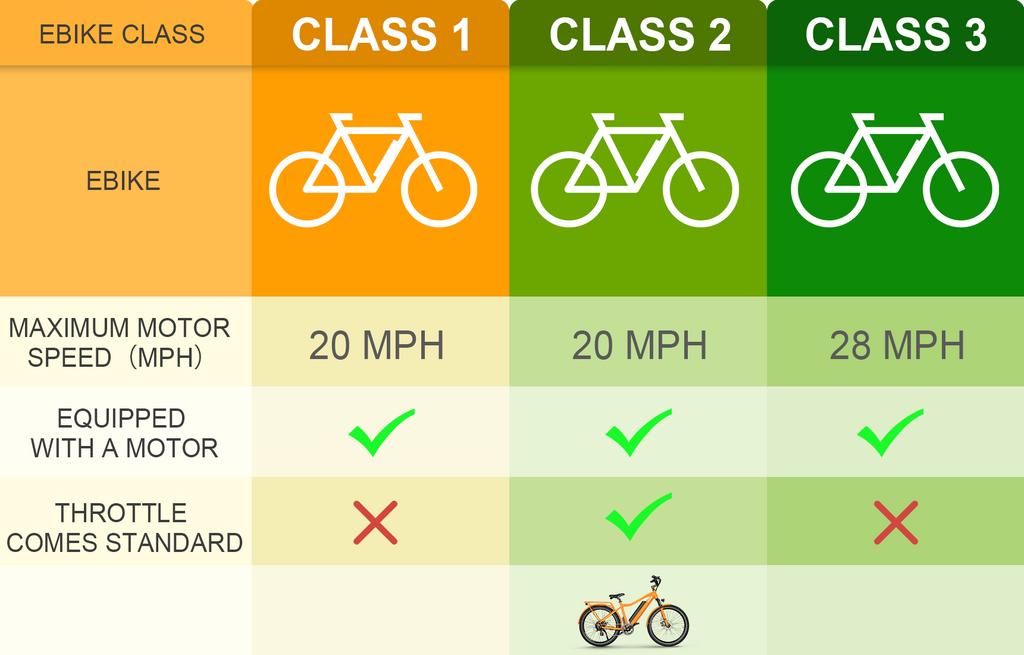 The design team aimed at servicing more people at the very beginning when they designed this excellent electric bike. If your knees are not good or need to recover, the purely throttle-powered mode is the best choice. If you don't want to become sweaty or just want to give your legs a break, you still can choose a purely throttle-powered mode to drive you forward. If you want to go faster with pedaling or want to save physical strength, the pedal-assist mode is a great choice. And if you just want to do some exercise or just enjoy riding, you can choose a power-off mode to ride as a conventional bicycle.


The Styles of Electric Bikes
Apart from different classes, we also can roughly divide electric bikes into the following categories in a simple way via the styles: electric road bike, electric mountain bike, electric cruiser bike, electric fat bike, electric cargo bike, folding electric bike and other electric bikes.
Electric road bike
Here electric road bike is a very broad category including plenty of types, such as some city bikes, leisure bikes, racing bikes, commuter bikes......Most share narrower tires to reduce the friction on the road and lack of suspension looking like a conventional bicycle. At the same time, it focuses on lightweight design. If you ride mostly on the street or paved road, an electric road bike is perfect to pick.

KBO Hurricane is a kind of stealth road e-bike. It only weighs 36 lbs. With this super lightweight, it can be easy to carry up/down some stairs. You can hardly say it is an electric bike because it looks like a conventional bicycle.
Electric mountain bike
Heading off-road and riding trails are more suitable for electric mountain bikes, which can conquer the hilly area and some hard terrains. At the same time, some electric mountain bikes are optimized for commuting and the goal is to handle the tough city commutes. Slightly wider tires, great suspension, and excellent rugged frame are their common characteristics.
KBO Breeze is a kind of commuter electric bike. It is optimized for commuting with a three-in-one function. The tires are made of high-quality materials that are resistant to punctures from sharp materials. It is a bit wider than common tires, which makes your commuting journey more steady and smooth. The strong frame is made from 6061 aluminum alloy and the aluminum alloy front suspension fork has 80mm of travel, preload adjustment, and lockout. It has a good damping effect to reduce the feeling of bumps when riding on rough roads.
Electric cruiser bike
The electric cruiser bike is known as a beach cruiser bike. It has larger balloon tires, a wide seat with an upright seating position, and higher handlebars. These equipped characteristics are very great for cruising the beach.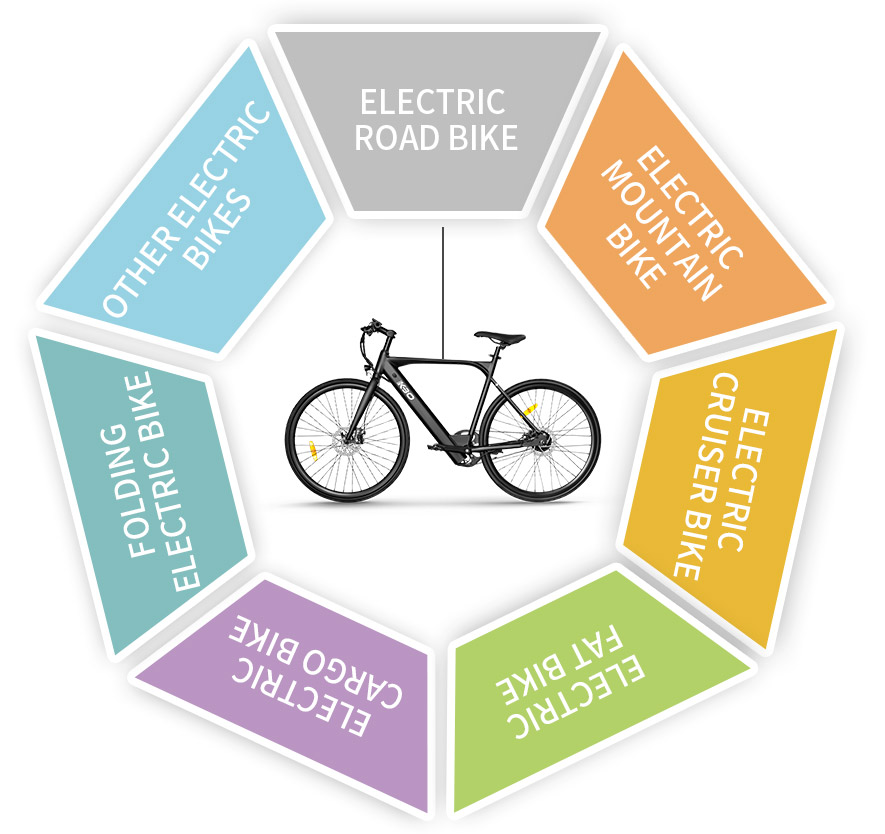 Electric fat bike
At first sight of an electric fat bike, you will notice its fat tires at once. So some riders think a bit more interesting thing about it is its "fat". Their fat tires are usually 4" or greater for adapting for different terrains and adventures, such as bike lanes, beach, loose soil, and even snow.
Electric cargo bike
This kind of electric bike is very helpful when you have something to carry. It has a larger front loader or a wider rear rack for hauling more stuff. Of course it will affect the speed of riding when you take too much on the bike, so you need to control the cargo weight within an affordable range.
Folding electric bike
Folding electric bike is popular for their portability. Most electric folding bikes can be folded in the middle, which can save a half room. This kind of electric bike can be taken in the back trunk of a car or carried onto a bus or train and it is convenient because of its foldable design.
Other electric bikes
This article can not include all the categories of electric bikes because there are a number of different kinds of electric bikes in the market. Some other fun styles are also popular among cyclists.
For example, an electric tandem bike is designed for two people. It is very suitable for couples because it has two seats and two sets of pedals.
Electric tricycles are more stable and are better for people who lack leg strength or lack balance. The three wheels will keep the riding journey stable and support the rider greatly to ride or stop on the road.
The Prices of Electric Bikes
The price of electric bikes varies between $300 and $10000, and the quality and equipment are also different during different price ranges.
For meeting the popular demands, we offer affordable electric bikes with high quality and excellent performance. With crafted technology and work, we control the price within the reasonable range that people can afford. We hope people can ride free, ride happily, and ride with fun without baggage.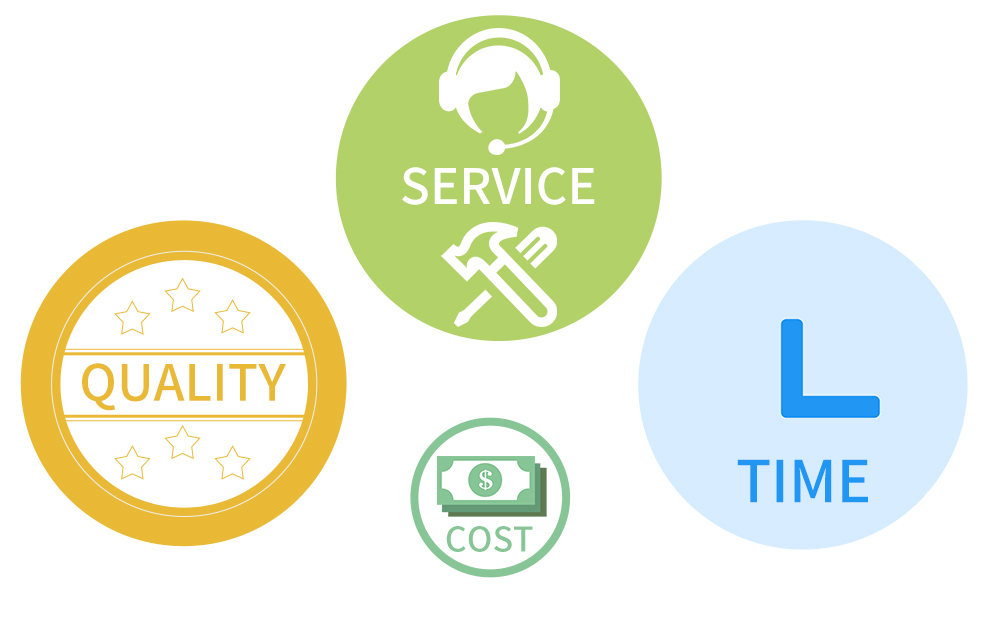 Now, do you have a piece of more particular knowledge about electric bikes? If so, are you ready to join the team for riding electric bikes? Once you ride on an ebike, you will find that this two-wheeled bicycle with power could be magic. It shall be a superpower and you would see more and more of ebikes in the street, on the road, and even everywhere in the future.

The holidays really sneak up on you! Put the ebike on your gift list and choose the right ones for you and your loved people! Welcome to contact KBO Bike if you feel free.
---
Related Product
---
Share Article