What is the bike frame standover height of the KBO Bike?
The Bike frame standover height of KBO Breeze & KBO Hurricane is 31".
If you own a Breeze Step-Thru,Oasis, Compact, Tornado Step-Thru or Ranger, you don't really have to worry about standover height. 
What is the bike frame standover height?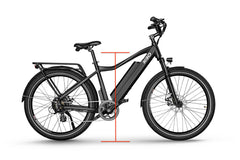 How to measure my standover height?
Stand up straight with your shoes on, plant your feet no more than a foot apart, and measure the distance along the inside of your leg from your crotch to the floor.
Learn more about the how to measure your standover height.
---
Can't find what you're looking for?
Our customer support experts are waiting to answer your questions.
Submit a Question