Related Product
Save $400
Commuter Electric Bike KBO Breeze Step-Thru
---
Share Article
Step-Through vs. Step-Over Electric bikes | KBO Bike
A bike's design is extremely important, not just for aesthetics but also for efficiency. The first version, which goes back to the early 1800s when bikes were made of wood, has gone through an evolution. Bikes' architecture and features have evolved over the past two decades, making them much more versatile.
With the introduction of step-through bikes, some riders are unsure which bike is best for them and what the differences are between the two designs of electric bikes.
In this article, we shall look at the variations between step-through bikes and step-over bikes to help you determine which is best for you.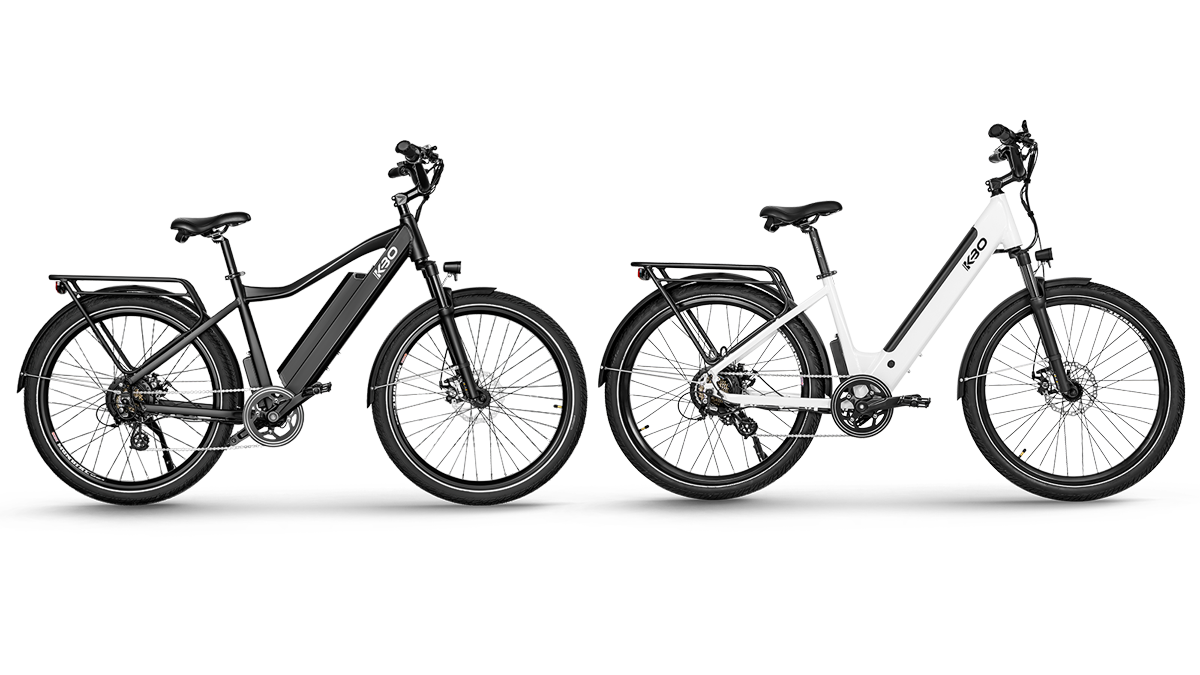 Step-Through Bike Frame
These revolutionary bikes go back in time and greatly aided women, which is how they came to be so well-known. Women's attire in the late 1800s was somewhat different from men's; instead of pants, they wore dresses. Since such dresses were incompatible with the bikes available at the time, a slew of issues arose and the step-through design was born. 
Step-Through bikes have a lower frame than regular bikes, as well as a low-stepping pad. They have very easy rides and can comfortably be mounted and dismounted. These bikes are enjoyable and fun to ride on a daily basis, but they do have their limits (more on this later). First, let's talk about the advantages.
Advantages of Step-thru bike frame
●
 

 They're easy to mount and dismount

They're an excellent choice for riders who don't have a complete range of motion or who have a reduced range of motion. Step thru e-bike is particularly useful for a senior citizen or have a disability.
●
 

They're perfect for people with cargo in urban traffic

If your bike rack is full of stuff like bags, crates, and other items, a step-through electric bike will help you get off the saddle and position your feet firmly on the ground without having to think about the top tube causing problems.
●
 

 Perfect for riders wearing dresses or skirts

The reason they were designed in the first place, they are a better alternative for riders wearing dresses and long skirts. That was what the producers had in mind, and if you're dressed up in a long, flowing dress in the summer, a step-through bike is a way to go to enjoy biking in any outfit.
Disadvantages/Cons of Step-thru bike frame:
Due to their structure, step-through bikes have more weight than traditional Step-Over frame bikes. Since these bikes lack a top bar, they do not have the usual support and safety, making them less durable in comparison. As a result, these bikes use more rugged parts to make amends for all of this, which makes them heavier in the end.
Because of their design, Step-Through bikes aren't ideal for hilly terrains, and they're certainly not a viable alternative to mountain bikes. Since the frame construction of this bike is very delicate, much of the weight is shifted to the frames while riding on hilly terrains, which can be risky.
If you're using the rack with your bike, you will be under a great deal of stress. For the rack, you'll need to have a top tube bar adapter with you at all times. 
Step-Over Bike Frame
The step-over frame is the oldest and most common bicycle frame. Because of its basic and sturdy construction, this frame hasn't improved much over the years.
Step-Over is the name given to them because of the diamond/triangle frame structure, which is also their distinguishing feature. Step-over frames can be used on city and road bikes, mountain bikes, high-end race bikes, and electric bikes, and they offer riders more pedal power and a much more stable ride.
● Longevity
 A bicycle can be a significant investment, but you want it to last as long as possible. With a step-over bicycle, you can be assured that your bike is designed using tested and quality geometry and can take you for a lot of mileage.
● Rugged/strong
Step-over bicycles are also typically intended to be driven through all kinds of terrains. Because of the solid frame geometry, a step-over bike is made for any sort of ride, whether you want to ride up hills or off-road.
● Lightweight
Additionally, traditional step-over bikes are often built from lightweight components so the frame design guarantees its resilience, this lets you ride faster while expending less energy.
Disadvantages/Cons of step-over bike frame:
When it comes to purchasing a step-over bike, one of the drawbacks being that, while the frame is built to handle all types of terrain, it is not designed for harsh riding conditions or heavy riders. If you want your step-over bicycle to be able to survive any of these conditions, you may need to spend more money customizing it to meet your unique needs.
Furthermore, step-over bike frame are often built for 90% street riding and 10% off-road riding. As a result, if you intend on riding your step-over bike frame in a variety of situations, you may need to invest in a pair of specialized tires. Alternatively, double-check that the bike you're buying is appropriate for the terrain you'll be riding through.
Making Your Choice: Step-Through Or Step-Over Bike
We agree the Step-Thru frame would be the best option for most ladies because of its simple and elegant nature. Purchasing a traditional model can cause you a great deal of trouble. The Step-Over frame can quickly scratch and ruin your skirts.
 Step-Thru is also a good option for the aged, people with leg disabilities, and those with impaired mobility. Step-Thru frame is a blessing for people working in the delivery sector and those who need to get on and off their bikes constantly as it makes their jobs easier and it's quicker.
The Step-Over design, on the other hand, is more suited to cycling adventurers and others who like challenges due to its more stable nature. Furthermore, it is the perfect alternative for professional cyclists and is seen in many professional cycling competitions. Traditional models could be more appealing to some very tall people.
If you're still not convinced about which particular bike frame suits you, we implore you to ask yourself these simple questions:
Why are you getting the bike?
What terrain or trail would you ride on?
These will assist you in determining the best bike for your riding needs. If you're still unsure, a member of the KBO test ride team would gladly assist you!
When determining whether to buy a step-through frame or a step-over frame bicycle, there is no right or wrong choice. Though each has its own features, you can pick a style based on your riding style and preferences. And once you've decided which frame is best for you, we're sure you'll have a great time riding it because bikes are so much fun! 
---
Related Product
Save $400
Commuter Electric Bike KBO Breeze Step-Thru
---
Share Article