Related Product
Save $200
Electric Cargo Bike KBO Ranger
---
Share Article
Changes after Choosing A KBO Cargo Ebike | KBO Bike
Everyone knows someone, or at least a friend of a friend, who has ridden for a long time. We're not talking about professional cyclists or bike couriers here, but ordinary folks who have adopted cycling as a way of life. Have you ever wondered why this is so?
Some folks probably only ride once in a blue moon, for example, when they're on vacation and want to explore. However, for those of us who have invested in a bike - or, more specifically, an e-bike - those two wheels are a great friend, like an extension of oneself.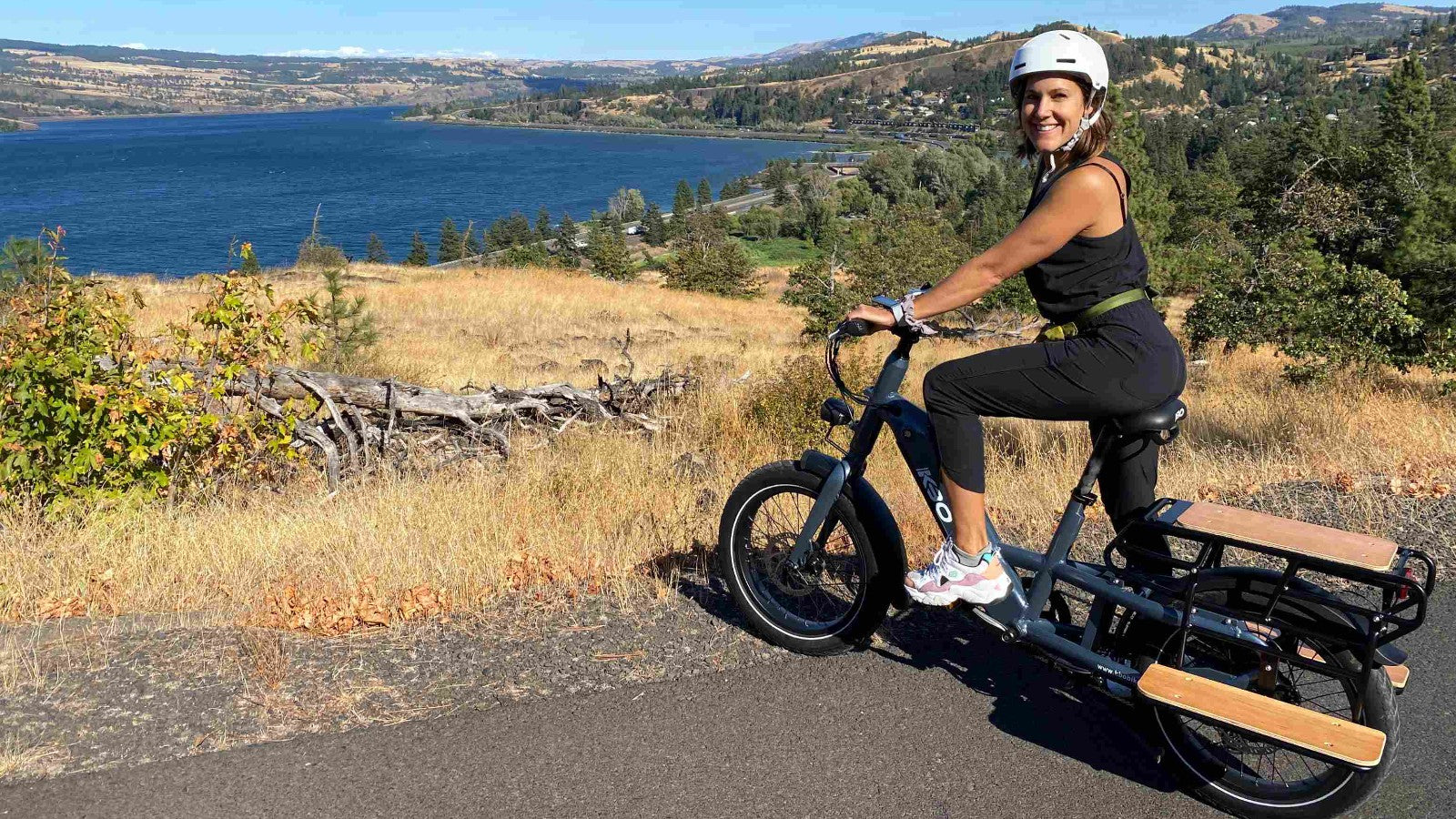 What are Electric Cargo Bikes, exactly?
Electric cargo bikes are similar to regular electric bikes, except they are designed to carry heavier and larger items. The same rules govern them as regular electric bicycles. (For example, a 250W max power motor, a top speed of 25km/h with assistance, and no throttle), yet they are designed with a range of layouts that allow them to carry everything from luggage carriers to baby seats.
What Can An Electric Cargo Bike Be Used For?
A cargo e-bike may transport large and heavy objects, such as a boxload of deliveries, or it can transport something more precious, such as children (or your dog!), to school or the park. It's ideal for weekly shopping and daily tasks throughout the town and in your area.
What Is the Cost of an Electric Cargo Bike?
Electric cargo bikes may cost as little as $1,500 or as much as $5,000. The price is decided mainly by the size and capability of the cargo e-bike. It's also possible that the more powerful ones are a little pricey. The KBO Ranger Cargo Bike, which costs $1,699, is an excellent electric cargo bike.
Which Bike Is Right for You?
Front Box or Longtail?
Electric cargo bicycles are available in two forms. The first type of bike is a front-loader, a Long John, which suspends a luggage box between the rider and the front tire. On the other hand, a longtail arrangement extends the back end of the bicycle to accommodate more bodies and gear.
Both forms have advantages and disadvantages. If you choose a front-loader bike, you will want a garage or storage area. They're also challenging to manage and require practice to ride at lesser speeds. A longtail bicycle is more maneuverable than a standard bicycle, but the weight is suspended higher up. If feasible, we recommend scheduling a test ride at your local bike store before making a purchase.
You won't find a better electric cargo bike than the KBO Ranger Cargo Bike. Let's do a quick rundown of its features.
In-Frame and Removable 48V 17.5Ah Lithium-ion Battery with Samsung/LG Cells
One of the most notable advantages of a KBO Bike is its battery life, which is certified for 900 complete charge cycles. You can ride up to 60 miles on a single charge thanks to the 840Wh battery capacity.
Powerful Sustained 750W Brushless Geared Hub Motor
You won't have to worry about lifting large loads or climbing steep uphills because a constant 750W brushless hub motor powers it.
48V 3 Amp Quick & Smart Charger
It takes 5 hours to completely charge the e-bike battery, shortening the time between rides and allowing you to keep up with the fast pace of your riding demands.
48V LED Headlight
Press and hold the "UP" button for 3 seconds to turn on the light. This feature makes cycling at night safer and allows motorists to see you.
Integrated Brake Rear Light
The rear light is a built-in LED light powered by the battery pack. The rear brake light quickly brightens when you engage the brakes while riding.
The Shimano 7-speed Shifter
It's engineered for your riding experience and lets you change gears on the fly to adapt to diverse terrains.
Mechanical Disc Brakes
The 180 mm disc rotors on the front and rear provide adequate braking force even under challenging situations.
Extra-large, Adaptable Rear Rack
The strong aluminum rear rack can support loads of up to 120 pounds. You may take a trip with your loved ones, carry your children to and from school, or move some heavy equipment.
Ergonomic Half Twist Throttle
Take a rest and cruise when you're sick of pedaling. To accelerate, gently twist the throttle on your right.
Adjustable Saddle
This bike seat is a durable and comfortable saddle that absorbs the impact of road bumps. You may change your position by shifting the saddle up and down and back and forth.
20"*3.0" CST Tires
The tires are made of high-quality materials resistant to punctures produced by sharp objects to avoid holes. It gives a more steady and smooth ride on your journey since it is bigger than standard commuter tires.
Intelligent Installation Points
It has an intelligent mounting bracket that can support up to 50 pounds. You can load it however you want.
LCD Backlight Display
The display offers information to help you keep track of your riding circumstances. A charge indicator, a speedometer, an odometer, a trip odometer, a pedal assist level, and other amenities are included.
Full Fenders
Both the front and rear fenders come complete with essential hardware. They are highly durable and keep you dry and clean from water and muck.
Center Stand
It is built using a rust-resistant, strong, and long-lasting aluminum alloy.
Some of the specifications of the KBO Ranger Cargo Bike:
Range
35-60 miles
Total Payload Capacity
400 lbs
Recommended Rider Heights
4'11" - 6'3"
Charger
3.0 Amp Quick charger
Controller
48V /22A
Display
LCD backlight display
Weight
77 lbs
Pedal Assist
0-5 level
Changes after Choosing a KBO Cargo E-bike
Are you considering purchasing your first e-bike but aren't sure if you're ready to make the plunge? What if we told you that an e-bike may change your life in a variety of ways, including safer commuting, health benefits, meeting new groups of people, and lowering your carbon footprint and monthly expenditures by replacing your daily driver? Here are just a few of the ways an e-bike can enhance your life.
Embrace the Cargo E-bike Lifestyle and Enjoy Your Errands
Using a KBO cargo e-bike as a car substitute or to supplement your everyday driving is a fun and ecologically sound way to enjoy some fresh air, use less fossil fuel, and avoid competing for a parking space while doing errands. If you get rid of your car, you'll save money on monthly gas bills and auto insurance premiums, giving you more money to spend on your favorite snacks and frozen pizzas.
Find New Reasons to Ride More
Are you unsure about whether or not you want to ride today? Don't worry; you'll have electric assistance to get you through the trip.
Like writing an essay or narrative, the most challenging part about riding is sometimes getting started. If you're not sure if you have the stamina to pedal, knowing that you can rely on electric assist to complete the journey if necessary is enough to get you off the sofa and out the front door. And once you're moving, the wind in your face, the thrust from your electric motor, the passing countryside, and the buzz of the tires below you will undoubtedly invigorate you.
Leave Crowded Public Transit Behind
Public transportation is an excellent way of travel, particularly in congested cities where parking is rare or unreasonably expensive. However, the pandemic and the social distancing age have blown up perceptions of the safety of traveling in a packed bus, metro, or commuter train. At the same time, vehicular traffic is lighter than many of us have experienced in decades, making city streets and bike lanes safer places to ride.
What better way to capitalize on this intersection of circumstances than to begin commuting by e-bike—either now to your important job or when more companies begin welcoming back employees stuck at home for months? As an added benefit, you'll enjoy some fresh air on your way to work, see your city or town in a new light from the saddle of your e-bike, and get some exercise while still arriving at work sweat-free.
As you embrace e-bike commuting, get the necessary equipment such as a quality helmet that fulfills safety regulations, a high-security lock, a handlebar bell, and a headlight and taillight or inexpensive and basic blinky lights front and rear to alert motorists to your presence.
Electric cargo bikes have shown to be handy and versatile electric rides for both individuals and businesses. Their economic sustainability is one of the reasons they are regarded as the future of business and transportation. One example is how the sharing economy has evolved as bike-sharing companies recognized the potential of mobility devices like electric cargo bikes.
Also, cargo e-bikes play an important role in making the world's roadways safer and greener. Cities may eventually transition to more sustainable ways of transportation, such as electric cargo bikes. The KBO Ranger Cargo Bike is the ideal e-bike to get you started.
---
Related Product
Save $200
Electric Cargo Bike KBO Ranger
---
Share Article