Related Product
Save $400
Commuter Electric Bike KBO Breeze
---
Share Article
5 Best Autumn Cycling Routes in the U.S. | KBO Bike
Autumn is a golden season when trees lose their leaves. During this period, riding an e-bike under the blazing sun or when the weather is cool is one of the best ways to enjoy Autumn's fiery foliage. E-Bikers are not just anticipating colder weather as fall makes its way throughout the United States; they are also searching for stunning fall foliage. That's why you are here, right? Keep reading.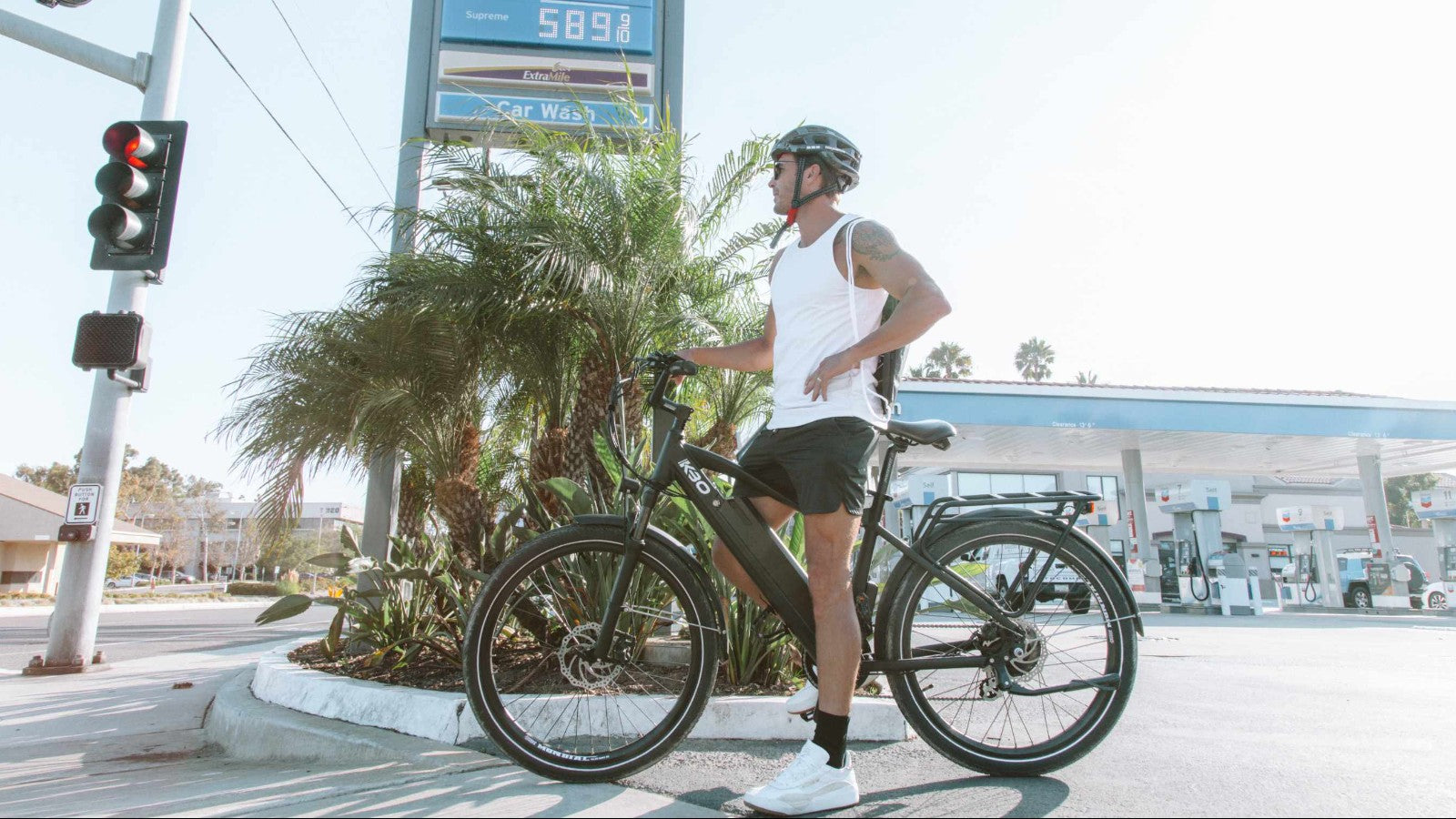 From Colorado to New York and Texas to North Carolina, there are some of the best routes to take rides and enjoy the magic the autumn season brings. Some of these paths are better with electric bikes than on foot. In places like Lexington's Kentucky Bourbon and Fort Worth's Trinity Trails, the pace is slower, and that is a perfect time to relax your legs as you don't need to pedal much.
If you love cycling in the Autumn, check out our list of the top U.S. locations to view fall foliage.
Boise, Idaho
Boise, Idaho, is a delightful fall destination with a mountain background, rolling foothills, and lovely downtown. It is best to watch the foliage in October when the weather is crisp and autumnal, with highs in the 40s to 60s. The approximately 25-mile-long Boise River Greenbelt, which hugs the Boise River and passes through stands of brilliant scarlet and amber-colored trees, is one of the best spots to go biking on your e-bike.
Several recreational areas, including Ann Morrison Park, Willow Lane, and others, are traversed by the path, making them excellent locations to park your car and board an e-bike. As you ride between 13 and 33 kilometers per day, you will see various colors and experience the season's slanting sunlight. If you are considering having an exercise and healthier vacation this Autumn get the Commuter Electric Bike KBO Breeze and go cycling on this path.
Blue Ridge Parkway | Swain County, NC
North Carolina offers a beautiful view of the orange kaleidoscope and crimson and yellow leaves along the renowned Blue Ridge Parkway due to the long autumn season and stunning fall foliage. The Great Smoky Mountains National and Shenandoah National Park are separated by a 469-mile stretch of highway bordering yellow, red, and orange dogwood, and maple trees, sassafras, making for a breathtaking drive no matter how many miles you log.
There is a substantial distance between developed locations and parkway amenities opened seasonally. So, when preparing to cycle through this trail, the KBO e-bikes make it easier since it is reliable with solid battery life. Therefore, you can cycle for hours without getting stranded on the road.
Middlefork Savanna Trail | Lake Forest, IL
Lake Forest, 40 minutes from Chicago, has secret bike trails and charming places to visit. Covering the 4.5 miles of Middlefork Savanna Trail is a gravel surface. The path includes a rare tall grass savanna, sedge meadows, wet and mesic prairies, oak woodlands, and marshes with various species of birds along the way. There are about 4.2 miles for cycling and 5.5 miles of gravel trails for cross-country skiing and mountain climbing.
Here at Lake Forest, two historically significant, now-restored farm estates were initially owned by the heirs of meatpacking entrepreneur P.D. Armour and bordered the Middlefork Savanna. You can also start cycling at the former J. Ogden Armour estate, Mellody Farm. A reestablished Italian Renaissance gatehouse by architect Arthur Huen is another noteworthy architectural feature you should visit on your trip. Famous landscape designer Jens Jensen's council ring, formal garden, and pond are all featured on the property. If you're biking with your dogs, use a proper cycling leash.
Long Point State Park | Aurora, NY
Ride your bike through the Long Point State Park in Aurora, which extends like a peninsula into Lake Chautauqua; you will enjoy the lakefront foliage. With its densely forested sections of beech, maple, spruce, poplar, and oak trees, most cyclists use the park and marina for day trips. This park is also a good spot for bikers as they ride through a covering of the season's brightest hues and reflect off the immaculate Cayuga Lake. More than one hundred and twenty species of birds are here, so as you bike through, you are fascinated by the sounds of nature around you.
With its interconnected trails, you are in for a surprise, and you don't have to be an expert in cycling to ride through this trail. With a suitable e-bike, you are good to go. You can cycle along the 4.5 miles of trails at the Long Point State Park, which include a creek ravine, grasslands, brushland, and developed forests as you explore areas variety of birds and wildlife along your way. Visitors can cross-country skiing and snow-shoeing on the hiking trails in the winter.
The Great Allegheny Passage
This 150-mile rail-trail travels through the Laurel Highlands, a region of Pennsylvania's hills. The beauty of the GAP is its relative ease (except for one 22-mile section out of Cumberland, the crushed-limestone trail is flat), its jaw-dropping views, and the opportunity to view small towns from a back-door perspective. More so, you can go through a path with several little towns, through wooden bridges, and crosses raging rivers. The Great Allegheny Passage's crushed limestone surface bears up well to traffic and typically offers you a smooth ride.
The limestone surface is suitable for cycling, although it gets a little softer when it rains. The thin, high-pressure tires are quick when the weather is dry. However, when wet, they tend to sink into the road, adding unneeded rolling resistance. It's best to get e-bikes with high-quality fat tires. This lovely trail runs from Pittsburgh to Cumberland and is a kaleidoscope of autumnal hues. You don't have to be an expert in cycling to ride on this trail, as most paths have grounded gravel, but a skinny bike tire can't make this journey.
Conclusion
Autumn is an excellent season to go cycling across the U.S., as you would enjoy the beautiful scenery that the trees create. As you prepare to hit the road this Autumn, you need to know some cycling tips to enjoy this magical season. With these several historical monuments and memorials on these paths, give yourself lots of time to stop at historical sites and enjoy the season. Whether you want to take a trip through the Boise River or cycle from the Great Allegheny Passage to trails at Long Point State Park, ensure you bring your KBO bikes. The above list of routes around the United States provides a worthwhile cycling experience.
---
Related Product
Save $400
Commuter Electric Bike KBO Breeze
---
Share Article