Related Product
Save $400
Commuter Electric Bike KBO Breeze Step-Thru
---
Share Article
Why You Need A Commuter Bike | KBO Bike
 In light of how COVID has changed the world, we've seen an increasing number of governments vow to spend more on bike infrastructure, implement pop-up bike lanes, and even block roads to vehicles to make space for bicycles.
While any bike can get you across town, having the appropriate tool for the job may make the ride much more pleasant, leaving you far less sweaty and sticky when you reach your location.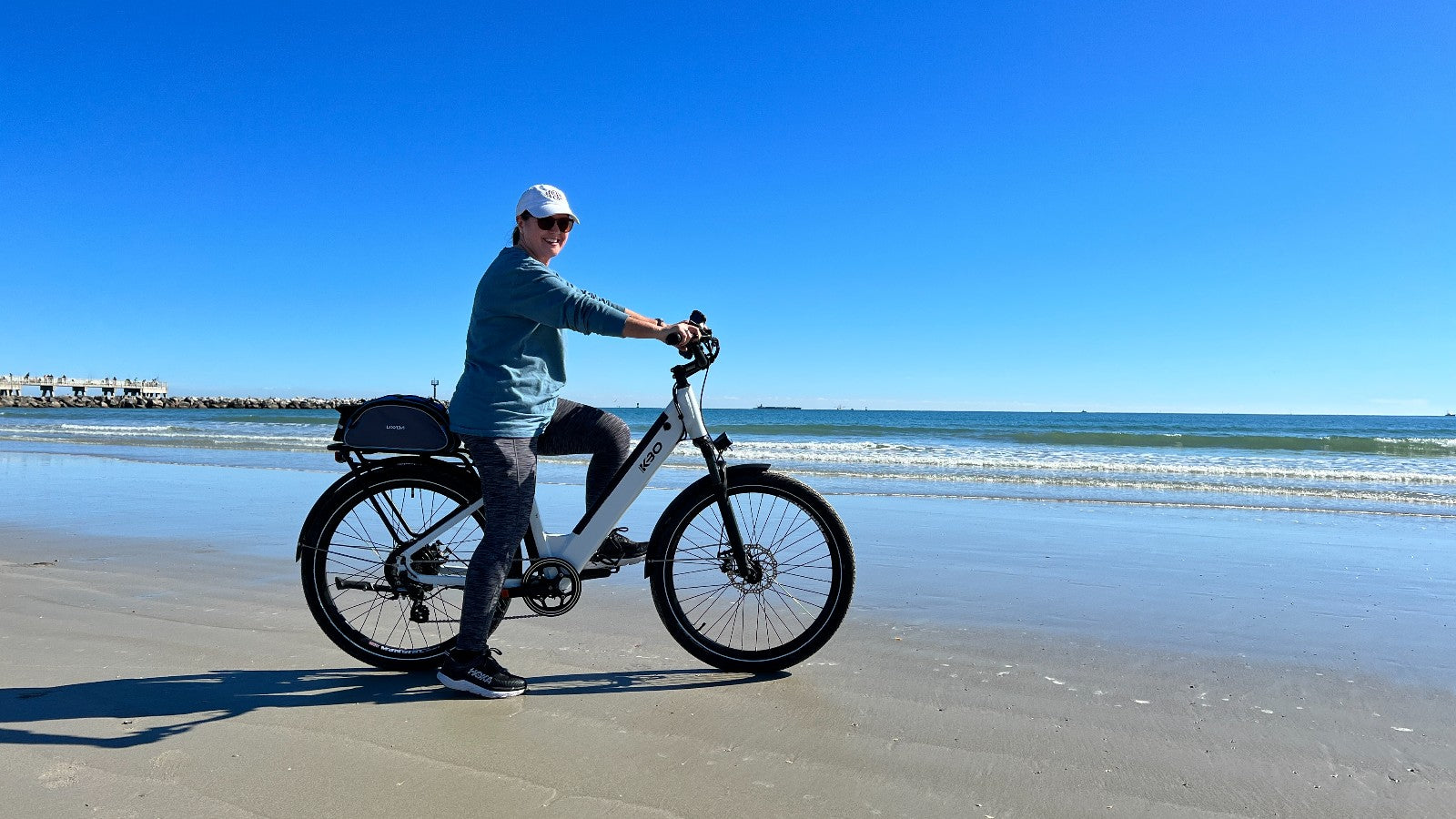 What is a Commuter Bike?
Commuter bikes may be used for everyday commuting over small distances ranging from 20 km to 50 km.
What are the different types of commuter bikes?
Flat bar road bikes
Flat bar road bikes are, in our opinion, the most commonly used bikes for commuting.
These typically have 700c wheels and an externally geared drivetrain. The geometry will be similar to that of a road bike, though much more upright for comfort and visibility.
This type of commuter's DNA is derived from a road bike, so they place a premium on efficiency. A flat-bar road bike is probably the best choice if you cover much ground on your commute.
While you're probably used to riding with drop bars, flat bars are ideal for commuting because they allow for a more upright and comfortable riding position and because the controls are always at your fingertips due to the single-hand position.
Folding Bikes
Not everyone has access to bike parking facilities or enough space in their apartment or office to keep a full-sized bike; if you are limited on space,  folding bikes may be the best option for you.
While folding bikes vary in design, they are typically built around small 20-inch wheels and tires. They have a series of lockable hinges that allow you to fold the bike down to a fraction of its original size and slide it under your desk or into a closet.
Unfortunately, there is no such thing as a free lunch, and foldable bikes have several compromises in terms of speed and comfort. Folding bikes typically have sharp handling due to their short wheelbase, but the smaller wheels aren't very efficient. Nonetheless, they are ideal for short distances if you use multiple modes of transportation in a single trip or have many stairs to climb.
Hybrid bikes
A hybrid bicycle is created by combining design elements from road, mountain, and touring bikes and creating a 'hybrid.'
Hybrid bikes frequently have a suspension fork and provisions for fenders and rack mounts. Because the broader tires, usually 32c and up, are designed to handle everything from gleaming smooth bike paths to pothole-filled bike lanes and light gravel.
On the higher end of the price spectrum, you may find belt-driven drivetrains or internally geared hubs on these utility bikes.
Touring bikes
The best touring bikes are built to travel long distances with luggage. They are outfitted with durable and dependable components, which are also characteristics we look for in a commuter.
While a touring bike frame is overkill for riding to and from work, they are a viable option if you travel with much gear and don't want to drive. The frame will be heavy-duty, which means it will not be lightweight. However, the geometry will allow for a comfortable riding position and wide tires, luggage, and fenders.
Road bikes
If you have a long commute, a road bike is a good option that can also serve as your training ride for the day. The best road bikes are built for efficiency and speed, so if you're going to meet your weekly training goals by riding to work, 25c tires and drop bars are likely to suffice.
Most road bikes designed for performance may not allow you to mount fenders or luggage to your bike, so you'll need a backpack — and with that, you'll be limited in how much you can bring with you.
If you intend to use your road bike as a commuter, one thing to consider is where you will park at the end of your journey. Not only can bike locks and other commuters harm your pride and joy, but bike thieves are also brazen; it's a terrible disappointment when a crappy cheap bike goes missing, much less your roadie, which is likely to be worth thousands.
Cargo bikes
We adore cargo bikes. A cargo bike is ideal for replacing a car because it can carry everything from groceries to people and dogs. They are available in both analog and e-bike versions, and most have modular mounting systems that allow you to tailor your hauler to your specific needs.
There are two main cargo bike layouts: the Dutch-style box bikes, which have a literal box between the rider and the front axle, and the long tail design, which has the rear wheel pushed out with space behind the rider.
eBikes
E-bikes are the newest addition to the commuter bike lineup, and they're taking off in every segment. The most desirable drive units are those made by Bosch, Yamaha, and Shimano. E-bikes are pedal-assist, which means the motor only operates when you pedal. Whether traveling a long distance or having a particularly hilly commute, e-bikes make getting around on two wheels more accessible because they're less reliant on your physical fitness.
They are not without drawbacks, the most significant of which are price and weight. Even entry-level e-bikes can cost thousands of dollars, and the lightest models still weigh 20kg or more.
Almost every type of bike now has an e-assisted version. However, in our opinion, commuters are one of the best applications of the technology — and no, e-bikes are not cheating.
Bikes and cycling equipment are better than ever, and there are even electric bikes that make riding easy. Even if it's only for a day or two at first, the benefits are numerous, including the reasons listed below.
It is more healthy.
This one should go without saying. Of course, going outside and working your lungs and muscles is better for you than sitting like a lump in a car. However, studies indicate that riding a bike makes people happy.
It's as simple as that: exercise is excellent for you. Riding increases the brain chemicals that make you joyful (serotonin, dopamine, and phenylethylamine). Being outside also boosts your daily vitamin D intake, which, when paired with exercise, should result in a better night's sleep.
Riding a bike also boosts your sex life and lowers your cancer risk. It's a win-win situation all around.
It is something you can do consistently.
When confronted with road maintenance, traffic accidents, breakdowns, and public transit strikes, you name it, there's nothing you can do but wait.
On the other hand, riding a bike avoids the majority of these concerns, especially if you're fortunate enough to travel on a bike lane.
Even breakdowns are minimal and mostly avoided on a bike. Flat tires are the most prevalent inconvenience, although they are easily repaired on the road. Other bike problems frequently manifest themselves long before they break, so some care goes a long way.
Do you want to be on time all of the time? Take a bike to work.
Parking is more convenient.
Parking a bike is far more convenient than parking a car. Some workplaces allow you to ride your bike inside. If that fails, there's usually a bike rack, a nearby sign post, or even a tree to which you may secure your bike.
In any case, the days of circling the parking lot looking for a spot or squeezing into a slot only to discover that the insensitive idiot behind you ruined your car's paint job are done.
It's more interesting.
Let's be honest: it's challenging to ride while scrolling through your social media feeds on your smartphone. By riding instead of driving or commuting, you become more engaged with your surroundings and life outside of the small screen. Who doesn't want a little of that?
Everything you notice when you get out of the car is also eye-opening. It's a crazy world out there. Please take it in to add some uniqueness to your daily routine. The weird doors on that house, the lazy dog that sleeps on that balcony, that knot in the rose bush that looks like your aunt. It's a crazy world out there. Take it in to add some uniqueness to your everyday routine.
You can explore new areas, roads, and routes
Is your commute driving you insane? The same irritating stop lights, that one turn that takes forever, and the inevitable slowdown where the roads merge? How about a life-sized choose-your-own-adventure game?
Ducking through an alleyway, cutting through a park, or sneaking out the back of a dead-end street are just some of the many detours available on a bike. Even navigating parking lots and finding the narrow spot where kids jump across the creek is possible on a bike.
Simply put, a bike offers far more opportunities for route finding than a road-bound vehicle.
It benefits society
Bike commuting benefits society in a variety of ways. It reduces wear and tear on public roads, reduces pollution in the air, reduces traffic and congestion for other vehicles, allows for more parking spaces, and is less loud and annoying through neighborhoods.
Anyone's idea of a good time has never been sitting in traffic on their way to and from work every day. One potential solution? Change those four wheels for two and ride your bike to work. Making physical activity a regular part of your workday schedule makes staying active easier and keeps you healthy and happy.
---
Related Product
Save $400
Commuter Electric Bike KBO Breeze Step-Thru
---
Share Article