Related Product
Save $300
Stealth Urban Electric Bike KBO Hurricane 2.0
Regular price
$1,199.00
Sale price
$899.00
---
Share Article
New Arrival Grab Your KBO Hurricane | KBO Bike

Why We Designed a Stealth Ebike?
After the big selling of the Commuter Electric Bike KBO Breeze, we talked with our design team for a long time around the table and get more inside scoop on the brand-new stealth road ebike---KBO Hurricane. The design team told us this bike is aimed at servicing people who love minimalism, riders who love speed and passion, the young generation, or the commuters who love the low-key style.
They spent countless hours designing, producing, and testing this bike both in terms of its straightforward stealth look and great performance capabilities. And finally, they made it! They named this new model bike KBO Hurricane meaning that it can help you be breezier to ride and has more power to propel you with a long riding range, though it looks like a common conventional bicycle.
Why You Choose KBO Hurricane?
To meet the different needs of people, the design team loaded the new bike with accessories, including a digital LCD display and a 36V LED front light. The LCD backlight display is built with a small packaging and conveniently located on the left of the handlebars, which is easy to control and view. If you want to switch on the front light, please press the "M" button. It can improve safety when you ride at night or in the rain. And press again to switch the light off. These features easy to control aim at making your riding easier and simpler.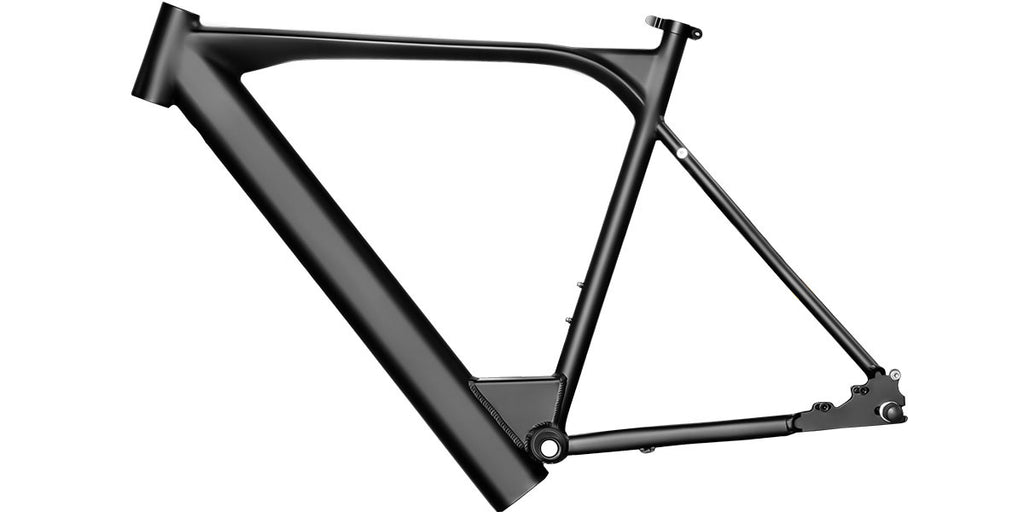 (KBO Hurricane Frame)
And this stealth road e-bike is equipped with an integrated 36V, 9.6Ah lithium-ion battery with Panasonic cells allowing you to go a longer range. In terms of its simple look, the design team tried the best to apply the largest battery capacity without impacting the simplicity. in the end, we choose 345Wh battery capacity providing that you can go farther. At the same time, the concealed battery is built into the down tube of the frame, providing water resistance and allowing the battery to be removed if necessary (for checking, serving, or replacement).
Even though the battery is large, the KBO Hurricane is still lightweight. It weighs only 36 lbs which is much lighter than KBO Breeze. It is without a problem to pick up and carry to some stairs.  It also provides you with a nimble riding experience, making your rides breezier and simpler. This bike is designed to reduce the extra weight to be light for handy carrying. And this is one of its highlights that is popular with people.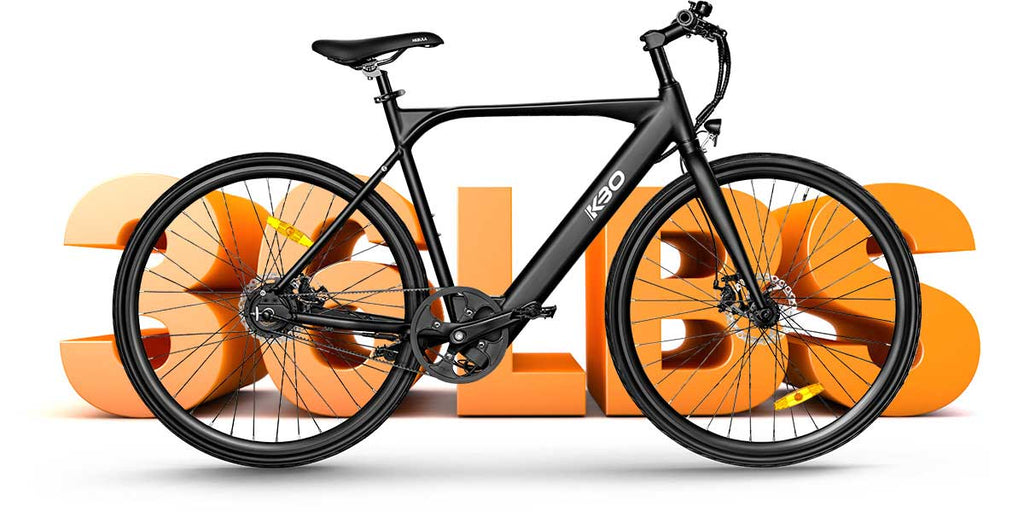 (KBO Hurricane Weight: 36lbs)
You may notice that the KBO Hurricane simultaneously looks both low-key and strikingly modern with taking a closer look. Yep! The bike of simplicity with a sleek design is popular with people. With a stealth appearance, you can barely tell this bike crafted with a simple style is an e-bike. Needless to say, its black color is neutral and appeals to a large audience. Beyond the eye-catching visual elements, people are also attracted by its unique design and excellent craft. At the same time, the designers were tasked with revamping the geometry of the frame to meet the ergonomics design.
"A little more interesting thing is the belt drive of this bike", the chief designer Ben said, "People who don't like oily messes are very suitable for this kind of belt chain. This single-speed belt drive system is smooth, quiet, rugged, clean and free of oil with great drive performance and low maintenance. "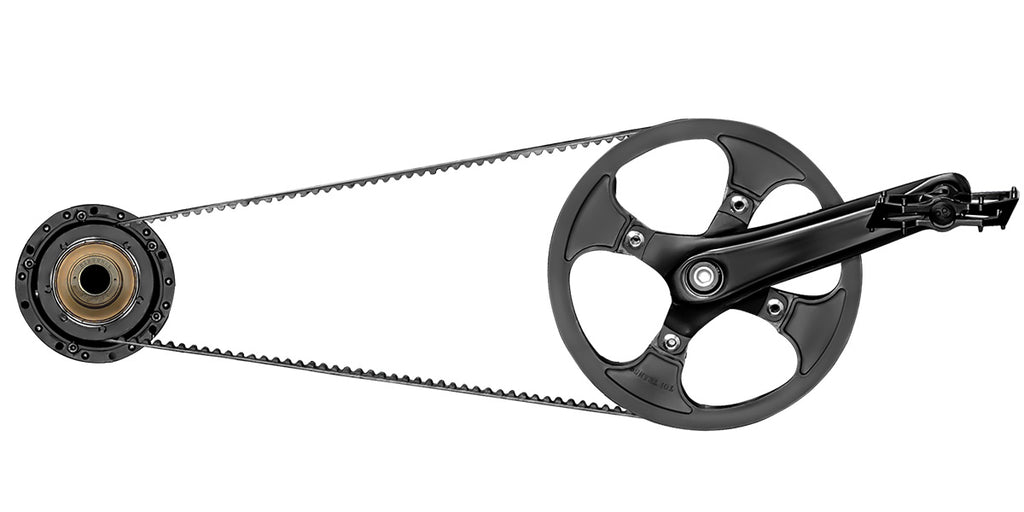 (KBO Hurricane Chain)
KBO Hurricane also has enough power to support the rider to go faster. It is equipped with a sustained 250W brushless geared hub motor. Powerful and quiet hub motor helps you go riding steadily and nimbly with 0-3 pedal assist options. And it is easy to view and change the levels of pedal assist on the display. In addition, it also comes with a speed&cadence-sensing pedal assist. If you want to go faster, just change the higher level of pedal assist, and then pedal faster.
 When you ride on KBO Hurricane, the seat is super comfy and it helps you navigate all the bumps on the road. When you are on the road, the 700x32c threaded road bike tires come with aluminum alloy rims and the narrow design offer reduced resistance. This provides you with a faster riding experience. When you need to brake on the riding way, the mechanical disc brakes provide dependable and strong stopping power available. And when you park the stealth road electric bike, the aluminum alloy kickstand will help you support it with strong and rugged quality.
Ride On
Your KBO!
With the uniqueness of its stealth, this is a kind of revolution of e-bikes and it is a popular choice for riding.
This bike with excellent quality jumps out at an affordable price. Please don't miss this stealth road electric bike and grab your KBO Hurricane! Take a more confident and consistently stable ride!
---
Related Product
Save $300
Stealth Urban Electric Bike KBO Hurricane 2.0
Regular price
$1,199.00
Sale price
$899.00
---
Share Article