Related Product
Save $600
Electric Cargo Bike KBO Ranger
Regular price
$1,799.00
Sale price
from $1,199.00
---
Share Article
KBO Ranger VS. RadWagon Cargo Ebike | KBO Bike
People just like you spend a bit more time planning their days in various parts of the world. They take into account travel time, route, weather, and, of course, refreshments. Then they set out on an adventure that will pay off in several ways.
Cargo bikes are simply meant to transport more than just the rider. People choose to use them because they improve their daily life. They ride their bikes to work, do tasks, and transport their children to school while enjoying their cities and neighborhoods. Cargo bikes are typically used to carry children, do errands, transport pets, and conduct business.
An electric bike makes more sense than a standard bike in the cargo bike category. To transport cargo, cargo bikes must be big, strong, and heavy. So you're looking at a bike that's a little hefty even before you add groceries or a child to the back. It is vital to ensure that you have the necessary equipment and physical prowess to carry your stuff. It's enough to persuade riders who aren't entirely sold on the notion to reconsider purchasing a standard cargo bike.
When a cargo bike is converted into an ebike, the electric motor's power compensates for most of the challenges associated with riding one. You no longer have to be concerned about sloping roads on your way home from the supermarket or the difficulty of getting the heavy, laden bike rolling from a complete stop.
If you've been looking for a cargo eBike, you've most likely come across two options: the Radwagon and the KBO Ranger. Which is superior? Keep reading to find out!
What distinguishes the RadWagon 4 from the KBO Ranger?
Which cargo eBike is suitable for you: the RadWagon 4 or the KBO Ranger?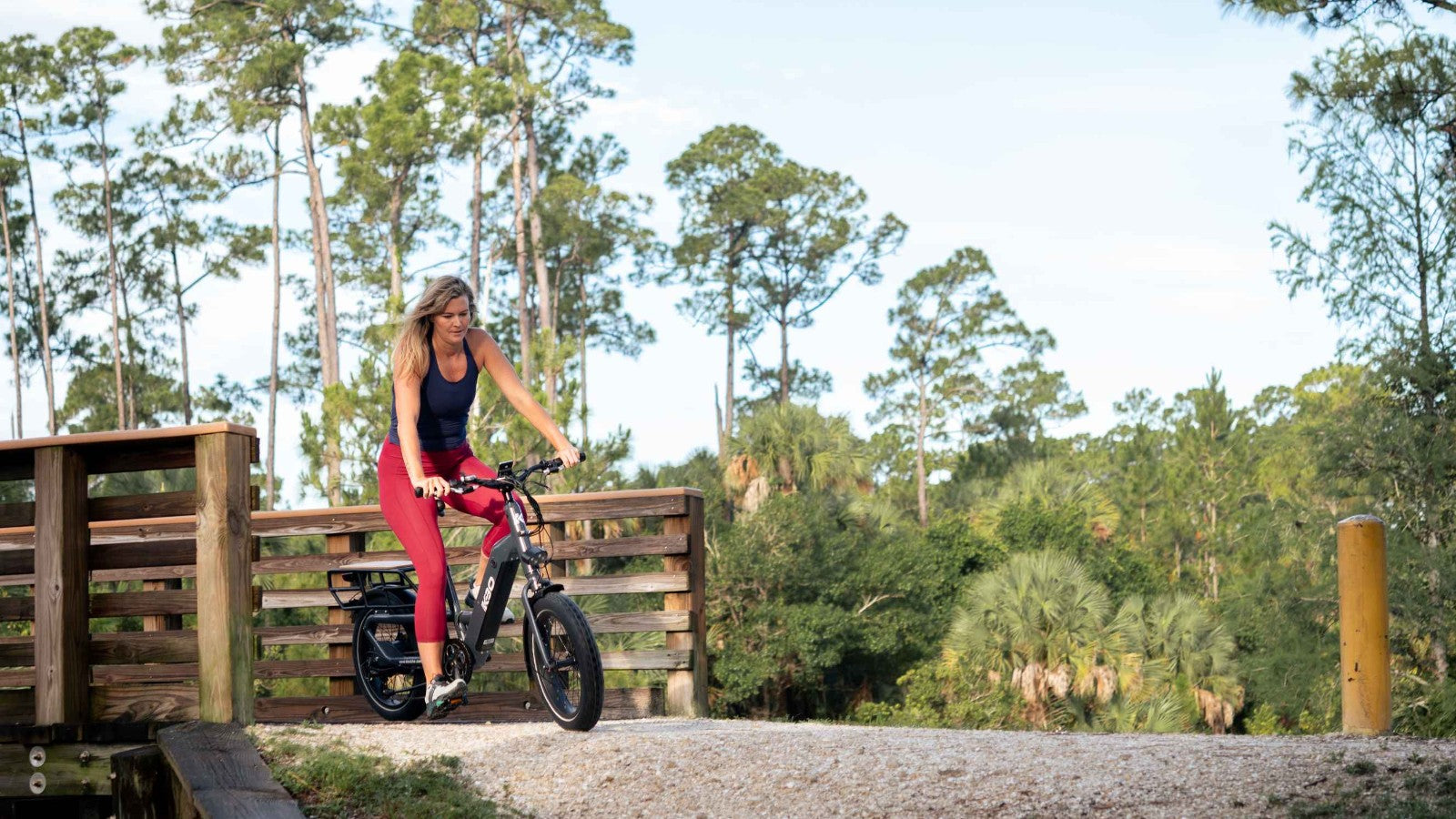 Size, price, and battery life are the key differences between the KBO Ranger and the RadWagon. The RadWagon 4 has more significant cargo space, but the KBO Ranger is smaller, less expensive, and has longer battery life.
Let's become acquainted with the eBikes.
Both of these eBikes are outstanding in every way. Let's begin with the RadWagon, the more well-known cargo bike brand.
A Quick Overview of the RadWagon 4
If you require a vehicle that can transport a large amount of cargo, I recommend this cargo bike! The RadWagon 4 possesses many characteristics that make it excellent for hauling equipment. These include a spacious cargo area, a powerful engine, and a comfortable riding position.
When hauling a pair of kids in the back 'Caboose,' as Rad Power Bikes calls to the rear storage attachment that transports children, the RadWagon excels.
The KBO Ranger
The KBO Ranger is an excellent choice for anyone looking for an electric cargo bike that does not have the feel of a cargo bike. The Ranger offers features that make cargo bikes great, such as a powerful motor and a large cargo compartment. However, it has a few distinguishing characteristics that set it apart.
The KBO Ranger has a low step-through frame and a center kick-stand, making it easy to get on and off, even when loaded with gear. Second, the Ranger comes equipped with an inbuilt rear rack.
The decisive criteria are the rear rack size, battery life, and price. Let's go through each difference in detail.
Overall Dimensions and Rear Rack
In general, the KBO Ranger is smaller than the RadWagon 4. It's around 9 inches shorter, with the rear rack accounting for most of the length difference. The rear rack on the KBO Ranger is approximately 7 inches smaller than that on the RadWagon 4.
Consider the RadWagon if rear rack space is your top concern.
Battery Life
While the Ranger is physically smaller, it weighs about the same as the RadWagon. This is owing to the larger battery. Because the Ranger is semi-integrated, it has a more sleek appearance.
The RadWagon battery has a capacity of 672 Wh, whereas the Ranger battery has a capacity of 840 Wh. This amounts to a range of around 15-20 miles more than the RadWagon.
The KBO Ranger is unquestionably the winner here.
Price
Radwagon vs. KBO Ranger
The KBO Ranger is priced at $1,699. The RadWagon is available for $1,999.
If you don't mind the smaller frame, the KBO Ranger is the better deal right away.
However, considering everything that comes with the Ranger, especially the running boards, is an even better deal. Running boards for the RadWagon cost $99 more. They are raising the price of the RadWagon by about $400.
Again, the KBO Ranger is a better buy if you don't mind the smaller rear rack.
You won't find a better electric cargo bike than the KBO Ranger Cargo Bike. Let's do a quick rundown of its features.
In Frame and Removable 48V 17.5Ah Lithium-ion Battery with Samsung/LG Cells
One of the most notable advantages of a KBO Bike is its battery life, which is certified for 900 complete charge cycles. You can ride up to 60 miles on a single charge thanks to the 840Wh battery capacity.
Powerful Sustained 750W Brushless Geared Hub Motor
You won't have to worry about lifting large loads or climbing steep uphills because a constant 750W brushless hub motor powers it.
48V 3 Amp Quick & Smart Charger
It takes 5 hours to completely charge the battery, shortening the time between rides and allowing you to keep up with the fast pace of your riding demands.
48V LED Headlight
Press and hold the "UP" button for 3 seconds to turn on the light. This feature makes cycling at night safer and allows motorists to see you.
Integrated Brake Rear Light
The rear light is a built-in LED light powered by the battery pack. The rear brake light quickly brightens when you engage the brakes while riding.
The Shimano 7-speed Shifter
It's engineered for your riding experience and lets you change gears on the fly to adapt to diverse terrains.
Mechanical Disc Brakes
The 180 mm disc rotors on the front and rear provide adequate braking force even under challenging situations.
Extra-large, Adaptable Rear Rack
The strong aluminum rear rack can support loads of up to 120 pounds. You may take a trip with your loved ones, carry your children to and from school, or move some heavy equipment.
Ergonomic Half Twist Throttle
Take a rest and cruise when you're sick of pedaling. To accelerate, gently twist the throttle on your right.
Adjustable Saddle
This bike seat is a durable and comfortable saddle that absorbs the impact of road bumps. You may change your position by shifting the saddle up and down and back and forth.
20"*3.0" CST Tires
The tires are made of high-quality materials resistant to punctures produced by sharp objects to avoid holes. It gives a more steady and smooth ride on your journey since it is bigger than standard commuter tires.
Intelligent Installation Points
It has an intelligent mounting bracket that can support up to 50 pounds. You can load it however you want.
LCD Backlight Display
The display offers various information to help you keep track of your riding circumstances. A charge indicator, a speedometer, an odometer, a trip odometer, a pedal assist level, and other amenities are included.
Full Fenders
Both the front and rear fenders come complete with essential hardware. They are highly durable and keep you dry and clean from water and muck.
Center Stand
It is built using a rust-resistant, strong, and long-lasting aluminum alloy.
Some of the specifications of the KBO Ranger Cargo Bike:
Range
35-60 miles
Total Payload Capacity
400 lbs
Recommended Rider Heights
4'11" - 6'3"
Charger
3.0 Amp Quick charger
Controller
48V /22A
Display
LCD backlight display
Weight
77 lbs
Pedal Assist
0-5 level
The KBO Ranger and the RadWagon are both superb bikes, the only difference being price, rear rack space, and battery capacity.
Each electric bike has advantages and disadvantages, and no one is perfect.
This post reviewed the differences between two bike models and how we may use them for different reasons. The KBO Ranger is somewhat smaller than the RadWagon 4. However, there are unavoidable trade-offs when transporting children or battery life. It also starts at $1,699, but when furnished similarly, the RadWagon 4 costs $2,100.
So, which is the best electric cargo bike for you? What is important to you determines this. Is it more room or a smaller frame? You have an option.
If price is your primary concern, the KBO Ranger is a fantastic choice. However, imagine you desire more adaptability and room on the rear rack for larger goods. The RadWagon 4 is the way to go in such circumstances.
Regardless of your bike, you'll have a terrific time hauling anything you need - whether it's children, groceries, or just yourself on a leisurely ride.
---
Related Product
Save $600
Electric Cargo Bike KBO Ranger
Regular price
$1,799.00
Sale price
from $1,199.00
---
Share Article