Related Product
Save $200
Electric Cargo Bike KBO Ranger
---
Share Article
KBO Ranger Cargo Ebike Vs. Blix Packa Cargo Ebike | KBO Bike
When selecting an electric bike, you have to ensure you are picking what is best for you. From the size, pricing, and various specifications, there is a number to choose from. In this article, we will be narrowing our selections to just two bikes and making comparisons.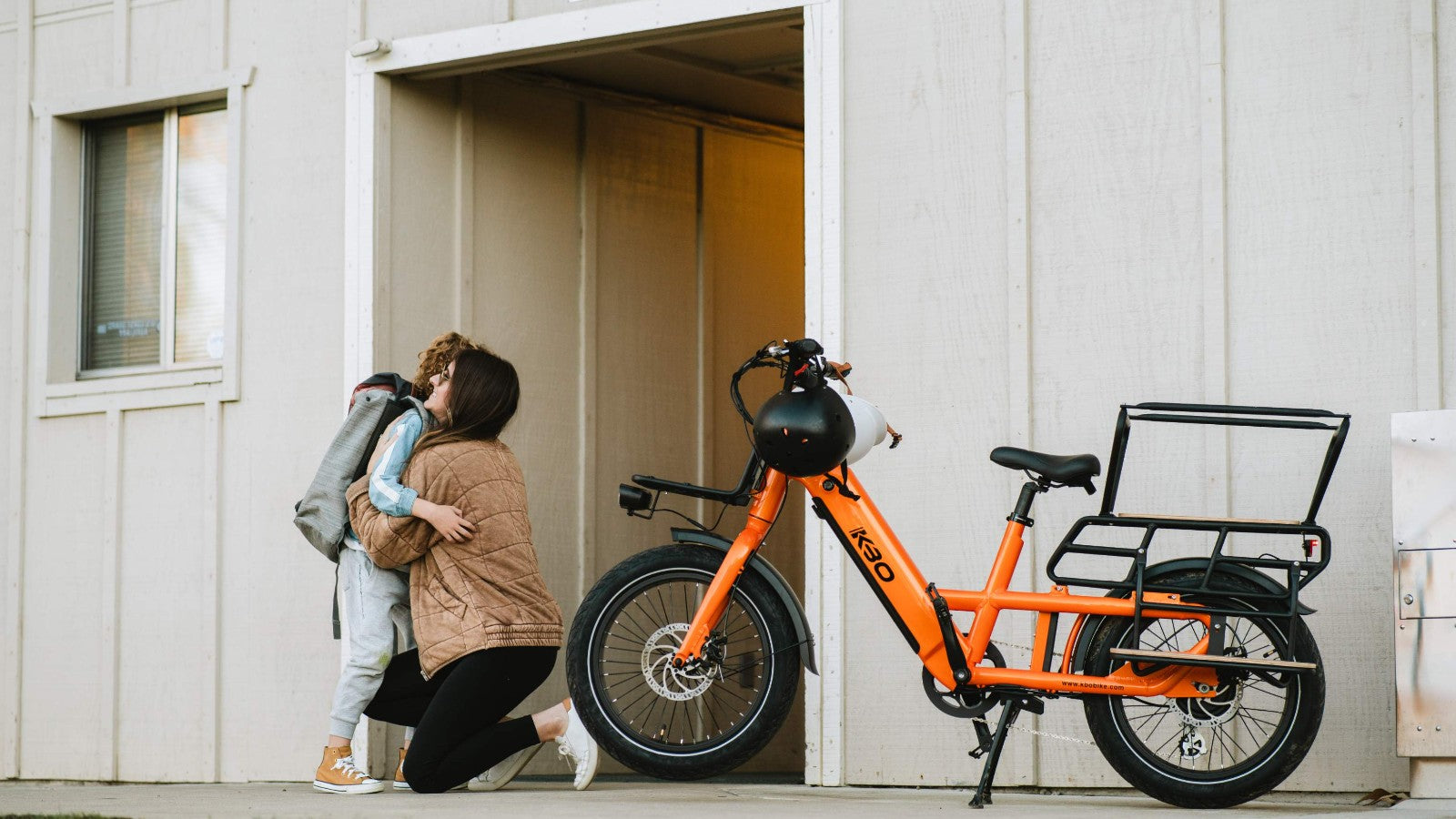 Battery and Motor
A KBO Bike battery life is one of its most significant advantages, rated for 900 complete charge cycles. A KBO Bike is powered with a continuous 750W brushless geared hub motor so that you won't have to worry about carrying heavy loads and climbing steep uphills. With an 840Wh battery capacity, you can ride up to 60 miles on a single charge while a Packa's dual battery system totals 1,228Wh and automatically use both to ensure you never have to stop when one battery runs out - giving you a range of up to 80 miles for long riding with heavy loading. The Packa Genie features a 48V dual battery system with an incredible 1,228Wh total capacity, using high-quality 18650 cells that give you up to 40 miles with a single battery and 80 miles per charge with dual batteries and 25,000 miles of battery lifetime. The powerful rear motor provides 750w of continuous power output and even higher peak output during short periods when needed - optimized for heavy loading and steep hills.
Pricing
The Packa Genie Cargo bike is currently priced at around $1,999, while the KBO Electric Cargo Bike is priced at $1,699.
Brakes
The Packa Cargo Bike comes with high-performance, reliable hydraulic disc brakes that provide you with plenty of stopping power in both wet and dry conditions, while the KBO Electric Cargo Bike has Mechanical Disc Brakes whose front and rear 180 mm disc rotors give sufficient braking force even in the roughest of conditions.
Brake Lights
The KBO Electric Cargo Bike has an Integrated Brake Rear Light. The rear light is an integrated LED light that is powered by the battery pack. When you apply the brakes during a ride, the rear brake light illuminates immediately. The Packa Electric Cargo Bike also has an Integrated LED Brake Light. The front and rear lights are integrated into the frame and powered by the electric bike's battery. Activated during your ride, the rear light also has a built-in reflector and brake light that lights up when you brake.
Mounting/ Installation Points
With the Packa Genie Cargo Electric Bike, you can carry up to 200lbs in over 200 different combinations with the smart modular rack system. The front and rear rack are equipped with smart mounting points to truly fit everything you'll need to carry. The KBO Electric Cargo Bike is fitted with an intelligent mounting bracket that can support up to 50 pounds. You can load it in any way you choose.
Throttle
With the Packa Genie Cargo Electric Bike, you can use the throttle to ride without pedaling at all. The throttle can be fully used at any assist level and makes it easy to start and stop when riding. The KBO Electric Cargo Bike is fitted with an Ergonomic Half Twist Throttle. When you're tired of pedaling, take a break and cruise. You can gently twist the throttle on your right to accelerate.
Other KBO Electric Bike Features
48V 3 Amp Quick & Smart Charger
It takes just 5 hours to fully charge the battery, reducing the time between rides and keeping up with the quick pace of your riding needs.
48V LED Headlight
To turn on the light, press and hold the "UP" button for 3 seconds. This function makes cycling at night safer and allows vehicles to notice you.
The Shimano 7-speed Shifter
It's designed for your riding experience and allows you to change the gears for adapting to different terrains on-demand.
Extra-large, Adaptable Rear Rack
The sturdy aluminum rear rack can support loads of up to 120 pounds. You can take a ride with your loved ones, transport your children from school, or transfer some heavy equipment.
Adjustable Saddle
This e-bike seat is a durable and comfortable saddle that decreases the impact of road bumps. You may adjust your posture by moving the saddle up and down as well as back and forth.
20"*3.0" CST Tires
To prevent punctures, the tires are manufactured with high-quality materials that resist punctures caused by sharp objects. Wider than typical commuter tires, it provides a more stable and smooth ride on your commute.
 LCD Backlight Display
The display provides you with a range of information to help you keep track of your riding conditions. A charge indicator, a speedometer, an odometer, a trip odometer, a pedal assist level, and more features.
Full Fenders
Fenders on both the front and rear are complete with all of the necessary hardware. They're incredibly resilient and keep you dry and clean from water and mud.
Center Stand
It was built with rust-resistant, sturdy, and durable aluminum alloy.
Other Packa Genie Cargo Electric Bike Features
Compact Cargo
With a total length of only 81", the Packa Genie is only a tad bit longer than a regular bike. The 24" wheels and low step-through frame allow for a low center of gravity and easy handling.
Low Step-Through Frame
The low-step frame allows tall and shorter riders to easily jump on and off the bike whenever needed.
7-Speed Gear Shifter
Easily shift gears with a twist of your right hand, allowing you to control your ride by shifting into the lowest gears on steep hills and into the highest gear to pedal at high speeds.
Power Auto Cut-Off
Ride knowing that you're protected from any unwanted motion forward when your brakes are engaged, as the battery power is automatically cut off when brake levers are pressed.
USB Charging
Easily charge any device through the USB port directly from the display!
Smart Bell
Smart design is in the details. The small, but loud bell, is conveniently integrated into the left brake lever, allowing easy reach and a clutter-free handlebar.
Dual Battery System
The dual battery system automatically uses both to ensure you never have to stop when one battery runs out, giving you twice the range for long riding with heavy loading.
FRONT RACK
Add versatility to the type of cargo you carry. Mounts to the head tube for maximum stability with a 50lb loading capacity.
LARGE BASKET
Easily carry more cargo, this basket mounts to the front or rear rack. Two of them can fit side by side in the rear!
PLATFORM
Provides an extended flat surface for cargo. Has multiple mounting points for the front and rear racks.
VIP SECTION
Fun and easy way to carry up to two older children who no longer fit in child seats.
REAR RACK CUSHIONS
Add padding to the rear rack for those who are riding in the VIP Section. They easily attach and are split into two!
FRONT BASKET HEADTUBE MOUNTED
Easily mount this basket directly to the headtube, allowing you to be sturdy and the basket to stay straight while you turn.
RUNNING BOARDS
Provide added comfort for your passengers and support for your cargo with Blix Running Boards.
REAR RACK BOARD
Add this Blix Rear Rack Board to support your passengers or provide a flat surface for any type of cargo.
Specifications
KBO Cargo Electric Bike
Battery- 48V 17.5Ah Lithium-ion battery with LG cells
Range- 35-60 miles
Hub Motor- Sustained 750W brushless geared motor
Total Payload Capacity- 400 lbs
Recommended Rider Heights- 4'11" - 6'3"
Charger- 3.0 Amp Quick charger
Controller- 48V /22A
Display - LCD backlight display
Weight - 77 lbs
Pedal Assist - 0-5 level
Packa Genie Cargo Electric Bike
Batter- 614Wh (48V) 1st battery, front, 614Wh (48V) 2nd battery, rear
Motor-Rear Hub, Geared, 750W
Display-LCD, with USB Charge Port
Throttle-Yes
Controller-48V
Sensor-12 Magnet Cadence Sensor, BB Mount
Charger-2A, AC 120V - 240V
Components
KBO Cargo Electric Bike
Tires- 20" x 3.0" CST puncture-resistant tires
Dérailleur- Shimano 7 speed derailleur
Rear Light- Integrated brake tail-light
Brake- Dual 180mm mechanical disc brakes
Chain- KMC chain
Sensor- Sensitive cadence sensor and speed sensor
Crank- 170mm forged alloy
Throttle- Twist the throttle on the right
Pedal- Alloy pedal with reflectors
Bike Frame- 6061 Aluminum frame
Front Light- 48V LED light
Saddle- Sturdy and comfy saddle
Seat Post- Diameter 33.8mm/length 350mm
Center stand- Heavy-duty aluminum
Spokes- Stainless spokes(Front 13G/Rear 12G)
Stem Diameter- 30mm
Handlebar Diameter- Sides 28.6mm/middle 31.8mm
Packa Genie Cargo Electric Bike
Shifter- Shimano 7spd, RevoShift
Cassette- Shimano 7psd, 14-34t
Chain- KMC 7psd
Frame- 6061 Aluminum Alloy
Headset- 1 1/8" Threadless
Saddle- Comfort Padded
Stem- Adjustable Angle, 1 1/8" Threadless, 31.8mm Clamp
Grip- Ergonomic
Fenders- PVC Material, Black
Crankset- 170mm, 48t Chainring, Integrated Chain Guide
Rear Derailleur- Shimano Acera 7spd
Brakes- Bengal Hydraulic Disc, 180mm Rotors
Fork- Rigid Steel, 1 1/8" Threadless
Wheel & Tire - 24" x 2.4", Puncture Resistant, Reflective Strip
Seatpost- 27.2 x 300mm, Alloy
Handlebar- Riser Bar, 640mm x 31.8mm Clamp
Lights- Front: Integrated, Powered by Main Battery
Rear: Included with Brake Light, Powered by Main Battery
---
Related Product
Save $200
Electric Cargo Bike KBO Ranger
---
Share Article