Related Product
Save $400
Commuter Electric Bike KBO Breeze
---
Share Article
How to Dress for Summer Cycling | KBO Bike
Summer cycling is somewhat different. The days are longer, the mudguards have long been gone, and it's generally warmer. It can be boiling at times, and it can also be downright unpredictable.
In this summer cycling clothing guide, we'll go over everything you need to be cool and comfortable when the weather turns hot and what you need if the weather doesn't cooperate.
Riding a bike in the scorching heat can be tiring, but it can also be much fun! With these valuable tips and tricks, you can have fun on your trip even when it's hot!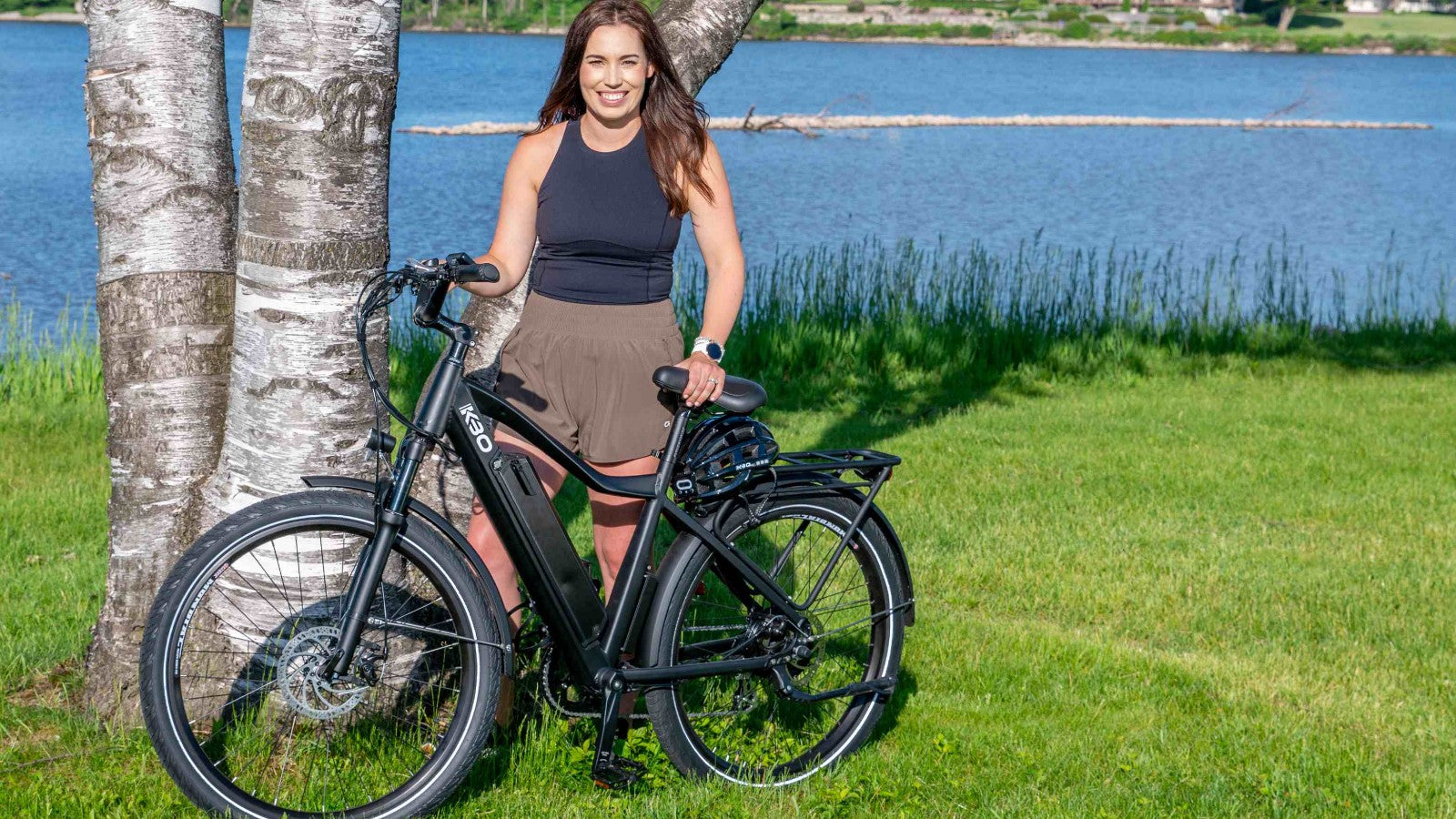 Layers are still your ally.
Summer cycling clothes should be versatile, with thin layers that may be added or removed as needed during the day.
Even in the summer, mornings may be cool, especially if you live at a high altitude. Conditions can also change fast, so be prepared for summer storms or cold descents.
Riders should prioritize lightweight fabrics to help draw sweat away from the body and minimize that sticky, clammy sensation. Summer clothes made of technical materials encourage airflow to keep you cool.
Layers are essential in the winter, of course. However, it's all about keeping warm in cold weather, typically with wind or water protection.
Summer riding gear, like most things in cycling, has many options. What's best for you will most likely be influenced by factors such as the weather, the distance you want to ride, how hard you intend to push yourself (and how much you'll sweat as a result), and, of course, your budget.
Let's get started with the kit. We'll go through each item, outlining what to look for and how to select the best piece for you.
Summer cycling jersey
Summer cycling jerseys should be lightweight and short-sleeved. Look for jerseys with mesh ventilation panels, which utilize the airflow created by the rider to keep you cool on the go - even on a still day.
While a typical summer jersey may do in most situations, several manufacturers provide featherweight jerseys created expressly for the hottest, most humid climates, manufactured from super-light materials that increase airflow.
Temperatures can fluctuate significantly within a day in some climates. Choosing a lightweight summer jersey and adding and removing layers as needed may help you adjust to changes in temperature. Using layers instead of a single jersey for the whole day helps reduce perspiration when it's too hot and the chills that may occur when you cool down again.
As we'll see later, you may layer with a gilet, arm warmers, or a lightweight jacket, all of which can be stored in a jersey pocket.
All bike jerseys include three back pockets with a zippered compartment for small items.
While many cyclists take pride in their tan lines, sunburn is an unpleasant addition to a summer ride and is not encouraged.
If your jersey is thin, you may still be able to burn through it. Some firms sell cycling-specific sun lotions that are designed to stay longer without fading when sweating.
Apply a high SPF sunscreen, and remember to do the same if you'll be starting the day completely covered and shedding layers as the temperature rises.
Summer baselayer
Summer base layers, as opposed to thermal winter baselayers, are designed to wick sweat away from your body. This, in theory, keeps you dry and cool, making hot days more bearable.
Many brands provide summer baselayers made of Merino wool or synthetic materials. Merino is a fantastic option for milder rides, and being a natural fabric has good wicking capabilities. However, for sweltering days, we'd choose a base layer composed of a lightweight, synthetic material that is likely less expensive and dries faster.
A mesh base layer will be even lighter while assisting in perspiration removal from the body.
Sleeveless baselayers reduce bulk and weight under the armpits and pair well with close-fitting or aero jerseys, eliminating fabric bunching on the arms.
Bib shorts
Cycling shorts are a must-have item for any summer riding gear. There usually are two options: waist shorts or bib shorts with straps across the shoulders to keep the shorts in place and give a little more support. Although we love bib shorts, other people prefer waist shorts.
Regarding summer riding bib shorts, lightweight fabrics are once again your friend.
Look for shorts made of a lighter fabric, preferably with a perforated or semi-detached chamois pad to allow airflow around the saddle.
These changes can help to reduce moisture buildup and provide a more pleasant experience.
If you're going on a multi-day excursion in the summer, bring extra pairs of bib shorts or wash them between days. Your undercarriage is a crucial touch point with the bike, and taking care of your shorts will help prevent problems!
Gilet
Suppose the weather looks iffy and you're going on a long ride or scaling a mountain. In that case, you'll probably need an additional layer. A lightweight gilet is a summer must-have that can be tucked into your back pocket for further flexibility.
A bicycle gilet is sleeveless and full length, providing core protection without the added coverage of a jacket. Riders may also use the zip for ventilation, allowing you to put the gilet on and off while riding.
Gilets are available for various conditions, ranging from thermal vests for cold weather to ultra-light gilets that fit neatly in a jersey pocket while providing windproof protection.
Even a lightweight gilet will give some extra protection and warmth, making it ideal for long descents.
Windproof and waterproof gilets are also available if the weather is predicted to change. These will take up a little more room, but several will still fit inside a jersey pocket, and the added weather protection is well worth it.
Some gilets are made of multiple materials to give windproofing and breathability on the back.
Reflective detailing is an additional advantage if you'll be riding in low light or at night.
Waterproof jacket
Summer does not necessarily imply dry roads.
A lightweight, waterproof jacket is vital when the weather is unpredictable, and breathability is crucial.
Layering up to shield yourself from moisture on the outside is pointless if it causes you to overheat and soak yourself in perspiration on the inside.
If the weather is moderate, it can be challenging. However, a waterproof jacket made of specific performance fabrics will give you the greatest chance. The jacket will intend to deliver the venerable mix of waterproofing and breathability in one.
The price of any technical jacket will almost certainly be a disadvantage. More cheap options may provide enough protection, but at the expense of a sweaty experience, especially when the weather is moderate and rainy.
Windproof coat
On the other hand, a windproof coat will shield you from the wind and light rain. A lightweight, showerproof garment is usually more breathable than a completely waterproof jacket.
They're perfect when the weather is expected to be dry. However, you want a little more protection than a gilet can provide. If you're anticipating light showers, that won't necessitate a waterproof jacket. Most windproof coats are also small enough to fit in a back pocket.
Summer cycling accessories
Cycling cap
A cycling cap that fits under your helmet is an excellent addition to your summer gear.
The gentle peak can help keep the light out of your eyes and provide UV protection for people who do not have a full head of hair.
While a cap might add warmth, some individuals soak their cycling caps ahead of time to take advantage of some evaporative cooling. A thinner, partly mesh summer cap is a fantastic alternative if you want to keep the sun off your head without overheating.
Arm and knee warmers
Arm and knee warmers, or leg warmers if the weather is terrible, have a place on summer rides and might be handy whether you're starting early or finishing late.
Arm sleeves or sunscreens, on the other hand, might be a viable option in sweltering weather and prolonged sun exposure.
Mitts
Cycling gloves are beneficial all year round, providing warmth in the winter and some cushioning in the summer in the case of mitts (fingerless gloves).
They will protect your hands while also improving your grip on steamy days and preventing burns on the backs of your hands.
Because the backs of your hands are continuously exposed to the sun when riding, you must remember to apply sunscreen to them.
Socks
Summer riding can result in hot, sweaty feet- an unpleasant side effect.
Summer cycling socks are thinner than conventional socks and have a mesh-like structure that promotes ventilation and wicking. Lightweight Merino socks are ideal for multi-day rides since their natural antibacterial characteristics keep odors at bay.
Remember that when selecting cycling shoes, your feet will expand somewhat on lengthy rides, especially in hot weather. Choosing something with suitable width (wide cycling shoes are available) is a good idea, and evaluating whether the shoe has any vents to facilitate ventilation.
Sunglasses
Summer rides necessitate the use of sunglasses. Eyes can also burn, leaving you feeling pretty irritated.
Sunglasses, on the other hand, aren't only for keeping the sun out of your eyes; they'll also shield you from dust, bugs, and dirt kicked up from the road or path.
Cycling sunglasses don't have to be expensive; UV protection and a comfortable, secure fit matter.
Water Bottles
Finally, don't forget your water bottles - something you won't wear but necessary for any summer ride -any long ride.
If you're new to cycling, you might be surprised at how much water you'll need to drink to remain hydrated on a summer ride, especially if you're riding hard.
There's nothing worse than running out of water in the middle of a ride, so consider adding a bottle cage - most frames have bosses for at least two.
---
Related Product
Save $400
Commuter Electric Bike KBO Breeze
---
Share Article