Related Product
Save $200
Electric Cargo Bike KBO Ranger
---
Share Article
Get to Know KBO Ranger Cargo Bike |KBO Bike
Riding a bike is better than driving a car for various physical, philosophical, environmental, and logistical reasons. Cars are pricey. They need maintenance, block highways, and hurt household pets. They contaminate the environment. But none of this matters when you've been trying to go to the park for four hours and still haven't wrangled your crying child's jeans.
People are increasingly seeking to go green and decrease their carbon footprints. An electric cargo bike may help them do so. There's an e-cargo bike for everyone, whether you're seeking new family transportation or a small business looking to update your delivery and transportation techniques.
We look at several crucial factors to consider, from the basics of an electric cargo bike, what it can be used for, and how it works, to help you choose the perfect model for your needs.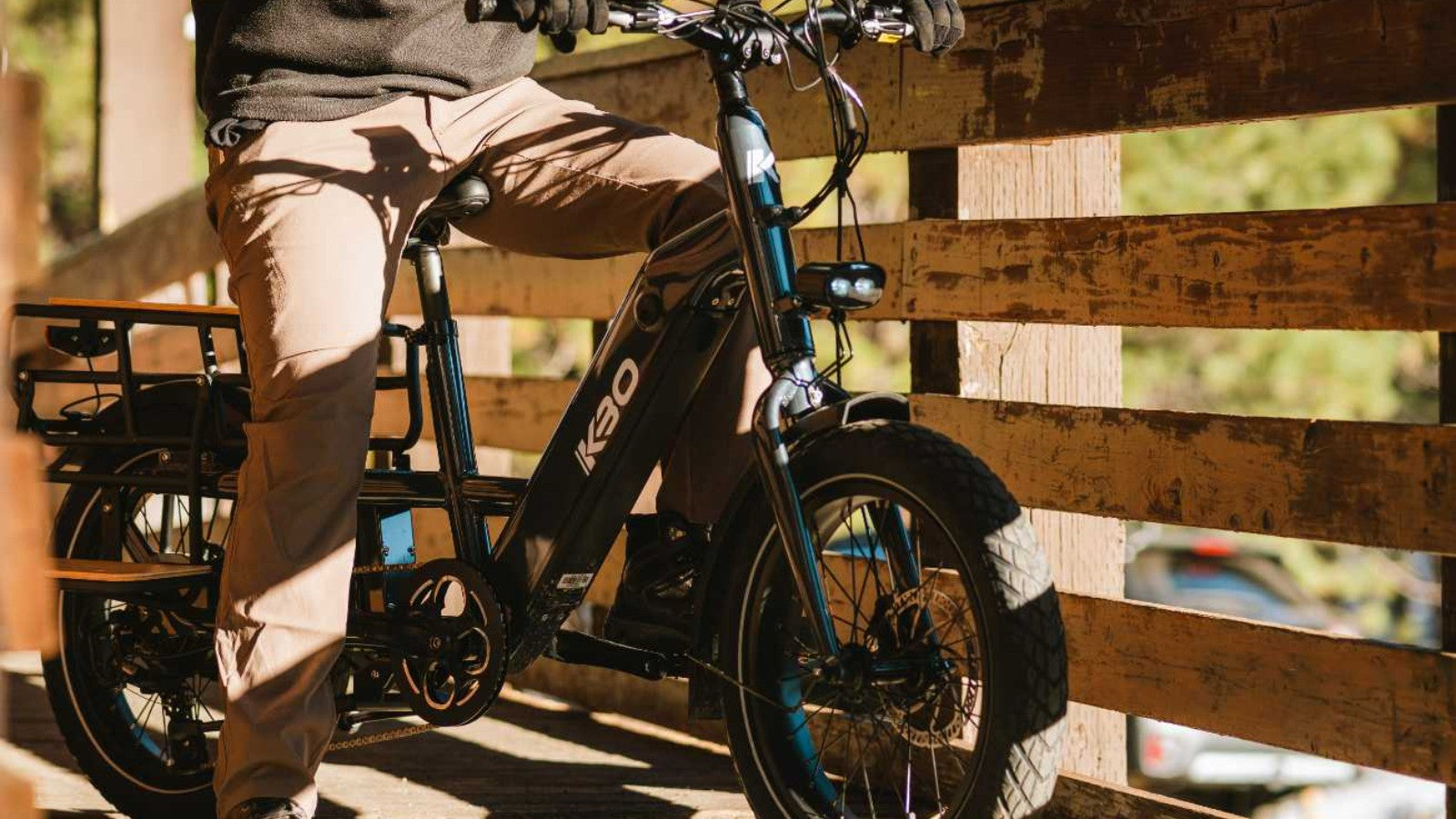 What exactly are Electric Cargo Bikes?
Electric cargo bikes are similar to regular electric bikes, except they are built to carry heavier and larger goods. They are subject to the same regulations as standard electric bicycles. (e.g., 250W max power motor, 25km/h assisted top speed and no throttle), but they are created with diverse layouts that allow them to accommodate everything from suitcase carriers to baby seats.
What Can You Do With An Electric Cargo Bike?
A cargo e-bike may transport oversized and heavy items, such as a box load of deliveries, or something more valuable, such as delivering children (or your dog!) to school or the park. It's perfect for the weekly groceries and for carrying out your everyday duties throughout the town and in your neighborhood.
How Much Does An Electric Cargo Bike Cost?
Electric cargo bikes may be purchased for as low as $1,500 or as much as $5,000. The cost is determined mainly by the size and capability of the cargo e-bike. You may also discover that the more powerful models are a little more expensive. A tremendous electric cargo bike is the KBO Ranger Cargo Bike, which costs $1,699.
Which Bike Is Right for You?
Front Box or Longtail?
Electric cargo bicycles are available in two forms. The first type of bike is a front-loader, also known as a bakfiets or Long John, which suspends a luggage box between the rider and the front tire. On the other hand, a longtail arrangement extends the back end of the bicycle to accommodate more bodies and gear.
Both forms have advantages and disadvantages. If you choose a front-loader bike, you will want a garage or storage area. They're also challenging to manage and require practice to ride at lesser speeds. A longtail bicycle is more maneuverable than a standard bicycle, but the weight is suspended higher up. If feasible, we recommend scheduling a test ride at your local bike store before making a purchase.
Reasons to get an Electric Cargo Bike.
Cargo

E-Bikes

are an environmentally friendly option.
We're all thinking about how we can reduce our influence on climate change. Cycling as your primary form of transportation is healthier for the environment than driving – but we all know it isn't always the most convenient or practical mode of transit. If only there existed a middle ground between the two. Here comes the cargo E-bike. It's battery-powered and customizable, and it's capable of transporting everything from groceries to your children. The freight E-battery bike's support allows it to transport even huge goods with little effort – and low carbon emissions! 
Your Children Will Enjoy an Electric Family Bike
The school drop-off has been improved — for both you and the kids! Solid and robust trailers explicitly designed for cargo bikes are ideal for transporting your children, particularly to and from school. They'll enjoy traveling in a stylish trailer that you can customize in any manner you choose. They'll also be receiving plenty of fresh air and vitamin D while they're at it. Everyone comes out ahead!
It'll be a hit with your pets as well!
Just as you can bring the kids along on any journey in their trailer, you can do the same for your furry pals — we wouldn't want them to be left out, would we? Bring your dog along for the journey, whether you're running errands or picking up the kids from school. When riding the dog on the bike, make sure your best friend is securely fastened.
It's Designed for Adventure
If you enjoy being outside, there are a million and one reasons to fall in love with the cargo E-bike. One of them is its compatibility with activities such as camping. Finally, the ideal method of transportation for transporting you and all of your camping gear to the picture-perfect location in the great outdoors. It even gets your outdoor excursion started early, providing you with a nature fix for the duration of your travel. Why should you wait?
It will help you save money.
A cargo E-bike will not break the budget compared to purchasing a car. If you've been thinking about buying a car for any of the reasons listed above, consider this instead. A cargo E-bike will effortlessly get you from point A to point B, but it will also cost you a fraction of the price, and who doesn't want to save money?
You Can Enjoy The World
Busy schedules can take away some of life's basic joys, but including a cargo E-bike into your daily routine can remedy this. Suddenly, traveling around town becomes a new way to enjoy everything around you, from the sunshine and fresh air to the small details of the city that you used to take for granted in your vehicle or on the train. It's time to soak it all in, folks!
You won't find a better electric cargo bike than the KBO Ranger Cargo Bike. Let's do a quick rundown of its features.
In Frame and Removable 48V 17.5Ah Lithium-ion Battery with Samsung/LG Cells
One of the most notable advantages of a KBO Bike is its battery life, which is certified for 900 complete charge cycles. You can ride up to 60 miles on a single charge thanks to the 840Wh battery capacity.
Powerful Sustained 750W Brushless Geared Hub Motor
You won't have to worry about lifting large loads or climbing steep uphills because it's powered by a constant 750W brushless geared hub motor.
48V 3 Amp Quick & Smart Charger
It takes 5 hours to completely charge the battery, shortening the time between rides and allowing you to keep up with the fast pace of your riding demands.
48V LED Headlight
Press and hold the "UP" button for 3 seconds to turn on the light. This feature makes cycling at night safer and allows motorists to see you.
Integrated Brake Rear Light
The rear light is a built-in LED light powered by the battery pack. The rear brake light quickly brightens when you engage the brakes while riding.
The Shimano 7-speed Shifter
It's engineered for your riding experience and lets you change gears on the fly to adapt to diverse terrains. 
Mechanical Disc Brakes
The 180 mm disc rotors on the front and rear provide adequate braking force even under challenging situations.
Extra-large, Adaptable Rear Rack
The strong aluminum rear rack can support loads of up to 120 pounds. You may go for a trip with your loved ones, carry your children to and from school, or move some heavy equipment.
Ergonomic Half Twist Throttle
Take a rest and cruise when you're sick of pedaling. To accelerate, gently twist the throttle on your right.
Adjustable Saddle
This bike seat is a durable and comfortable saddle that absorbs the impact of road bumps. You may change your position by shifting the saddle up and down and back and forth.
20"*3.0" CST Tires
The tires are made of high-quality materials resistant to punctures produced by sharp objects to avoid holes. It gives a more steady and smooth ride on your journey since it is bigger than standard commuter tires.
Intelligent Installation Points
It comes with a smart mounting bracket that can support up to 50 pounds. You can load it however you want.
LCD Backlight Display
The display offers you a variety of information to help you keep track of your riding circumstances. A charge indicator, a speedometer, an odometer, a trip odometer, a pedal assist level, and other amenities are included.
Full Fenders
Both the front and rear fenders come complete with essential hardware. They are highly durable and keep you dry and clean from water and muck.
Center Stand
It is built using a rust-resistant, strong, and long-lasting aluminum alloy.
Some of the specifications of the KBO Ranger Cargo Bike:
Range
35-60 miles
Total Payload Capacity
400 lbs
Recommended Rider Heights
4'11" - 6'3"
Charger
3.0 Amp Quick charger
Controller
48V /22A
Display
LCD backlight display 
Weight
77 lbs
Pedal Assist
0-5 level
Electric cargo bikes are proven to be extremely helpful and adaptable electric rides for people and business owners. One of the reasons they are seen as the future of business and mobility is their economic sustainability. One example is how the sharing economy has grown over time as bike-sharing firms realized the possibilities of mobility equipment such as electric cargo bikes.
Not only that, but e-cargo bikes play an essential part in creating safer and greener streets across the world. Cities may move to more sustainable modes of transportation, such as electric cargo bikes, as time goes on. In this manner, we may reduce our carbon footprints while still being able to go about our daily lives. The KBO Ranger Cargo Bike is just the bike to get you going.
---
Related Product
Save $200
Electric Cargo Bike KBO Ranger
---
Share Article