Related Product
Save $400
Commuter Electric Bike KBO Breeze Step-Thru
---
Share Article
Tips for Family Bike Rides with Kids | KBO Bike
Riding may be a terrific way to spend time alone, but it's also a fantastic way to spend more time with family.
There are several advantages to taking family bike rides, like fostering healthy exercise habits in your children, spending quality time together as a family, boosting moods, and much more. Even if your child is only a passenger, introducing them to riding at a young age can result in a healthy, lifelong habit and enjoyment of riding. But how do you get your family started riding bikes? The following riding with kids guidelines will guarantee that every family bike trip is easy, safe, and, most importantly, fun!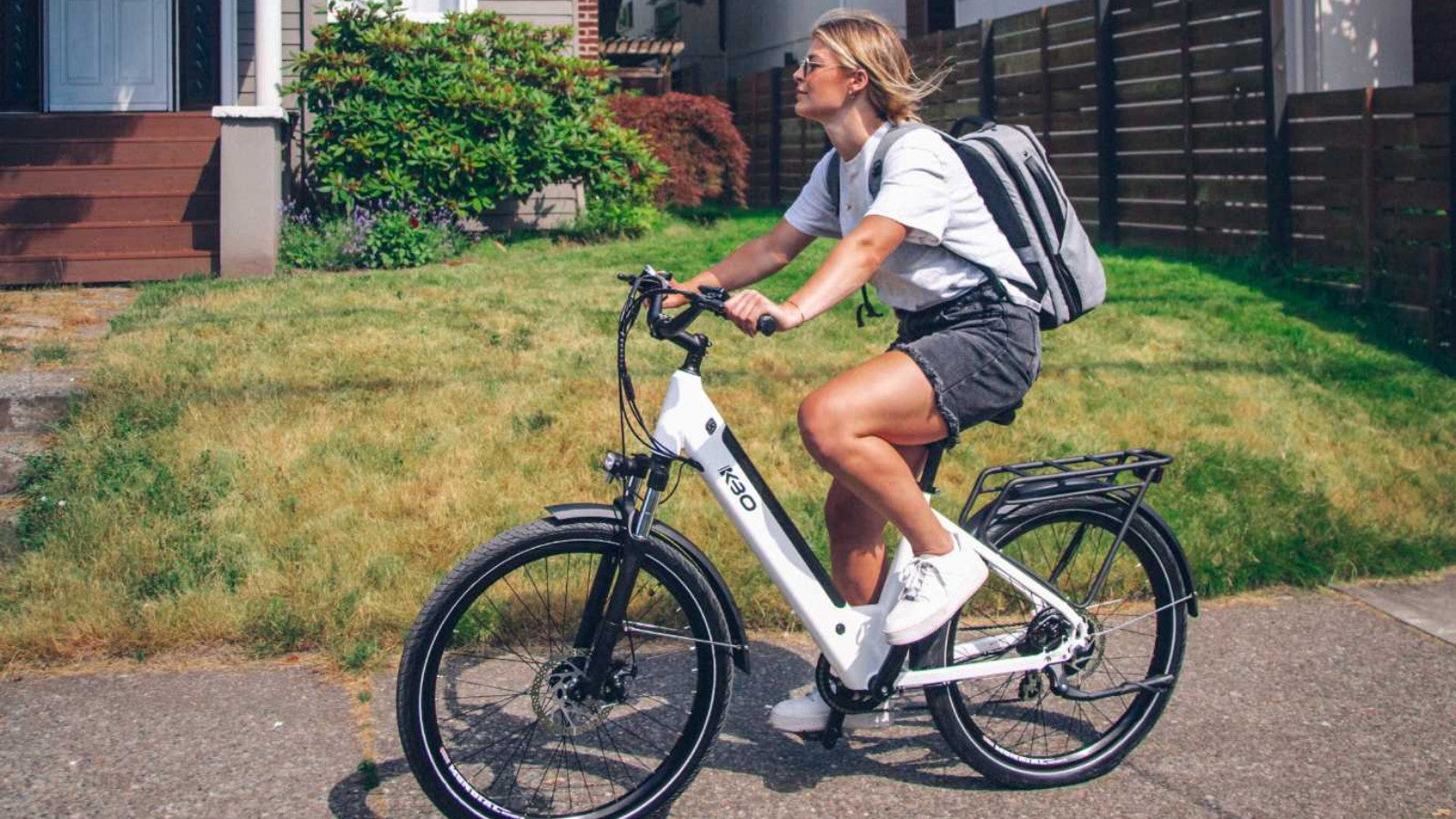 1) Select the Correct Bicycle
The bicycle needs of children vary dramatically as they learn, grow, and increase their skills. So, while one bike may be excellent for your 6-year-old, another, larger bike may be ideal for your 8-year-old. Many parents and caregivers make the mistake of purchasing a bicycle that their child can "grow into." While you may believe you are saving money by buying a giant bike, we advise against it. A larger bike can make riding uncomfortable, complicated, and dangerous for a younger child.
Here are some general suggestions for selecting the best bike for your child:
Ages 0-3: Bike seats or trailers are the most secure method to introduce your child to biking. They can usually leave the trailer when they are old enough and ride with you on an attachable bike seat.
Ages 3-6: When little kids approach toddler-hood, they may begin to desire to do things on their own. Furthermore, they may become too big for a bike seat after they reach the age of six. A balance bike will help your kid focus on steering and balancing, allowing them to safely progress to riding a training bike with pedals and brakes.
Ages 6-7: A first "real" bike will have six or seven gears. Look for a lightweight bike that fits your child well to ensure they have a fun and safe ride.
Ages 8+: Your child's bike should have 21 gears by now, allowing them to tackle more tough, mountainous courses efficiently.
2) Get the Right Equipment
The appropriate bicycle equipment will keep your kid safe and happy on every trip. Some pointers:
Make sure your child is wearing a helmet.
 Wearing a correctly fitting bike helmet is the best way to prevent head injuries — not just sometimes. However, even if your family is riding up and down your block, helmets may protect kids and parents from severe head injuries and even death.
How to Buy a Kid's Helmet
Most parents will have to purchase a helmet for their children. Helmets are similar to shoes in that the essential factor in selecting a helmet is the fit. Instead of seeking a specific model when purchasing a bike helmet for a child, go to your local bike store and choose one that fits snugly on their head.
It should be EN 1080 European Standard certified in the UK, which addresses kid helmet safety. It must comply with the United States Consumer Product Safety Commission in the United States. The helmet must meet Australia's mandatory standard in Australia.
However, ventilation is not critical, particularly for young passengers, who do not produce much heat.
Check that it is correctly worn, with the forehead protected. By placing a finger beneath the chin strap when securing it, you may avoid too tight straps or nipping your child's neck with the clasp.
Dress appropriately for the weather. 
Dressing for the weather will not only keep your child dry and warm but also keep them safe. If it's raining, ensure your kid has dressed appropriately for riding in wet conditions. If it's cold outside, get a nice coat, thick socks, mittens, and a beanie that fits under a helmet. Ski masks are also a good idea in cold weather.
Your best friend is a reflective tape.
 Reflective tape on trailers, bikes, and helmets will make your family visible to other cyclists and motorists, whether your child is riding in the trailer or on their bike. When it comes to family riding safety, adding a safety flag to a trailer is also a good rule of thumb.
In low light, adequate illumination is required. 
When your family is riding in low-light situations, it's critical to utilize bike headlights and taillights to improve visibility and alert motorists when approaching you.
Please bring snacks.
Any parent or childcare provider knows that children get hungry at the randomest times. Bringing food and drinks with you for the travel will keep everyone hydrated and energized—place refreshments in a pannier to keep them safe throughout the trip.
3) Exercise Bicycle Safety
While a family bike trip is supposed to be fun, your kid must understand that a bicycle is not a toy and should not be treated. These bicycle safety tips can keep your child safe on every ride:
Teach your kid proper hand signals and traffic rules. Before embarking on any bike trip, it is critical to discuss bike safety guidelines, especially with smaller children.
Before each ride, perform a simple bike maintenance check. To get your child acclimated to completing their bike checks, teach them how to check their brakes and tire pressure.
Make it a habit for your kid to ride on the far right side of the road with traffic, never against it.
Wear brightly colored clothes and utilize lights in low-light situations. Children should also wear reflectors to ensure that other drivers notice the child.
Stick together. Make sure everyone stays together on family trips until your older children know the laws of the road like the back of their hands and are ready to go out on their own.
4) Select Kid-Friendly Routes
If you're an experienced biker, you might not worry about where you go as long as you're out there! However, suppose you want your child to continue riding. In that case, they must be interested and involved with the family biking experience and feel secure on the journey. Here's how to make sure your kids have a good time on every ride:
Before you go, look up bike routes. Avoid unduly hilly terrain, busy roads, and other obstacles a child cannot easily navigate. Checking routes allows you to prepare shortcuts in case your child gets tired soon.
Plan your family bike journeys to take advantage of safe, calm roads and cycling lanes.
Don't go too far. Suppose you take the family on a long journey. In that case, your children may perceive it as too complicated and a duty, resulting in crankiness. Shorter routes will keep kids interested and encourage them to cycle more in the future.
A family ride on the pavement of your neighborhood is typically your best choice if you have a very young child using a balance or training bike unless your kid can fit on a child's bicycle seat or inside a trailer.
Allow the slowest cyclist to set the pace for the whole trip. This will make things more pleasurable for inexperienced or young riders.
Involving your children in your favorite hobbies may build your relationship while improving their quality of life. A family bike ride is a fun, active way to interact with each other and see your town up close, whether riding up and down the sidewalks of your neighborhood, riding through a park, or going out for ice cream.
Your child will fall off sooner or later. However, off-road falls at this age are rarely dangerous because there is no traffic or street furniture to collide with, and speeds are usually minimal.
A helmet, as previously indicated, is an obvious precaution, and riding mitts can help avoid scuffed hands.
Long pants, such as tracksuit bottoms, and sleeved shirts are preferable to bare arms and legs. They protect against small grazes, scrapes, and nettle stings. For the same reason, boots or robust sneakers are preferable to sandals or tennis shoes.
Some clothing businesses do sell bike gear in children's sizes.
As always, organize the journey so that you stop at spots that interest the kids - a café stop here, a nice place to try out some jumps there, whatever they are interested in.
When planning your trip, don't overestimate your speed. If they're riding their bikes, you could only be averaging five mph or so off-road.
Above all, relax and enjoy! Everyone involved should have a good time. Hopefully, you'll instill a lifetime passion for riding in your children.
Involving your children in your favorite hobbies may build your relationship while improving their quality of life. A family bike ride is a fun, active way to interact with each other and see your town up close, whether riding up and down the sidewalks of your neighborhood, riding through a park, or going out for ice cream.
---
Related Product
Save $400
Commuter Electric Bike KBO Breeze Step-Thru
---
Share Article