Related Product
Save $500
Commuter Electric Bike KBO Breeze Step-Thru
---
Share Article
Best Valentine's Day Gift For Your Loved One | KBO Bike
Valentine's day is to celebrate love and romance when lovers exchange presents as a symbol of affection. Those who are in a romantic relationship like to send cards and gifts to their spouse on this occasion to express their feelings, typically anonymously.
Valentine's Day is drawing near. Why would there be no gifts or surprises? Is it still possible to give simple and classic gifts? What about a bouquet? How about some one-of-a-kind romantic gift? What about a personalized notebook or labels with written words? Is it not the same thing every year? The same cliche procedure we follow annually.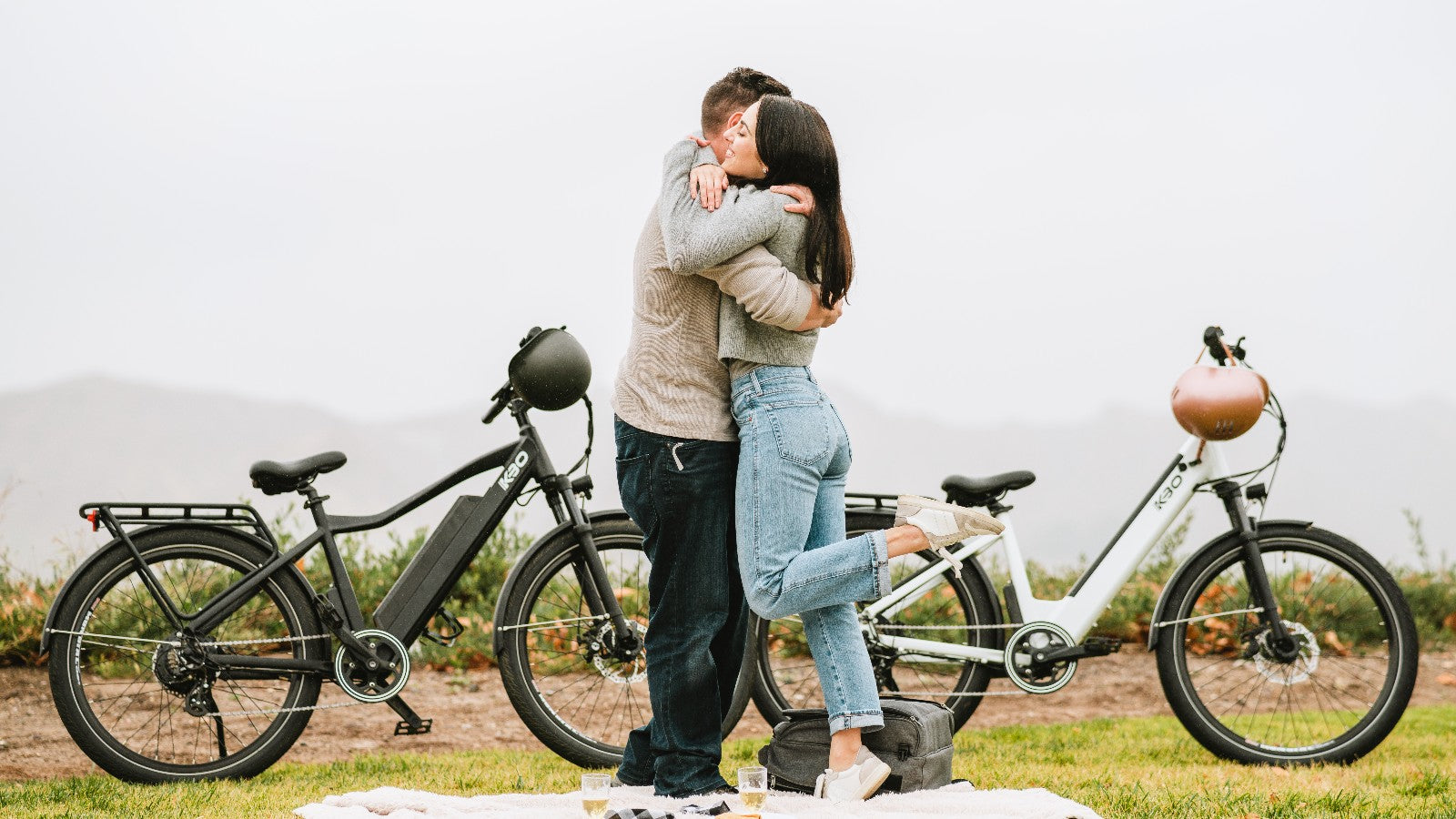 Flowers and chocolate are lovely, but a thoughtful and practical gift is more ideal and romantic. Something that will not be eaten and forgotten or will wither over time but some time to keep memories, durable and hard to forget. This year should be different from previous ones; gifts to be shared should be thoughtful. An example of such a perfect gift is an electric bicycle.
When it comes to presenting a gift on this special day of love, what could be better than an electric bike? It would be the ideal gift because it provides numerous physical and physiological benefits while also assisting your partner in adjusting to a sedentary lifestyle.
If you have been married for a long time and know your partner well, you could be short of ideas on how to surprise him/her. If you have been dating for three months, you probably do not know what kind of gifts he or she would love. Don't be afraid! We are here to help you make the right choice. The gift of an electric bike is ideal!
To be honest, Valentine's Day is a terrific excuse to spoil yourself and your loved one. On this day, you should normally be thinking about the perfect gift for your sweetheart. This year has the potential to be a little different. You can make two gifts: one for yourself and one for a loved one.
Electric bikes are excellent choices if you prefer going to the farmer's market every Saturday, getting about town, courting at sunset, or simply enjoying freedom - when you are alone.
Riding an electric bike with your loved one on a special day like Valentine's day is so much worth it. Picture the smile on their faces when you ride together, with the sun smiling down on you and feeling the gentle breeze blowing your hair around. Riding electric bikes is safer, faster, and easier to ride. Also, it is a great choice when compared to cars. You can enjoy your ride with no worries about traffic, burning fuels, or polluting the air.
With these in mind, which type of electric bicycle is ideal as a gift for your loved one on valentine's day?
Electric cargo bike KBO ranger is a great option to go for. It comes in two colors - cool grey and orange, and you have the liberty to pick the one that suits your loved one or you the most. It includes some cool accessories like KBO ranger rear rack, ranger running boards, KBO ranger full fenders, 16-in-1 repair toolkit for free!!! If you think of being broke after getting this offer, then you will be surprised to know that KBO ranger electric cargo bike goes for the price of $1699, and it is accessible on their website. The offer also includes free shipping, a 2-year warranty which starts on the day you receive your item, and $100 off if you are purchasing two bikes at a time.
As an electric bike, you need not worry about flat batteries because it has an in-frame and removable 48V 17.5Ah Lithium-ion battery with Samsung/LG cells. The battery capacity is 840Wh, and on a single charge, you can ride up to 60 miles.
If you stayed out late or decided to cycle in the night, you and your loved ones need not fret because the electric cargo bike comes with a 48V LED headlight which makes cycling at night interesting, safe and fun. It also includes an integrated brake rear light which comes on automatically when you press the brake pedal, an adjustable saddle that comes in handy when you feel uncomfortable with your posture while cycling, you could easily adjust it and enjoy your ride, an extra-large adaptable rear-rack for your loads, or for additional passenger, an LCD backlight display which keeps you on a tab with necessary information while cycling and lots more.
Another cool option you can choose is the commuter electric bicycle KBO breeze. You can pick from a variety of two colors - black and orange. It includes an aluminum full fender, KBO bike rear rack, 16-in-1 repair toolkit, and a water bottle holder for free.
If you think purchasing this item will make a dent in your pocket, then you have to think twice because KBO breeze electric bike goes for the price of $1499 on the website. It includes free shipping, a 2-year warranty that commences from the day you receive the item, and $100 off when two items are purchased at once! Another amazing thing is that your bike will be delivered 90% assembled, and it will come with an owner's manual with a video guide to help you finish it up even though you are a novice.
Another feature of the breeze commuter bike is a removable 48V, 16Ah Lithium-ion battery with Samsung/LG cells. It has a battery capacity of 768Wh, and you have the opportunity to ride up to 55 miles on a full charge, with a maximum time frame of 5 hours with a 48V 3 Amp charger.
The KBO commuter electric bike has a sturdy bike seat and an opportunity to adjust it to your convenience. The KBO breeze has a Shimano 7 Speed derailleur which you can use to change the gear to fit the various terrains while pedaling. You do not need to be scared of an accident because it has mechanical disc brakes which halts the bike with adequate force even in the worst condition. The e-bike also includes a headlight of 48V LED, making cycling possible any time of the day.
These and many more features make the KBO Breeze Step Thru commuter electric bike perfect as a valentine gift for your loved ones. Electric bikes are safe, affordable, convenient, and beginner-friendly.
Knowing the various features of an electric bike is not enough. You need to know the type that suits your loved ones.
If you are looking for a more budget-friendly and light road bike, the KBO Hurricane is your best bet. The KBO Hurricane is an excellent choice for this as it weighs only 36 pounds in total. It is powered by a 36V, 9.6Ah Lithium-ion battery with Samsung/LG cells. It boasts a large electric bike battery capacity of 345Wh for a longer range. The modest weight enables simple stowage mobility.
Does your partner already has a bike, and you can't afford to buy a new one, you can gift them bike accessories too.
Select from our wide range of bike accessories.
The KBO Bicycle Frame Bag
The KBO Bike Rack Bag
The KBO Ebike Helmet
The KBO Electric bike hitch rack
Bikes can be personal, so picking one out for someone is a bit of a gamble unless they have been very clear about what they like and desire. Most individuals prefer to test-ride numerous bikes before deciding on the best one for them, and this entire procedure is not observed when purchasing a bike for someone else. As a result, it is possible that the bike might not suit them or that the riding posture would be uncomfortable. Aesthetics are also essential to women—paint jobs and colors are vital to them. It is better to always leave the option of a possible change with the vendor.
Be sure to know your partners well enough to make the right gift decisions for them.
---
Related Product
Save $500
Commuter Electric Bike KBO Breeze Step-Thru
---
Share Article