Related Product
Save $500
Commuter Electric Bike KBO Breeze Step-Thru
---
Share Article
Best Electric Bike Gift for Holiday 2021 | KBO Bike
Everyone wants to offer the perfect present for the holidays and Christmas that will bring joy to others. However, in this age and time, that appears to be a daunting task. Everyone seemed to have everything, including electronic devices, video games, clothing, and, of course, socks and underwear. That is why you have to be very thoughtful when giving people gifts. For a cycling enthusiast, your gift has to be within the range of what can encourage that activity. For young teenagers, getting them an electric bike is a good way of putting them on the path to a healthy lifestyle.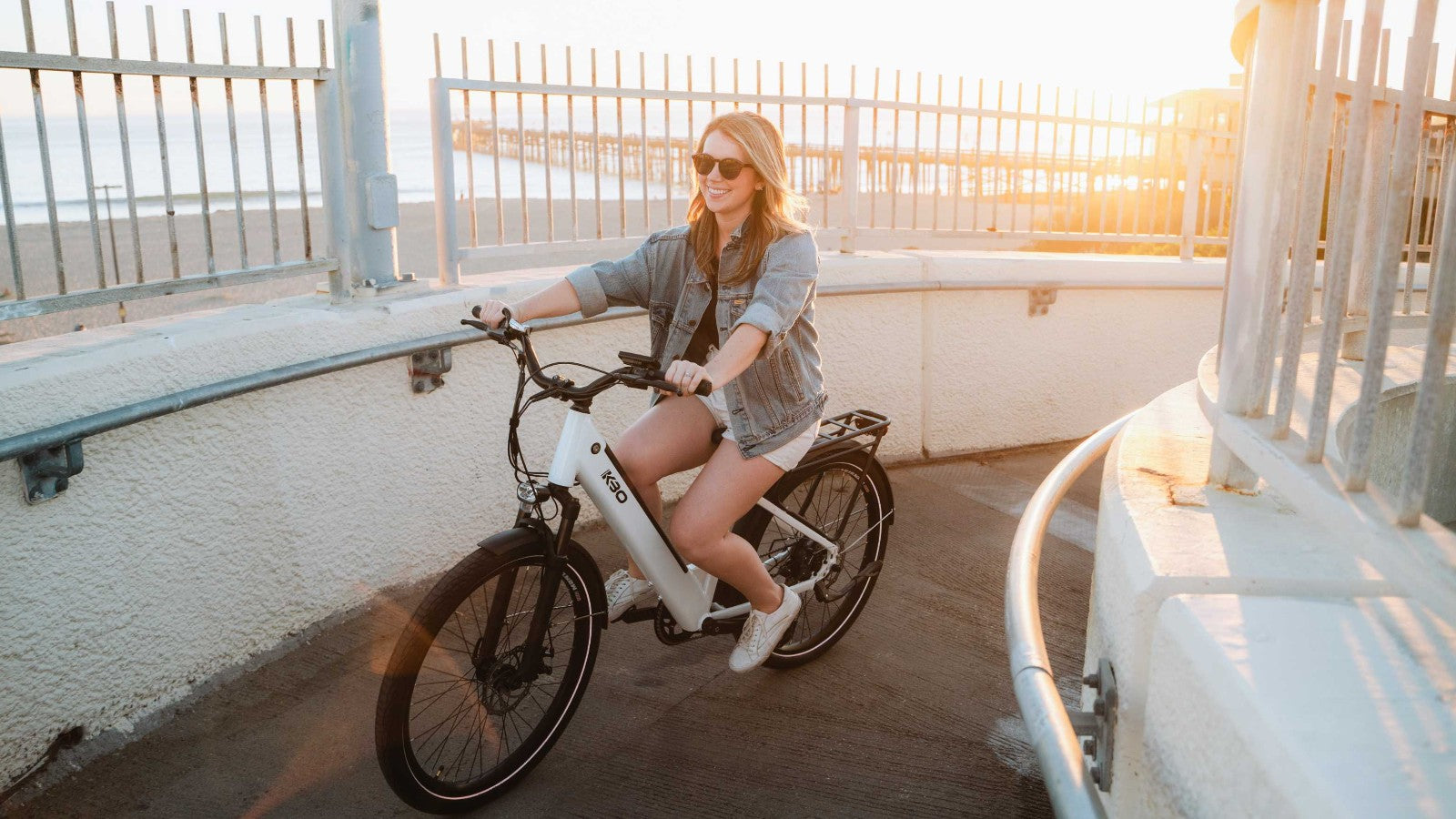 Giving a loved one an electric bike provides them with more than simply a unique mode of transportation. An electric bicycle can also aid in improving physical and mental wellness.
Is it still possible to get in shape on a bike that has a motor? Some people worry if riding an e-bike will provide them with any exercise. They might, after all, leave the task to the electric motor. People who ride electric bikes do almost as much exercise as those who ride traditional bikes but did not have to work as hard to accomplish their workout.
So, what is stopping you from buying a bike or an electric bicycle for a loved one this Christmas? Perhaps you are scared you will not know what color they want or what bike they will prefer. So you go online and find just bikes that come in boxes and, delivered to your door unassembled. What happens after that? You can take it to a local bike shop or an electric bicycle store to ensure that they can put it together for you. But with KBO Bikes, you do not need to stress to assemble your bikes. By watching the tutorial video or simply following the manual instructions, you will be able to assemble your bike in less than thirty minutes.
To indulge and induct your friends into the world of electric bikes, you can get them any of our bikes as a Christmas gift.
KBO Breeze
If your loved one is a commuter, that needs a multi-terrain adaptable commuting bike. The KBO Breeze is a suitable option. The KBO breeze comes with a Removable 48V, 16Ah Lithium-ion Battery with Samsung cells, that gives you up to 55 miles of riding on a single charge with its 768Wh capacity battery. The Aventon Level comes with a 672Wh Removable Internal Lithium-ion 48V, 14Ah. The KBO Breeze has a Shimano 7-speed gear shifter and a 5-level pedal assist option, allowing it to reach a speed of 25 mph with the pedal-assist and 21 mph with just the throttle, fitted with Tektro Aries mechanical disc brakes with the front and rear 180 mm disc rotors. It is equipped with a 48V LED Headlight, which solves the visibility issue by allowing you to see and ensuring that oncoming vehicles see you. It also has an integrated brake light on the rear, which lights up when you apply your brake.
KBO Breeze Step-thru
They produced the KBO Breeze Step-thru for riders who fancy the step-through frame type. The Step-thru designs give the most upright riding position. As well as the easiest mounting and dismounting since riders just step through the curved frame. Step-thru bicycles are great for casual trips or commuting to and from work, and they give comfort and style on every ride. The major advantage of the step-through designs is that they are very easy to get on and off. Step-through bikes are suitable for commuting to your work in formal clothes that are not as flexible as your normal cycling wear, such as a men's suit or a women's dress or skirt, because they allow you to get on and off the bike with ease and without breaking a sweat or ruining your cloth.
KBO Ranger
For your loved ones who do some lifting or have kids who go on rides with them. You might consider gifting them with a cargo bicycle.
The KBO Ranger comes with a 48V,17.5Ah Lithium-ion battery with LG cell and an outstanding 840 Wh capacity allows for a comfortable 60-mile journey on a single charge. It allows a 400 lb payload capacity with a 750W geared hub motor, capable of transporting heavy stuff, delivering items, and carrying up to two children, with a stronger acceleration torque. Equipped with a Shimano 7-speed gear shifter, giving the rider an experience that allows you to change gears on the fly to adapt to diverse terrains. It has an In-house frame design, lower but wider tires for a lower center of gravity, ensuring a robust, stable, and safe cycling experience.
KBO Hurricane
If you want an effective e-bike with a smaller budget, The KBO Hurricane is a good fit for that. It has a total weight of just 36lbs. It has a 36V, 9.6Ah Lithium-ion Battery with Samsung/LG Cells. It has a great battery capacity which includes a 345Wh for a longer range. Its lightweight allows for easy movement for stowage.
Asides from gifting people an electric bike, If a loved one has already decided to go electric with their cycling, there are a variety of accessories and clothes that can improve their experience.
BICYCLE FRAME BAG
Gifting your friends this would help them keep their stuff safe. Having stuff in your pocket while biking might not be the best thing to do. You need a place with easy access to keep your phone, maps, key, wallet, and tools, e.t.c You should get a Bicycle Frame Bag.
The KBO Bicycle Frame Bag is an easy-to-install 1.7L capacity bicycle frame bag. Built with an ultralight carbon fiber material to reduce the weight on the frame. Having a water-resistant accessory is very important for bikers as an open vehicle; this bag meets that requirement, durable carbon material and sealed double zippers, ensuring that your things are safe from extreme weather conditions. It gives your loved ones easy access to their phones even when they are riding. It comes with a high sensitive TPU film window that allows you to see your screen.
BIKE RACK BAG
Sometimes cyclists might want to move a few things around. The KBO Bike Rack Bag gives you more value for your money than you bargained for, with its shoulder strap that allows it to double as a messenger bag. Made with high water-resistant carbon composite leather, you can be assured even in extreme weather. The size of the bag can be increased to accommodate your things conveniently. You can expand the fold-out compartments on each side to make the backpack two bike panniers when you need additional space.
Helmet
Thinking love? Think safety. Electric bikes are quite fast with effective braking systems, yet you can never be too careful when safety is concerned. Be it a short ride in the neighborhood or commuting on a long distance to your workplace, you should top that safety consciousness with a Bicycle Safety Helmet. The KBO Bicycle Safety Helmet projects style, comfort, and safety. It has air inlets and outlets that provide excellent all-around ventilation, with an internal bug mesh to protect you from insects, a shell with high-density shock-absorbing EPS material, and a hard protective outer shell to increase visibility at night. The helmet is equipped with visible LED front light and small colorful lights on three sides.
ELECTRIC BICYCLE U-LOCK
An electric bike is quite an investment that you wouldn't go down the drain due to theft. Cyclists spend hundreds of dollars on e-bikes, and some go so far as to insure them against theft and damage, which is a highly possible occurrence due to the size of the bicycles. They are easy to steal and difficult to trace. You can help your loved one to secure their bike. The KBO Electric bicycle U-lock ensures that your bike is secure wherever you park it. It is crafted with 0.63 thick high-performance alloy steel that is cutting-resistant, leveraging-resistant, and drill-resistant. It also comes with a 4 feet steel cable coated with PVC covering to improve its resilience. It also comes with two spare keys should you lose your key.
Electric Bikes Hitch Rack
To transport your bike with a car, you'll need a bike hitch rack. The KBO Electric bike hitch rack is foldable, compact, easy to use, made to be user-friendly such that it can be assembled in two minutes. It comes with fully integrated security and can carry the majority of e-bikes, regardless of frame style. When not in use, you can fold it up to save room—forged with durable steel that can carry a payload of up to 160 lbs. Capable of mounting two e-bikes conveniently since most of them weigh less than 50 lbs, though you should remove the batteries before mounting e-bikes to the rack.
There are other accessories you can also get your cycling friends, such as a fitness tracker and cycling apparel. Remember, the aim is to gift them something that would spur them into engaging more in cycling. That's a very good way of supporting a healthy lifestyle.
---
Related Product
Save $500
Commuter Electric Bike KBO Breeze Step-Thru
---
Share Article