Share Article
The Best E-Bike For Your Dad | KBO Bike
Introduction
Father's Day will be celebrated this Sunday in June. Have you bought a gift yet? And you haven't figured out what to get him. Electric bikes are an eccentric choice with lots of value to offer. So, buying your dad a best affordable e-bike for father's day would be a perfect way to celebrate him and how much he means to you.
You would be doing him a world of good with this fantastic gift. E-bikes have lots of benefits for men his age. They allow him to exercise, explore new places and have fun with friends. He would definitely be thanking you for a while after receiving this gift. This article is aimed at helping you make a good electric bicycle choice for your dad based on his personality.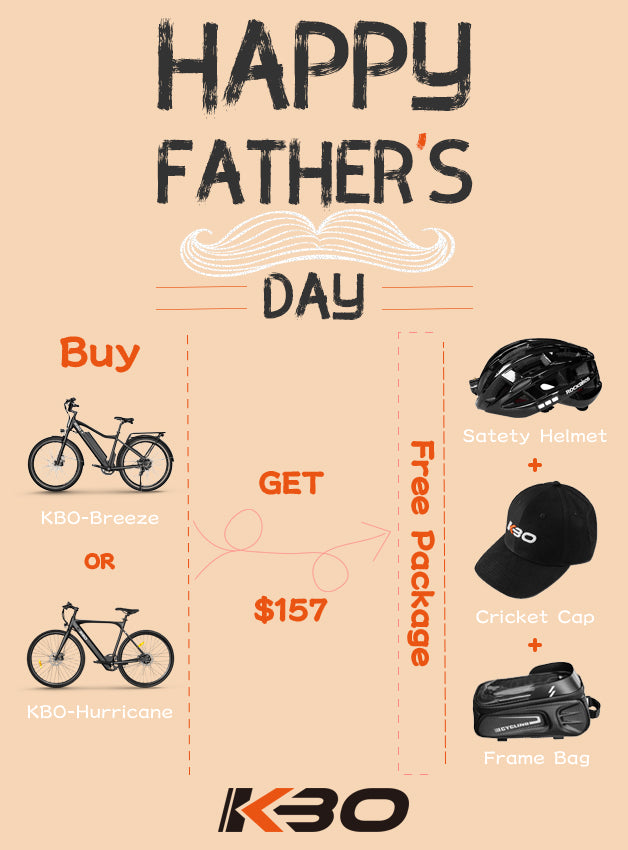 KBO Father's Day Sale is On Now. Shop Now!
The Best Bikes For Dads With Different Personalities
When choosing the best ebike for the money for Father's Day, it is advisable to consider your dad's most prominent character traits. Whether he is protective, dependable, or brave, we have outstanding choices for you. So, why not give your dad a bike he can easily connect to? We have green e-bikes, electric commuter bikes, and the KBO Hurricane bikes for all customers with mouth-watering discounts. Our products are strong, durable, and sure to keep him captivated from the moment he starts to ride. Here are some options below:
The Green E-bike For Protective Dads
While some dads still go to work, others are retired. Your dad would fall into one of these two groups, which plays a role in his electric bike use. Father's day is a day to celebrate all kinds of dads. But nothing fits more than a green electric bike if your dad is protective. Dads are a figure of stability and protection from childhood till you are an adult. So, this is a great way to show that he's the world's greatest father. Green electric bikes are a perfect fit for the following reasons:
They are technologically advanced electric bikes
Protective dads would love the advanced engineering and design of green e-bikes. The powerful lithium-ion batteries and colorful styling will take his breath away. Just like he protects you, our green electric bicycles also protect the environment because they have no emissions.
Have fun while getting fit
If you want your lovely dad to have fun while keeping fit, green e-bikes help your dad control his workout. He is guaranteed to have fun while pedaling off extra weight. These bikes are also great for dads who are recovering from surgery or a chronic illness.
Protective dad always loves to be around their children. So, why not get your dad and yourself our green e-bikes? This way, you can create fond memories that would last a lifetime.
The Electric Commuter Bike For Dependable Dads
Electric commuter bikes are a standout choice because of their dependability and reliability. They last for years before developing any faults and can carry heavy weights. For dads that are as dependable as our electric commuter bikes, this would be a good choice. With these bikes, he can enjoy the following:
Whether it is cityscapes on bike paths or mountain passes, electric commuter bikes have strong batteries to propel you around with ease and give your dad extra motivation to explore his environment.
If he is still a working-class man, he can use our bikes to transport himself to work. Dependable Dads are also usually steadfast at work. So, they deserve a bike that is reliable and can help them get to work on time.
You can make your dad feel like a kid again with an electric bike. These machines carry great excitement for riders and are a genuine source of fun.
The KBO Hurricane Electric bike For Brave Dads
Let's help your dad conquer difficult terrains with our KBO Hurricane electric bikes. For brave dads without any fears, hurricane electric bikes are a special choice. They are rugged with the strength to weather any storm. Dads fight through a lot to keep their children safe and provided for. They represent a source of support and strength when you are weak. So, you should also support your dad with this spectacular bike on Father's Day.
With all the models and colors available, we have bikes for just about every kind of dad. The colors that dads mostly prefer include sci-fi brushed aluminum, military green, orange, white and red.
Why E-bikes Make Great Father's Day Gifts
There are many reasons why electric bikes are a very thoughtful gift option. First, they are economical. If you are talking about getting value for every bit of your money, that's what electric bikes are. You can buy a quality one at as low as $1,000. Just imagine buying him a car at the bike price because riding e-bikes is as effortless as driving a car. Plus the added value of not producing any emissions, this is a no-brainer.
Another reason is that electric bikes offer your dad a means of exercising. It is good to exercise frequently, especially for someone your dad's age. So, an e-bike is a way to invest in his good health. This way, he can ride for long distances with minimal effort, which would be great for his heart. Make an order before father's day. Besides, if your dad already own an e-bike, you can also consider to get some electric bicycle parts for him. 
Conclusion
When deciding on your next Father's Day gift for your dad, e-bikes should be your first option. They are economical, environmentally friendly, and perfectly suited for any age group. There are many electric bicycles, but you should choose based on how well you know your pops. So, please take a minute to pick out his best traits and then buy him a befitting electric bike. This would be a very effective means of strengthening your father-child bond. An e-bike would surely put a smile on his handsome face. And isn't that what you want? Let's help you make your dad extremely happy with our special electric bikes. He deserves it!
---
Related Product
---
Share Article