Related Product
Save $400
Commuter Electric Bike KBO Breeze Step-Thru
---
Share Article
Best E-bikes and Accessories for Mother's Day! | KBO Bike
Mother's Day is approaching, and what do modern parents want more than anything - an electric bike, assuming they're like everybody else who wants to keep up with the kids! Perhaps a spa day as well. Mothers have used bicycles as a mode of transportation, amusement, exercise, and bonding with their children. Moms all around the globe adore a bike that matches their family's demands, from the Japanese Mamachari (Mommy's Bike) to Europe's decades of employing school bus-type cargo bikes.
Modern American mothers are no different, except that they are more likely to work while caring for their children, which takes its toll. So, if you're searching for a present idea, get mum an e-bike to go on her excursions and enjoy some much-needed Mommy time this year. An e-bike is one of the best presents for mom this year! Whether the special mom in your life has been mountain biking for years and requires the assistance of pedal-assist technology or has only hinted at having an electric bike she's seen online, we've put together a terrific choice of bikes and accessories to treat Mom.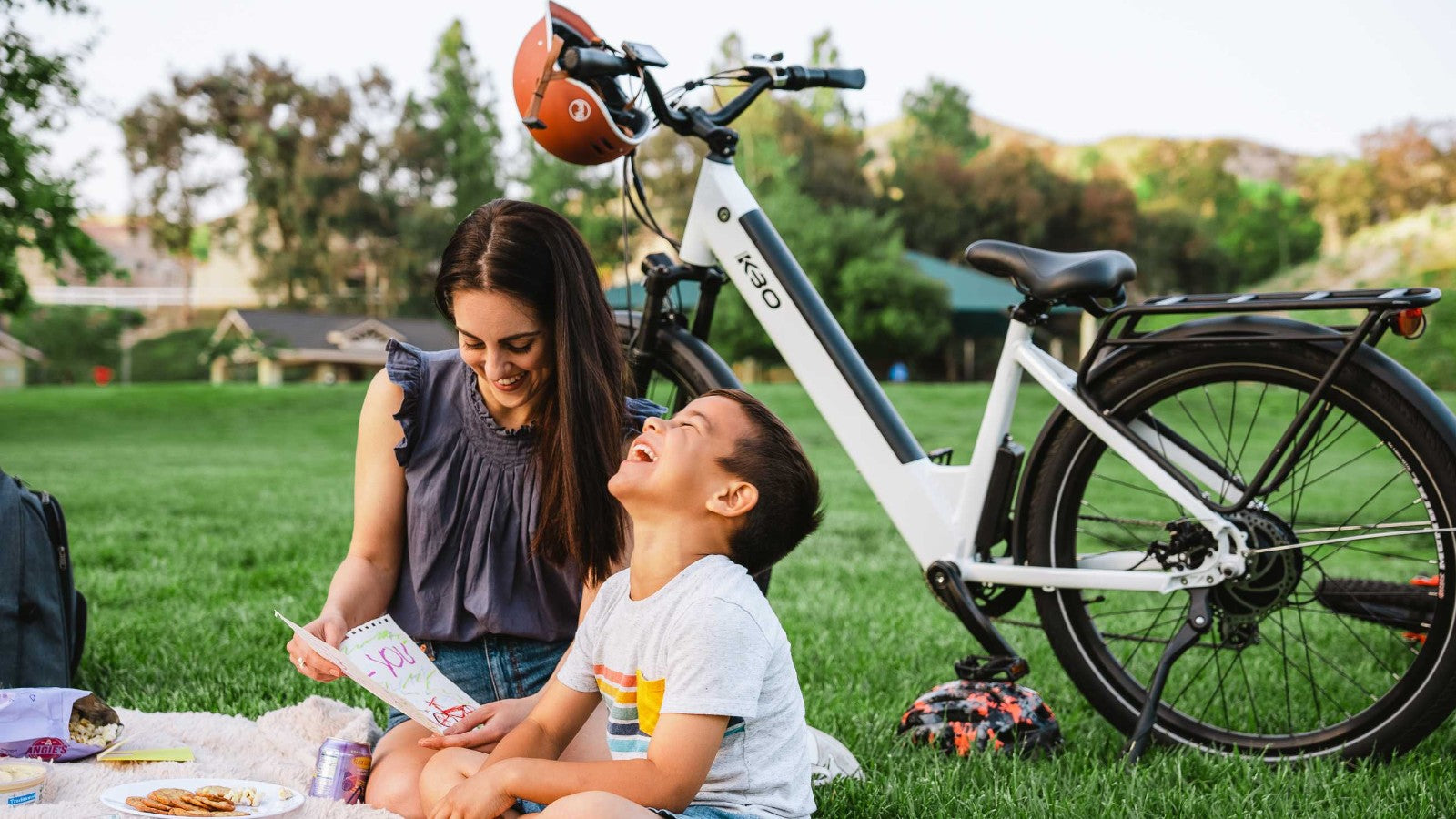 What is a Step-Through Bike, and how does it work?
The Step-Thru model was created in the late nineteenth and early twentieth centuries. Because of the period's clothing patterns, women, in particular, were compelled to wear dresses rather than pants in the early twentieth century. On the other hand, traditional bicycles have a Step-Over design that causes many difficulties. To mount the bike, they must elevate their legs, which was considered unpleasant and vulgar. Women progressively discovered the benefits of Step-Thru during this period. As a result, the Step-Thru model has grown in popularity among women. And as the Step-Thru design has evolved and improved through time, it has overcome some of its prior flaws and adapted to modern riding standards, resulting in a remarkably humane design. This is why we believe the KBO Breeze Step-thru will be the best bike to get your darling mom or maternal figure on Mother's Day. 
Let's check through what the KBO step-through offers us as per the specifications.
 KBO Breeze Step-Thru Electrical Specs & Features
Battery: 48V 16Ah Lithium-ion battery with Samsung/LG cells
Display: LCD backlight display
Motor: Sustained 500W brushless gear motor (750W Peak)
Lights: 48v Headlight and Integrated Brake Light
Pedal Assist: 5 Pedal assist levels to 28mph
Sensor: Sensitive cadence sensor and speed sensor.
Range: 30-55 mile range
Throttle: Twist Grip Throttle – Right Side, up to 20mph
Charger: 48V 3 Amp Quick & Smart Charger.
Derailleur: Shimano 7 speed derailleur
KBO Breeze Step-Thru Components & Accessories
Brakes: 180mm mechanical disc brakes
Fenders: Durable PVC and stainless-steel hardware.
Fork: 80mm of travel, lockout adjustment included.
Frame: 6061 Aluminum Alloy
Gearing: Seven Speed Shimano Altus
Grips and Saddle: KBO Comfort
Handlebar: High Rise aluminum alloy
Kickstand: Heavy-duty aluminum.
Pedals: Aluminum Alloy pedal with reflectors
Tires: 27.5" x 2.4" Panasonic puncture-resistant tires
Crank: 170mm forged alloy.
KBO Breeze Step-Thru Weight and Dimensions
Battery weight: 7 lbs
Total bike weight: 62 lbs (includes battery)
Rider Height:5'2" ~ 6'3"
Total payload capacity: 300 lbs
Maximum Load on Rear Rack: 50 lbs
Unfolded Dimensions: 72 x 29 x 46.5
Let's take a closer look at what the KBO Breeze Step-thru has to offer:
Cost
Purchasing an e-bike might be a significant financial commitment. Nonetheless, it is worthwhile. Compared to other bikes in the same price range and quality, the KBO Breeze Step-thru is an excellent choice. The KBO breeze Step-thru costs $1,499.00. We won't be comparing prices just on the e-bike but instead on the accessories that come with it. The KBO Breeze step-thru comes with free accessories such as a water bottle holder, a maintenance kit, and a rear rack, saving you up to $100 depending on the cycle you pick. The KBO Breeze is a relatively affordable device.
Battery: Removable 48V 16Ah Lithium-ion battery with Samsung/LG cells.
The KBO breeze has a Removable 48V, 16Ah Lithium-ion Battery with Samsung Cells that provides up to 55 miles of riding on a single charge with its 768 Wh capacity. This electric bike has more excellent battery power than the other electric bikes in the same price range. They are often equipped with a 672Wh Lithium-ion 48V, 14Ah battery. Because of its higher Watt-hours and Amp-Hours, the KBO Breeze ranges approximately 10 miles more than theirs.
Fast Charging
The KBO Breeze Step-thru has the edge over other e-bike chargers due to its 48v, 3 Amp rapid, and smart charger. It will help you to get back on the road quickly. In around 5 hours, the battery may be fully charged.
Range
Because of its massive battery capacity and brushless motor, the electric bike has an estimated range of up to 55 miles on a single charge.
Display
The KBO Breeze Step-thru display is easy to use and provides all of the information you need to get the most out of your ride. Its understated design keeps it from becoming a distraction.
Your speed, power level, assistance level, total mileage, and other statistics are displayed.
Motor: Sustained 500W brushless gear motor (750W Peak)
It contains a 500W brushless geared motor with a peak power of 750W. It can supply sufficient power. The hub-drive electric motor has a torque of more than 70 nm. It can reach speeds of up to 25 mph and is controlled by the cadence sensor for cadence-based and pedal-assist operation and the trigger throttle.
Speed
The KBO Breeze Step-thru's Shimano 7-Speed Gear Shifter and a 5-Level Pedal Assist Option allow it to reach 25 mph with pedal assistance and 21 mph with only the throttle. The KBO has a Twist Throttle for quick acceleration and a Shimano 7-speed thumb shifter. When pressed, the throttle is also exceedingly smooth and responsive. The combination of these two enables simple speed control.
Brakes
The Tektro Aries mechanical disc brakes with 180 mm disc rotors in the front and rear are standard on the KBO Breeze Step-thru. The 180 mm disc rotors provide considerable stopping force and are perfect for a 62-pound bike capable of speeds exceeding 20 mph. These mechanical disc brakes are enough if you don't want to use a hydraulic braking system.
Tire
The tires are made of durable, puncture-resistant materials. Because it is somewhat broader than conventional tires, it will make your travel more steady and smooth.
Frame
The frame of the bike is composed of 6061 alloyed aluminum. It is a strong yet lightweight material that improves the bike's maneuverability. The overall length is 72mm, and the handlebar height is 46.5mm. It is not very large and is simple to store.
Fenders
The Breeze Step-thru comes with complimentary complete fenders to make it more user-friendly. They are made of aluminum alloy to keep you dry in the rain and muck.
Kickstand
Even if there is no wall to rest against, you can still stand your bike. The heavy-duty kickstand that comes with the cycle is constructed of rust-resistant metal. It is solid and long-lasting enough to support the bike's weight comfortably.
Easy assembly
You may be on the road in thirty minutes after receiving your delivery. The KBO Step-thru is simple to put together and use.
Rear Rack for Heavy Loads
Do you need to travel with your child or pet?
The back solid aluminum frame can support up to 50 pounds of cargo or human weight. It was designed to hold accessories such as the Bike rack bag.
Ergonomic and Comfortable Design
Future technology prioritizes the ergonomics and comfortability of all devices given to the public. Everyone appreciates the use of a simple and versatile tool.
Front Suspension- 80mm Fork Suspension Fork
The aluminum front suspension fork on the KBO Breeze Step-thru offers 80 mm of travel, preload adjustment, and adjustable lockout for a customized damping effect that reduces the impression of bumps when riding over uneven terrain.
Saddle
The saddle of the KBO Breeze Step-thru is both sturdy and comfortable. For your convenience, it may be adjusted up and down and back and forth. You may ride in a semi-upright position, thanks to the seat position.
Grip
The KBO Breeze boasts a one-of-a-kind Ergonomic handle with leather finishing, adding a touch of elegance to the handlebar. The brake levers, bell, shifter, and display are appropriately placed for easy access and operation while riding. 
Weight
The overall payload of the KBO Breeze Step-thru is 300 lbs, which is divided between a maximum rider weight of 250 lbs and a maximum load on the rack weight of 50 lbs.
Some of the best accessories to go with your mother's ebike includes:
Helmet
Wearing a helmet lessens the effect of an injury on one's head. If your mother is riding her bike, she is quite likely to be involved in an accident, which can result in deadly head injuries if she is not wearing a helmet.To prevent that, when you get your mother a bike, make sure she also gets a matching helmet.
Saddlebag
Getting your mom a saddlebag can be one of your best purchases, after the ebike of course. A saddlebag will help her ensure the safety of her puncture repair kit, tools, rain gear, food, first-aid kit, wallet, phone, etc.
Bike Locks
In a perfect world, everyone would only touch their own stuff. Unfortunately, we don't live in a perfect world. Ensure you get some bike locks as you get your mother her bike to prevent theft.
If you're looking for a low-cost, easy-to-mount commuter bike with a strong battery and a long-range for Mother's Day, the KBO BReeze step-thru is an excellent choice. You'll make both your mother and your bank account happy for a long time.
---
Related Product
Save $400
Commuter Electric Bike KBO Breeze Step-Thru
---
Share Article