Related Product
In stock
Electric Cargo Bike KBO Ranger
---
Share Article
Best Cargo Ebike for Families | KBO Bike
Since the nineteenth century, cargo bikes have been present when traders utilized them to distribute and carry products around the world. These traders must have been onto something since the concept has persisted throughout time.
Electric cargo bikes are intended to haul loads of groceries, transport children to school, and serve as an alternative to driving around town in our contemporary society. While the concept of cargo electric bike is basic, specific cargo e-bikes perform better than others.
There is simply no better option than a cargo bike for family mobility. Bikes are not only helpful in transporting children and groceries, but they are also ideal for doing errands or having a leisurely spin around the neighborhood.
Many parents were acquainted with cargo bikes through bakfiets, sometimes known as "long bikes." The long bike is the perfect family cargo vehicle with an expanded frame and a substantial wooden box in front.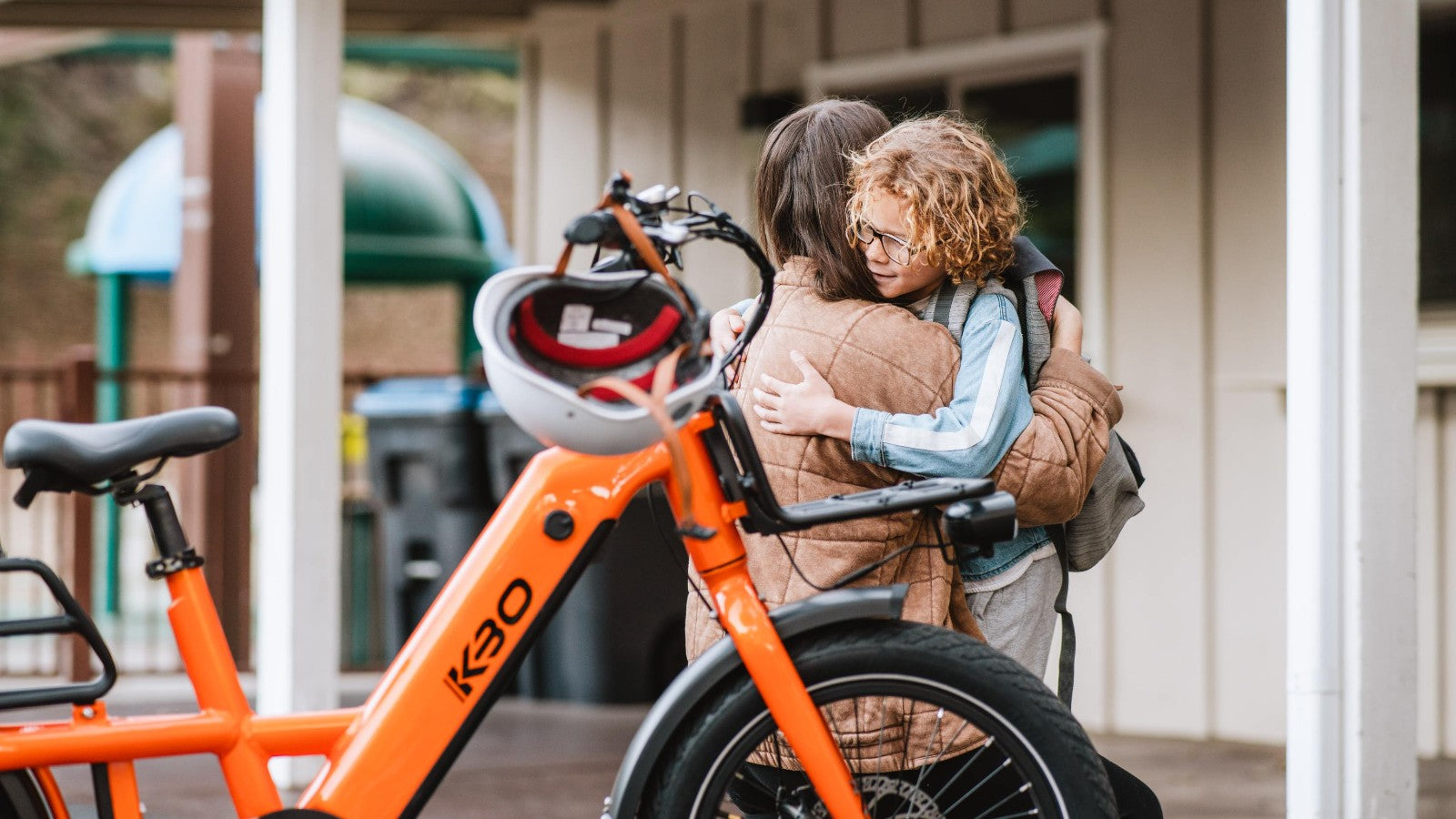 What exactly is a family cargo bike?
A family cargo bike is a bicycle designed to transport a group of people rather than just one. It is especially suitable for transporting young children, groceries, and even pets with considerable ease and comfort.
These bikes stand out from other types of bicycles due to their massive carrying capacity - most family cargo bikes have a carrying capacity of over 350 pounds.
Many family cargo bikes have a kid seat, and some even allow you to situate the child seat in the front-facing back.
Most family cargo bikes may reach speeds of around 20 mph when fully loaded, although they are not commonly used for downhill cycling or other recreational activities.
Why should they be used?
Family cargo bikes effectively use limited space in heavily populated metropolitan regions. People that rely on public transportation, on the other hand, may find it challenging to get around due to a lack of acceptable public transportation options in these sorts of places.
A family cargo bike is tiny enough to fit aboard a subway train easily. It can transport up to four people and their luggage with ease!
This makes them especially useful in heavily congested regions where getting around might be difficult. 
Furthermore, practically all family cargo bikes on the road are powered by human power, making them ecologically benign and long-lasting. People who ride family cargo bikes produce no more carbon dioxide or pollutants into the atmosphere when compared to other types of motorized transportation.
Using a family cargo bike instead of a car may save families hundreds of dollars in gas expenditures. Furthermore, family cargo bikes are fantastic for your budget in these difficult economic times.
What should I think about before purchasing an electric family bike?
Before purchasing a family cargo bike, consider what you want to use it for. For example, if you plan to utilize public transit frequently but still need to haul many products, a family cargo bike may be the ideal solution.
A different bike model would be more suited if you want to use your bike primarily for leisure or fitness purposes. 
Depending on the type and accessories included in the deal, family cargo bikes can cost anywhere from $300 to more than $5000. The KBO Ranger Cargo Bike, which costs $1,699, is an excellent electric cargo bike.
What are the advantages of purchasing one for the family?
Besides bike rides, family cargo bikes may be used for various activities. Many versions include different locking options and baskets, allowing riders to accomplish things like grocery shopping or bringing school materials for their children.
They also assist in cutting carbon emissions because they do not require gasoline and instead let users travel efficiently and securely by pedaling.
Busy schedules can take away some of life's simple pleasures, but including a cargo E-bike into your daily routine can help to fix this. Traveling about town suddenly becomes a new way to appreciate everything around you, from the sunshine and fresh air to the minute elements of the city that you used to take for granted in your car or on the train. It's time to take it all in, people!
These family cargo bikes not only contribute to a reduction in harmful greenhouse gas emissions by using less gasoline, but they also provide additional space inside vehicles such as cars where many young children could otherwise be accommodated, thereby improving the safety of passengers whenever a car is used.
Family cargo bikes are a practical and safe form of transportation for both people and items; whether it's groceries, children, or even pets, they are suitable and environmentally responsible.
You won't find a better electric cargo bike for your family than the KBO Ranger Cargo Bike. Let's do a quick rundown of its features.
In Frame and Removable 48V 17.5Ah Lithium-ion Battery with Samsung/LG Cells
One of the most notable advantages of a KBO Bike is its battery life, certified for 900 complete charge cycles. You can ride up to 60 miles on a single charge thanks to the 840Wh battery capacity.
Powerful Sustained 750W Brushless Geared Hub Motor
You won't have to worry about lifting large loads or climbing steep uphills because it's powered by a constant 750W brushless geared hub motor.
48V 3 Amp Quick & Smart Charger
It takes 5 hours to completely charge the battery, shortening the time between rides and allowing you to keep up with the fast pace of your riding demands.
48V LED Headlight
Press and hold the "UP" button for 3 seconds to turn on the light. This feature makes cycling at night safer and allows motorists to see you.
Integrated Brake Rear Light
The rear light is a built-in LED light powered by the battery pack. The rear brake light quickly brightens when you engage the brakes while riding.
The Shimano 7-speed Shifter
It's engineered for your riding experience and lets you change gears on the fly to adapt to diverse terrains.
Mechanical Disc Brakes
The 180 mm disc rotors on the front and rear provide adequate braking force even under challenging situations.
Extra-large, Adaptable Rear Rack
The strong aluminum rear rack can support loads of up to 120 pounds. You may go for a trip with your loved ones, carry your children to and from school, or move some heavy equipment.
Ergonomic Half Twist Throttle
Take a rest and cruise when you're sick of pedaling. To accelerate, gently twist the throttle on your right.
Adjustable Saddle
This bike seat is a durable and comfortable saddle that absorbs the impact of road bumps. You may change your position by shifting the saddle up and down and back and forth.
20"*3.0" CST Tires
The tires are made of high-quality materials resistant to punctures produced by sharp objects to avoid holes. It gives a more steady and smooth ride on your journey since it is bigger than standard commuter tires.
Intelligent Installation Points
It comes with a smart mounting bracket that can support up to 50 pounds. You can load it however you want.
LCD Backlight Display
The display offers you a variety of information to help you keep track of your riding circumstances. A charge indicator, a speedometer, an odometer, a trip odometer, a pedal assist level, and other amenities are included.
Full Fenders
Both the front and rear fenders come complete with essential hardware. They are highly durable and keep you dry and clean from water and muck.
Center Stand
It is built using a rust-resistant, strong, and long-lasting aluminum alloy. 
Some of the specifications of the KBO Ranger Cargo Bike:
Range
35-60 miles
Total Payload Capacity
400 lbs
Recommended Rider Heights
4'11" - 6'3"
Charger
3.0 Amp Quick charger
Controller
48V /22A
Display
LCD backlight display
Weight
77 lbs
Pedal Assist
0-5 level
Electric bikes are quickly establishing a huge fan base in North America, but few parts of the e-bike industry have gained the same level of affection as electric cargo bikes. 
Electric cargo bikes are a reasonable and cleaner alternative to gas-guzzling automobiles for folks who want to get rid of their car but can't get rid of their grocery-getting shopping and family driver obligations. They may be large and awkward at times, but e-cargo bikes are a good illustration of how e-bikes are transforming the way we travel. Though there are many types to select from, the KBO Ranger Cargo Bike stands out.
Electric cargo bikes are still a novelty outside metropolitan areas with well-established bike paths or routes. Their size makes them difficult to handle on the standard of limited or nonexistent bike lanes in less bicycle-friendly locations. Still, as bikes become increasingly acknowledged as an alternate mode of transportation, infrastructure will undoubtedly catch up. But if you live in a region that welcomes these powerhouses, it's time to hop on the electric bike bandwagon – you won't be sorry.
---
Related Product
In stock
Electric Cargo Bike KBO Ranger
---
Share Article