Related Product
Save $400
Commuter Electric Bike KBO Breeze Step-Thru
---
Share Article
Best Budget Ebike in 2022 | KBO Bike
 The enjoyment of riding e-bikes and the cost-effective ease we offer to everyday mobility have led electric-assist bicycles, particularly the cheap e-bike type listed below, to surge in popularity.
With the recent surge in gas prices (which averaged $4.39 throughout the US in early March), these lower-cost e-bikes have become even more appealing for short excursions or leisurely entertainment. While many non-assist bikes are challenging to locate owing to kinks (or outright breakdowns) in the worldwide supply chain, many of the low-cost e-bikes marketed by consumer-direct firms are still accessible online and may be delivered to your door in a week or less.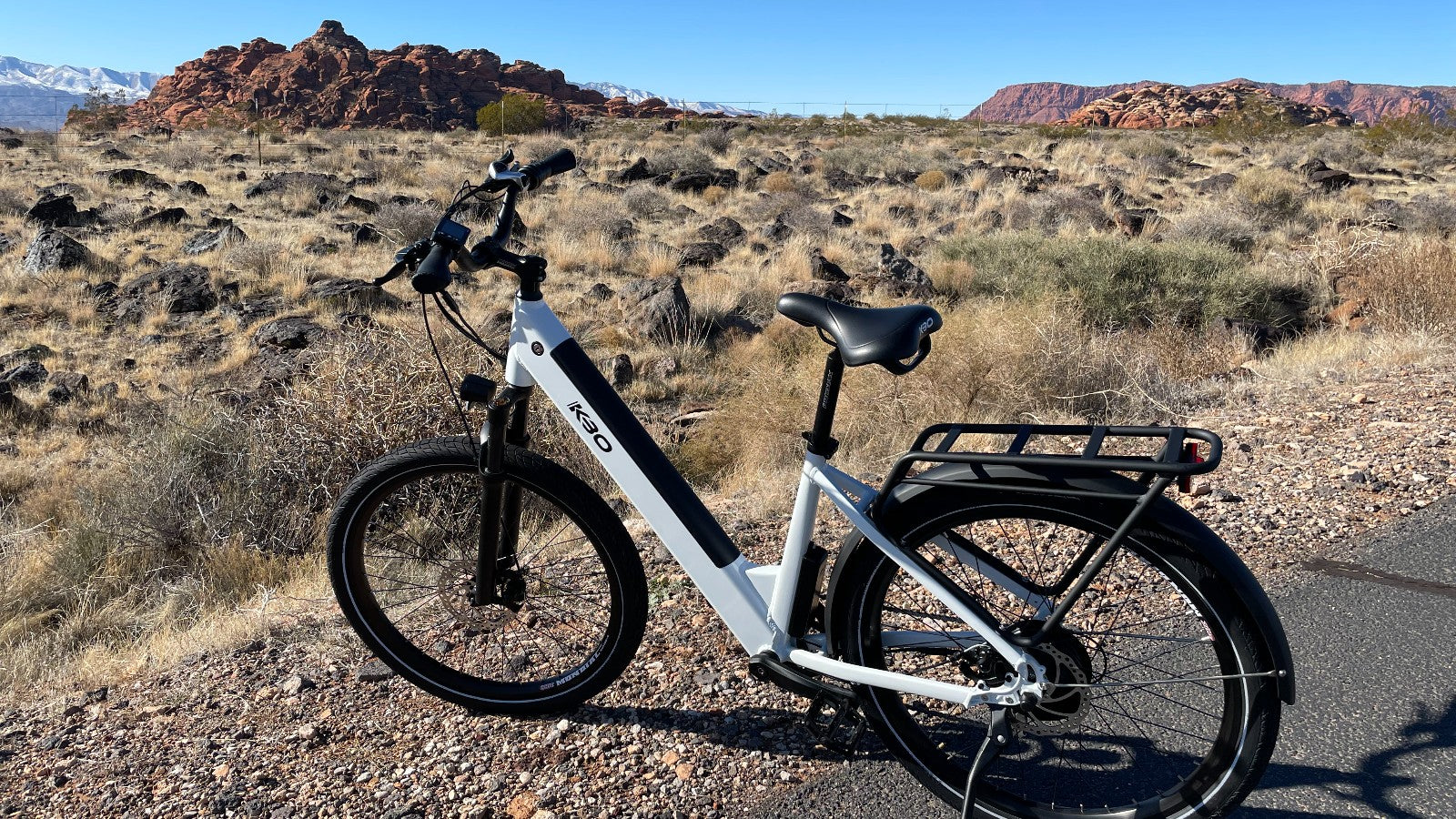 The best budget electric bikes provide a lot of what we appreciate about the most incredible electric bicycles, but at a lower price. These versions have the power to assist in helping you go about, ride up hills, and go farther without breaking a sweat. They're ideal for anyone seeking an alternative mode of transportation who doesn't want to spend much money and who want a bit more exercise and range than the finest electric scooters can offer.
However, many low-cost electric bikes are built of inferior materials or contain poor parts. We examined a variety of electric bikes under $2,000 to offer you the best. 
Without further ado, we present to you our best budget ebike for 2022, the KBO Breeze.
The KBO Breeze is fun to ride commuter eBike. It's a fantastic choice for anyone looking for a long-lasting commuter eBike that's also adaptable. This eBike will prove sturdy enough to tackle any terrain after a few test rides.
The bike is an excellent combination of power, mileage, and appearance. It does outperform all eBikes in the same price range. The Breeze has a particular advantage because of its smooth ride, easy turning, and long-lasting build quality. 
When combined with the 500W motor, the low-cut aluminum frame increases on-road stability.
A powerful Samsung 48V/768Wh battery powers the rear-drive hub motor. There is also a powerful 54.6V/3A battery charger included. This should be useful when you need a rapid charge. With the battery fully charged, KBO has a peak speed of 30-55 miles.
The Shimano 7 speed derailleur is also included with the KBO Breeze. This is critical for a commuter eBike capable of carrying up to 300 pounds. The mechanical disc brakes and handlebar twist throttle are well-balanced. In general, the brakes are great. Buckle up, because there's a lot to say about the Breeze. Let's look at the design and a thorough evaluation of this commuter eBike.
KBO Breeze Electrical Specs & Features
Battery: 48V 16Ah Lithium-ion battery with Samsung cells
Display: LCD backlight display
Motor: Aikema 500W brushless gear motor (900w peak)
Lights: 48v Headlight and Integrated Brake Light
Pedal Assist: 5 Pedal assist levels to 28mph
Range: 25-50+ mile range
Throttle: Twist Grip Throttle – Right Side, up to 20mph
KBO Breeze Components & Accessories
Brakes: Tektro 180mm mechanical disc brakes
Fenders: Included alloy
Fork: 80mm of travel, lockout adjustment included.
Frame: 6061 Aluminum Alloy
Freewheel: Shimano Freewheel 14-28T
Gearing: Seven Speed Shimano Altus
Grips and Saddle: KBO Comfort
Handlebar: High Rise aluminum alloy
Kickstand: Rear-mounted; Heavy Duty Aluminum
Pedals: Aluminum Alloy Wellgo pedals, Reflectors Included
Tires: 27.5″ x 2.4″ Kenda puncture-resistant tires
KBO Breeze Weight and Dimensions
Battery weight: 7 lbs
Total bike weight: 62 lbs (includes battery)
Rider Height: 5'4" to 6'4"
Maximum rider weight: 300 lbs
Maximum Load on Rear Rack: 50 lbs
Unfolded Dimensions: 72 x 31 x 46.5
Pricing
The KBO Breeze is a great commuter eBike with a straightforward and cheap price. The eBike is currently available on the KBO's official website, and the Breeze costs $1499. As part of the entire delivery, you will receive the essential add-ons and accessories for a safe and fun ride. The KBO Breeze comes with free accessories like a water bottle holder, a maintenance kit, and a rear rack, saving you up to $100 depending on the model. The KBO Breeze is an inexpensive item. 
Prices for electric bicycles have risen in lockstep with their feature set. When you combine that with the other pricing pressures in the business, we've seen an unfavorable increase in e-bike pricing over the last year.
However, KBO's price of $1,499 falls in the sweet spot of being reasonable enough for most people to consider while remaining significant enough that they did not cut costs with many subpar parts.
Design
The eBike comes in a single standard size. The entire eBike is well-built, and the aluminum frame is rather sturdy. Due to the low-cut, step-through design, it is straightforward and accessible to people of all ages and genders. You'll see a baggage rack neatly installed over the rear fenders as you go to the back. It is firmly fastened to the bike frame, making it sturdy enough to support saddlebags on long journeys. Compared to other eBike rear-racks, this one is one of the most powerful and long-lasting.
KBO Breeze Motor 
The KBO Breeze includes a rear hub motor that delivers the necessary torque when needed. The rear hub motor of the Breeze is rated at 500W peak power and has a maximum output of 750W peak power.
The KBO Breeze has Pedal Assist as well as a throttle mode. When the pedal assist is insufficient, you may crank up the power using a twist throttle on the right handlebar grip. Twisting the throttle delivers enough power to reach 750W for quick bursts of power or a challenging hill climb. The KBO Breeze is an ideal commuter eBike for short city rides, with up to 80Nm torque.
KBO Breeze Battery
The Samsung 48V, 16Ah Li-ion battery powers the KBO Breeze. It fits nicely in the battery compartment and lines up with the frame. Because the battery is removable, you may use a spare if necessary.
With an average range of 30 to 50 miles on a single full charge, you can skip the second battery pack because what the Breeze delivers is impressive for the price. KBO also made sure that the battery had a capacity of 16Ah.
Performance Evaluation
Acceleration/Speed
The KBO Breeze is a fast bike with a peak speed of 28mph when pedaling!
It has rapid acceleration thanks to its 500w geared hub motor (with a 900w peak). When cycling up a steep hill or against the wind, the KBO Breeze takes over and keeps you comfortable and in control.
When engaged, the throttle is also relatively smooth and responsive, allowing you to reach up to 20 mph speeds. Throttling is excellent for getting up to speed without pedaling and keeping momentum in places with sharp curves and steep climbs.
Gear Range / Shifting
Shifting the KBO Breeze is a reasonably simple and seamless process. The seven gears complement the Breeze's five assistance levels beautifully. And by combining the two, you'll be riding just as you want.
While the shifting is seamless, moving gears on climbs or cycling out of the saddle is not recommended. Otherwise, you'll have to be concerned about losing your chain. Instead, please use the throttle to get your speed where you want it.
Starting
It's easy to start the KBO Breeze. You'll be ready to go in seconds with the click of a button on the LCD Display, saving you time.
Most e-bikes require a key to be placed into the battery before riding. However, the KBO Breeze does not. Depending on your circumstances, this might be positive or negative.
It means that losing your key does not mean losing bike access. However, it also means that criminals have a chance to steal a fully functional eBike unless you remove the battery each time.
Turning off the bike is as simple as turning it on. To power down, hold down the button on the LCD.
Stopping
Even at faster speeds, the KBO Breeze slows down rapidly. This is due to the 180mm rotors that come standard with the Breeze. 
KBO's decision to use 180mm rotors is commended since strong engines require powerful brakes. A decreased rotor size would result in less stopping power. This becomes a difficulty while breaking down at greater speeds. 
Locking and parking
Parking the KBO Breeze is quick and easy thanks to the heavy-duty kickstand and excellent handling. We are convinced that you will have no trouble parking this bike wherever you ride.
There are several locations to loop a lock around the frame and wheels for additional security. The Breeze comes with keys to remove the battery, eliminating the risk of theft. 
The KBO Breeze is a great commuting eBike that is also enjoyable to ride. It's an excellent pick for anybody searching for a durable commuter eBike that's also fast and versatile. The bike is a stunning blend of power, mileage, and looks. It will, without a doubt, outperform all other eBikes in its price range. The Breeze offers a distinct edge because of its smooth ride, effortless turning, and long-lasting build quality.
---
Related Product
Save $400
Commuter Electric Bike KBO Breeze Step-Thru
---
Share Article