Related Product
Save $400
Commuter Electric Bike KBO Breeze
---
Share Article
6 Winter Cycling Tips You Need To Know | KBO Bike
During winter, the cold weather limited people's moving outdoors. Probably you think riding in this cold season is a drag, but it would become easier with the pedal-assist or pure power of KBO electric bikes. But you still need to prepare some necessary things before your proper and safe ride this chilly winter.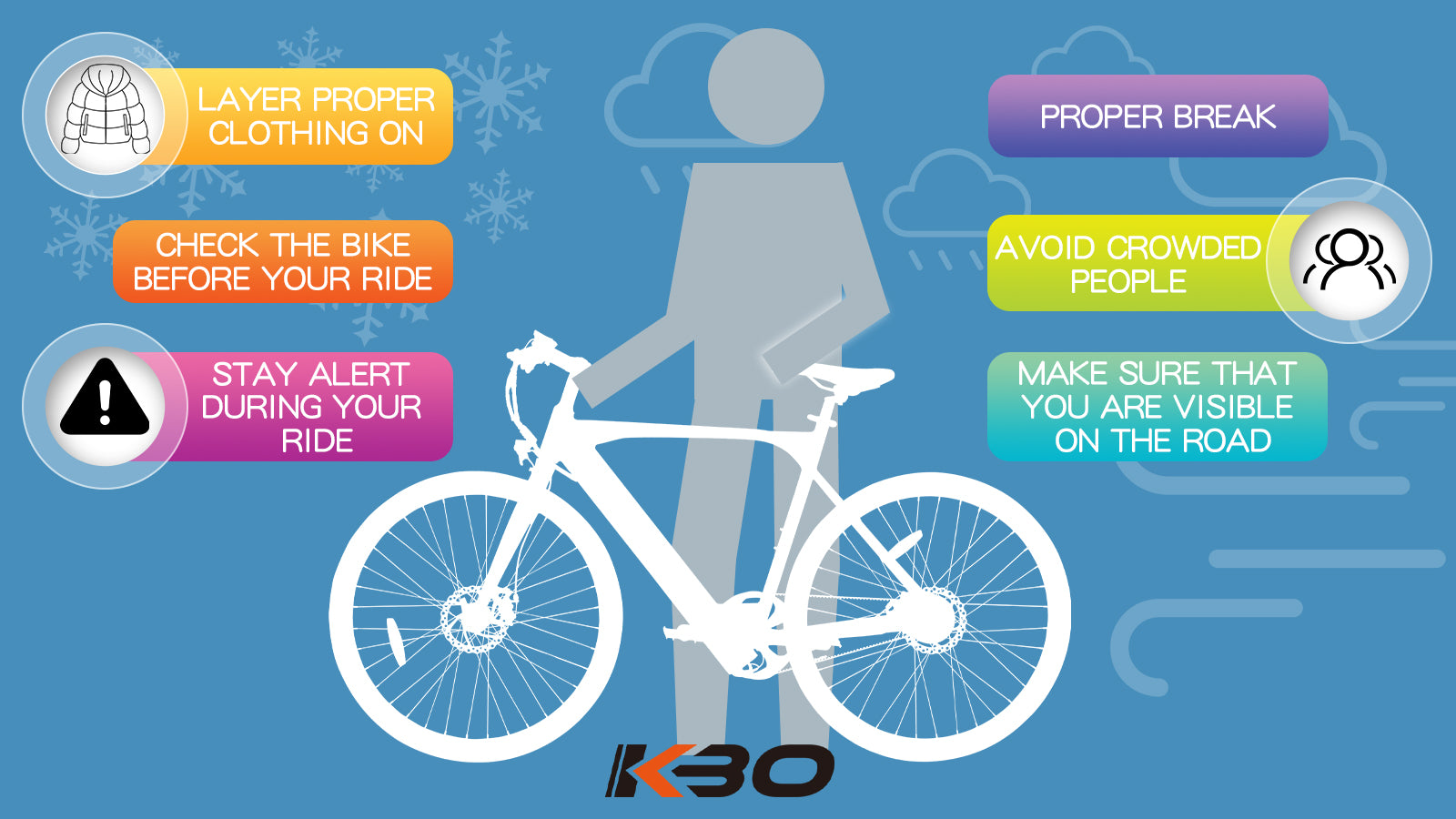 1. Layer proper clothing on
Before starting your ride, you need to keep your body perfectly warm. Wearing enough and correct clothing is the first necessary step while cycling in cold weather.
It is a great idea to wear warm moisture-wicking under layers and put on a waterproof windbreaker. This kind of clothing will help you keep warm when cycling through wind, rain, or snow. Especially when the weather changes suddenly, it will help a lot.
At the same time, waterproof gloves and warm shoes with trek are also necessary to be equipped during this cold season. Protecting your body from the cold wind is an essential step to stay safe. The good flexibility of your body instead of stiffness will help you keep alert and avoid some troubles in this chilly season.
A helmet is a must when you are riding, and if possible, you also can wear a hat under your helmet. For one thing, it can protect your head from hurting; for another, it can keep your head warm and cut off the cold winds.
2. Check the bike before your ride 
Checking your bike before you starting the ride will be helpful and decrease problems during your riding. Here are some essentials to check.
It is vital to check your bike brake system before your every ride. Make sure it can provide you with the strongest and most dependable stopping power available in the rain or snow.
Check the lights of your bike. The lights will increase your visibility and allow you to ride at night or in the rain or snow safely. So both the front light and rear light are necessary to check.
Check the battery before riding. With the mode of pedal assist or pure power, the power of a battery will decide the riding range. We suggest getting the battery fully charged before a long-range ride, which would make your ride less taxing, especially in windy weather.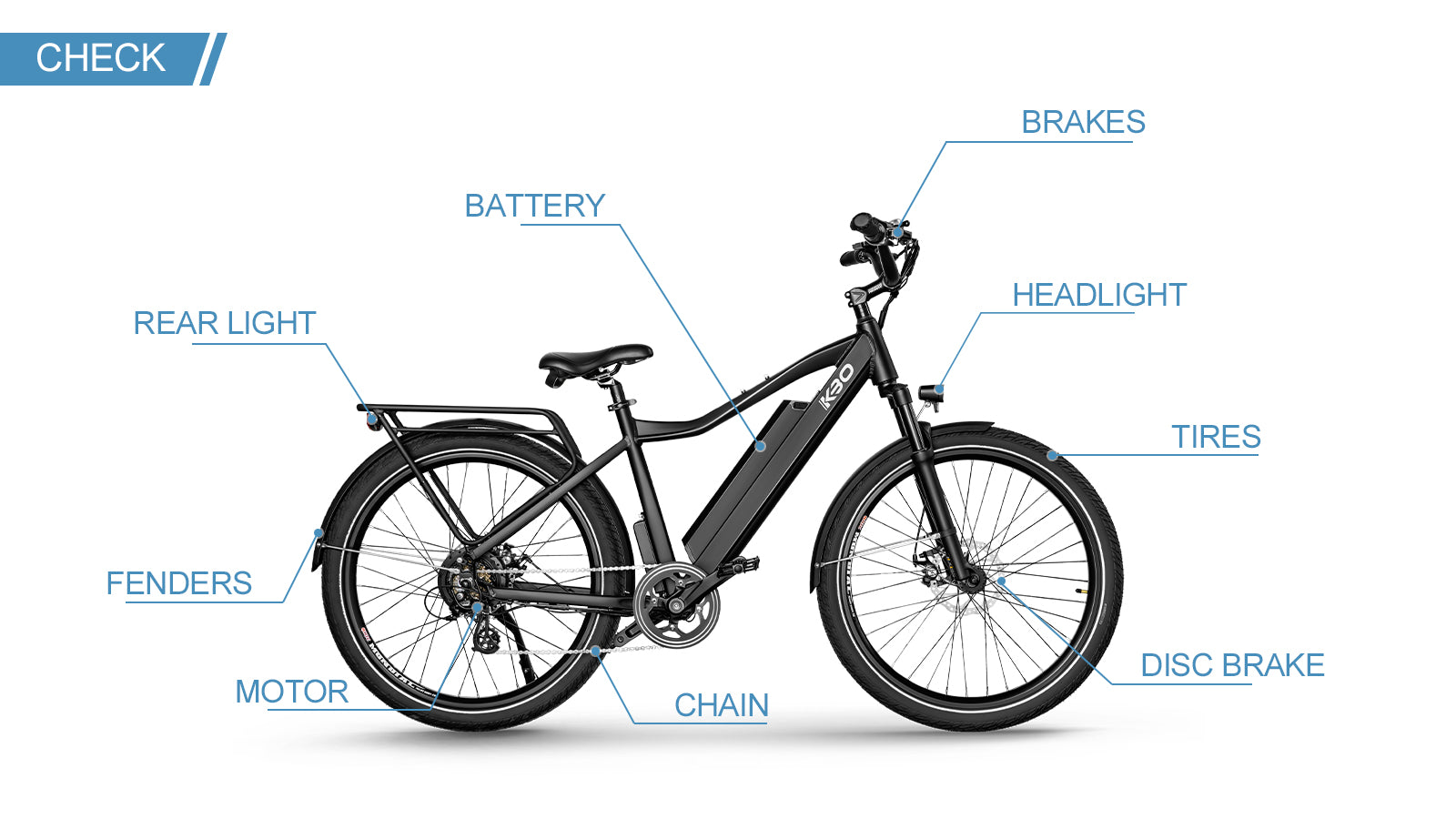 Check if the motor works. One of the highlights of an electric bike is its motor. The strong and rugged hub motor will allow you to ride freely through the city blocks and hills, just like a breeze.
Check if the chain and tires work well. This step aims to reduce problems such as getting flat tires or dropping the chain.
Check the fenders of your bike. Full fenders are super helpful to protect you from water and mud.
3. Stay alert during your ride
It is wise to make good use of sunny days to go biking. But the cold weather is always there in winter, so it is important to stay alert while you are out there on the trail.
If the weather changes suddenly, such as rain, wind, snow, fog, or other bad weather, we suggest you choose another date relatively suitable for riding. For your safety, riding in safe weather conditions is important. If you have to go outside, remember to slow down and keep the minimum speed to move forward when the visibility is not good for riding.
Also, during your riding on the way, lower the voice of your music or just take off the earphones to keep attention to the surroundings, and afford extra time at intersections to observe the conditions.
4. Avoid crowded people
If you plan to ride during holidays, check out the regional outdoor activity guidelines, and follow public health protocols. Various regions have various riding rules and guidelines, please confirm and obey the protocols set by your local health official.
It is a great idea to plan ahead and choose the less popular routes to avoid crowded people. If you will encounter groups of people on the trail, the wise way is to wear a mask and keep a distance of at least 6 feet. And you'd better pass through the crowd quickly.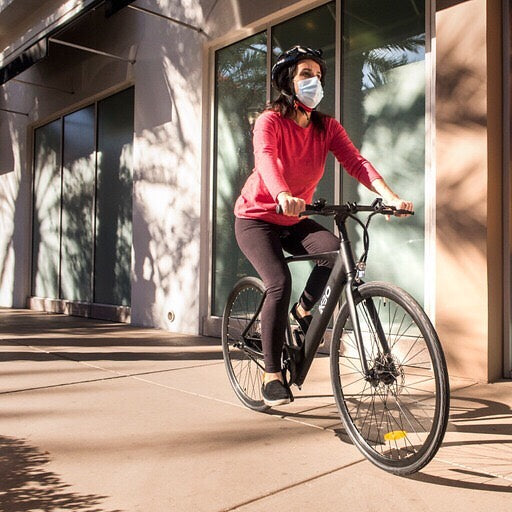 If you decide to ride outdoors, make sure you take a bag including enough water, phone, power bank, mini pump, and stuff you need to carry. You also can prepare paper towels and disinfectants for some needs. 
After your ride, please do not forget to wash your hands carefully with warm water, and take your bike to a warm and dry place. Then, you can have a warm drink to drive away from the chill for your body.
5. Make sure that you are visible on the road
Sometimes riders are not easy to be noticed during grayer days or snowy days. So it is best to turn on both the front and rear lights to improve the visibility. If the bike has the integrated brake rear light, it would be convenient in the case of forgetting to turn on the lights. KBO breeze's rear light is the integrated brake rear light and the light will light up when you brake during your ride.
Reflectors are also necessary. You can wear fluorescent and reflective clothing and put reflective bars or stickers on the bike. Just make sure that you can be noticed when you are riding on the road.
6. Proper break
When you're feeling sick, you can go to hospital to be examined or stay home to have a proper break to build up your strength.
Listen to your body. If your body allows you to ride outside in cold weather, you can ride as much as possible with the proper prep. But if you feel run-down, just take a rest and don't push yourself too hard. 
Cycling will make you feel delightful via increasing epinephrine, but at the same time, rest is also the best medicine to relax and cure your body! Let's have a healthy and safe winter!
Biking in the winter will add a new adventure experience for you. Remember to prepare all the things on the list before your ride! As it comes to an end, we wish every rider happiness, good health and good fortune through Christmas and the coming year!
---
Related Product
Save $400
Commuter Electric Bike KBO Breeze
---
Share Article