Related Product
In stock
Commuter Electric Bike KBO Breeze Step-Thru
Regular price
$1,499.00
Sale price
$1,399.00
---
Share Article
KBO Breeze Step-Thru Vs. Aventon PACE 500 Step-Thru | KBO Bike
A step-through bike is a bike with a significant absence of the top tube in the frame, thereby making the front of the bike slope downward and extend to the back of the bike. This kind of bicycle frame makes it easier for a rider to get on or get off by simply stepping through the curved frame of the bike. Step-through bikes are great for aged people who find it difficult to lift their legs too high as it is easier to mount and unmount. It would also make delivery men who have to jump off their bikes very frequently because of the parcels they carry easier. What makes a step-thru bike one is the absence of the top tube in the electric bike frame.
The step-through bicycle, also known as low-step bike, Dutch step-through bike or open-frame bike, was invented because women were not allowed to wear trousers back then. They were only allowed to wear long skirts and traditional dresses. The low-thru bike frame was designed to make it easier for women to get off the bikes easily. The same goes for parcel delivery men who had to get on and off their bikes very frequently.
There are various types of electric bicycles that have different functions, come from various brands and have different frames. Hence, deciding which type of electric bike to purchase and what brand to buy from could be another problem you might encounter when making your selection.
Therefore, we will be using the KBO Breeze step-thru commuter e-bike and the Aventon PACE 500 step-thru e-bike as a case study by stating the differences between both bikes.
Suppose you are recently considering buying a step-thru e-bike. In that case, you should read this article carefully and choose the one for the best money. 
Winning Specifications 
This table shows the technical part of the step-thru bikes, those peculiarities and differences that make a step-through bike one.
KBO Breeze Step-thru electric commuter bike

Aventon Pace 500 Step-thru e-bike

Battery

48V 16Ah 

Samsung lithium ion battery

48V 11.6Ah

Payload Capacity

300lbs

250lbs

Range

30- 55 miles per charge

25 - 40 miles per charge

Tire

27.5 x 2.4 inches Panasonic Tires

27.5 x 2.2 inches Ebike Rated

Lights

48V led light in the front and rear (Integrated brake tail light)

Not included

Rear rack
Free gift with purchase
Not included
Full Fenders

Free gift with purchase

Not included
Statistics
This tells all about the properties of the electric bike, both technical, physical and mechanical. It also states their differences and similarities.
| | | |
| --- | --- | --- |
|   | KBO Breeze Step-thru | Aventon Pace 500 Step-thru |
| Motor | 500W | 500W |
| Battery | 48V 16Ah  | 48V 11.6Ah |
| Pedal Assist | 0-5 levels | 0-5 levels |
| Throttle | Yes | Yes |
| Top Speed | 25+ mph | 20 mph |
| Range | 30- 55 miles per charge | 25 - 40 miles per charge |
| Weight | 62lbs | 49lbs |
| Gears | 7 | 8 |
| Lights | 48V LCD light in the front and rear (Integrated brake taillight) | Not included |
| Display | LCD backlight | LCD backlight |
| Brake | Mechanical | Hydraulic |
| Charger | 48V 3A | 48V 3A |
| USB Phone Charge | No | Yes |
| Classification | 2 | 3 |
| Price | $1,499 | $1,599 |
As you can see above in the chart, KBO has a larger battery capacity than Aventon. It offers a more extended range of up to 55 miles per charge. If you are looking for a long-range e-bike, KBO with a Samsung Li-ion battery is right for you. 
Weight capacity is also an essential factor to think about before buying an electric bicycle. If your weight is over 250 lbs, you won't choose Aventon step-thru Pace 500. It only has a maximum 250 lbs capacity, while KBO has a 300 lbs payload capacity. 
The KBO bike tyre is wider than the later. This results in better balance and a smoother ride. The former is also puncture resistant which means that you do not have to fear getting a deflated tyre too often.
There will always be a chance for you to ride at night. Thus, having bright front and rear lights is significant. KBO Breeze has lights in the front, rear, and brake tail light, so you will be easily spotted while riding at night. There is no light on Aventon Pace 500 Step-thru on the specs. You will need to buy an extra light as an accessory yourself.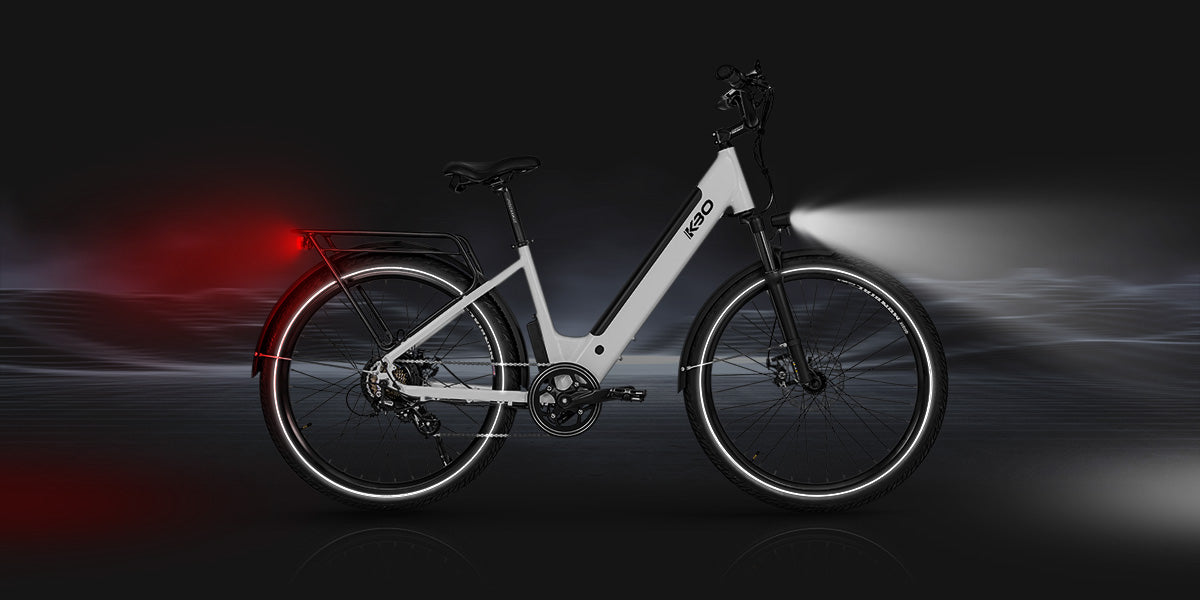 If you are looking for a class 3 e-bike, Aventon Pace 500 Step-thru is right for you. It has a top speed of 28 mph with throttle. In this case, it will need the hydraulic disc brake to stop the bike from such a high speed. The bike with a mechanical brake would have to be controlled by the rider. This does not mean that a hydraulic brake is any worse but we believe that every rider loves to be in control of the bike and that is we have put the rider in control of the brakes.
The KBO step-through bicycle is powered by a 48V 16Ah lithium-ion battery made up of strong Samsung cells. This means that this low step-through bike will probably last longer than any other e-bike you know. It also has a 500W brushless gear hub motor that lets you ride freely through dirt roads, light trails and city blocks and makes it easier to climb steep hills without any added pressure. Furthermore, a Shimano 7 speed gear shifter is designed to allow you to change gears to adapt to different terrains. It also has an LCD display that shows the basic metrics like the speed you are driving on, the distance you have gone, the assist level and the battery level.
Conclusion
Both the KBO step through bike and the Aventon PACE 500 step through bicycle seem pretty similar. But you will notice the differences on battery capacity, payload capacity, range, lights and the brake type. If you are spending over $1000 dollars on an electric bike, you deserve to find the best for the money and the one that suits you best. 
The KBO bike is the best step through bike for you as it offers the best range. You get all these benefits at a very low and pocket friendly price. This is a typical example of killing two birds with a stone as you get the best quality at an extremely affordable rate.
---
Related Product
In stock
Commuter Electric Bike KBO Breeze Step-Thru
Regular price
$1,499.00
Sale price
$1,399.00
---
Share Article